New Type T3 Corn Peeling and Grinding Machine Shipped to East Timor
This corn peeling and grinding machine is specially used to process corn to get corn flour and grits. Taizy machinery and equipment have price advantages, and the machine quality can be guaranteed, because we are both manufacturers and suppliers, and we produce and sell our own. Of course including the corn grits machine.
Why did this customer from East Timor buy the corn peeling and grinding machine with the elevator?
This customer mainly wanted to carry out a large number of corn grits-making activities, so he needed to choose the corn grits making machine with large output and high efficiency and manpower saving.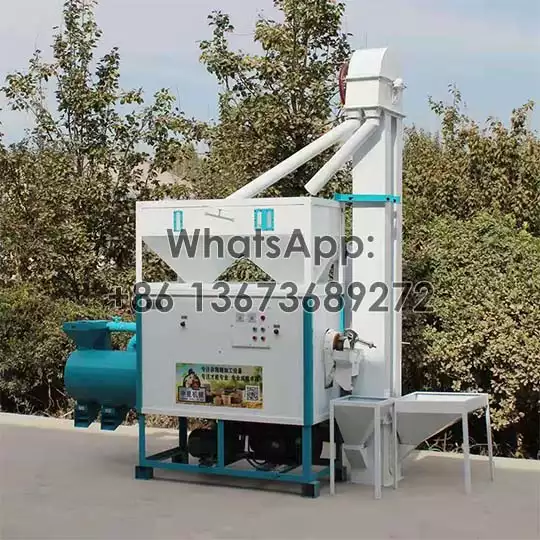 When seeing our machines, after comparison, he knew that the T3 maize grits machine could produce 300-400kg per hour. Besides, this machine can corn peeling and grits making at the same time, with higher efficiency. Also, the double elevators and the big hopper are equipped, which greatly saves time and labor.
What is the motivation for this customer to develop this business locally?
Before purchasing this corn peeling and grinding machine, the customer had conducted a local investigation. After the investigation, it was found that corn accounted for a large proportion of people's daily life, and various corn foods were in people's lives. This East Timorese customer saw the huge possibility of this market, which is a necessity of life.
Moreover, for himself, he grows corn by himself, and as long as he invests in buying a corn peeling and grinding machine with good quality and performance, he can develop his own business. So on the whole, for himself, this is an investment with little investment and a high return.
Details of machine and components purchased by the customer
Item
Specification
Quantity
Corn peeling and grits making machine
Model: T3
Power: 7.5 kw & 4kw
Capacity: 300-400 kg/h
Weight: 680 kg
Size: 2300*1400*1300 mm
Voltage: 380V,50HZ, 3 phase
With the elevator & big hopper
1 set
Belt


One set includes 6 piece
5 pcs
Size screen

3 different size screens
(40 meshes, 60 meshes, 80 meshes)
15 pcs