Vegetable Transplanter | Vegetable Seedling Transplanter | Seedling Transplanter Machine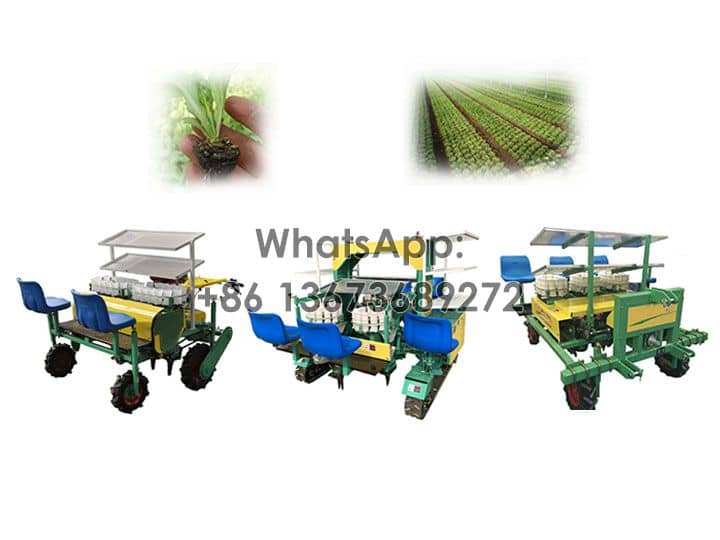 As the name suggests, the vegetable transplanter is specially transplanting of various vegetables, fruits, and flower seedlings. Seed transplanter machines are available in a wide range of rows, from 2-12 rows. This is a custom machine that can exactly fit your needs. The power is usually a gasoline engine, but it can also be changed according to your requirements. In addition, our vegetable plant transplanter can also add many functions, such as drip irrigation, film covering, rotary tillage and so on. It depends on your specific requirements. Welcome to inquire at any time.

Our machines are certified with CE certificate and are often exported to Colombia, the United States, Finland, Morocco, Australia and other countries and regions.
Working Video of Tractor-driven Vegetable Transplanter Machine
Fully Automatic Vegetable Transplanter for Sale

Each vegetable transplanter has its own advantages and features, and all are machines that can be customized to your needs.

Type 1: Self-propelled Transplanter

This transplanter has only 2 and 4 rows, and the plant spacing and row spacing are small. The power used is a gasoline engine. Suitable for all kinds of vegetables, such as onions, tomatoes, lettuce, eggplant, etc. This machine is very economical and practical. It can be used on flat or ridged fields. This is a no-till vegetable transplanter.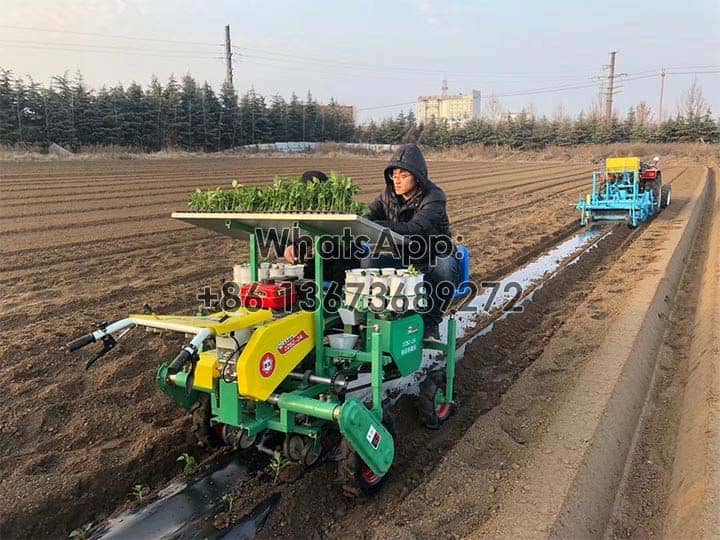 Design of Hand Held Vegetable Transplanter
The biggest feature of this kind of transplanter is that it needs to be held by hand to control the direction of advancement. Other structures are similar, including trays, seedling cups, seats and dukctills.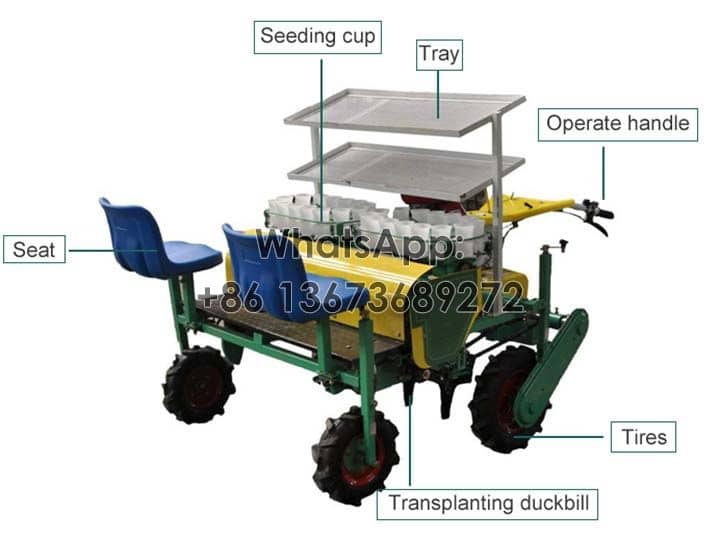 Technical Parameters
| | | |
| --- | --- | --- |
| Model | 2ZBZ-2 | 2ZBZ-4 |
| Plant spacing | 200-500mm | 200-500mm |
| Row spacing | 300-500mm | 150-300mm |
| Capacity | 1000-1400㎡/h | 1400-2000㎡/h |
| Row | 2 | 4 |
| Power | 4.05kw | 4.05kw |
Type 2: Crawler Type Vegetable Seedling Transplanter
The plant transplanter adopts the caterpillar track, like a tank to move forward. The number of rows is 4-12 (even rows). The gasoline engine used is larger than the self-propeleld transplante. In addition to that, it can be replaced by a diesel engine. This machine has a small adjustment range for plant spacing and row spacing. However, the functions of film covering and drip irrigation can be added. The height of the ridge can be within 20cm.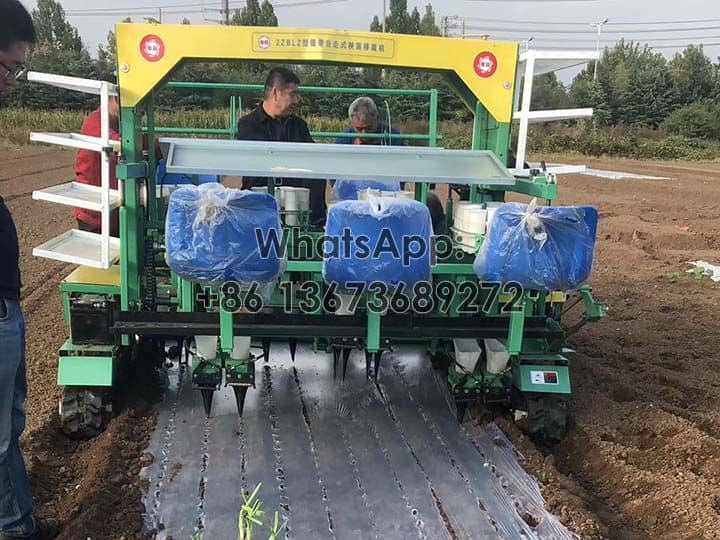 Structure of No Till Vegetable Transplanter
The biggest difference is that there are tracks, and there is one seat that is specially designed for the person who controls the entire machine. The rest are the same.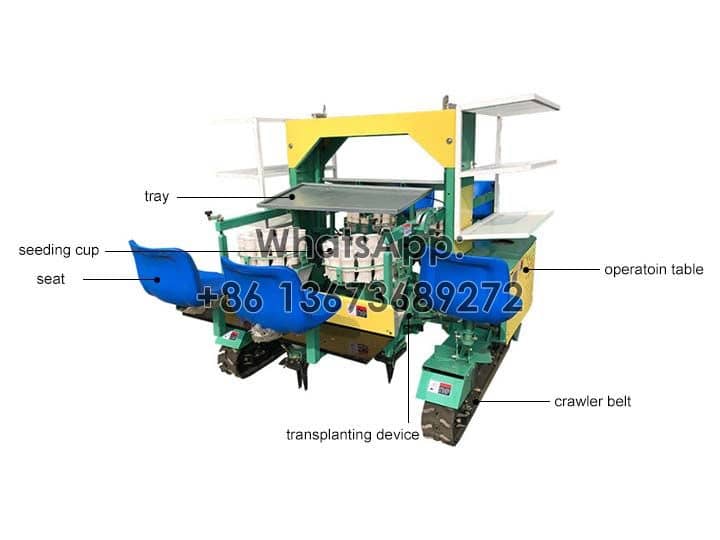 Technical Parameters
| | | | | | |
| --- | --- | --- | --- | --- | --- |
| Model | 2ZBLZ-4 | 2ZBLZ-6 | 2ZBLZ-8 | 2ZBLZ-10 | 2ZBLZ-12 |
| Plant spacing | 200-450mm | 80-200mm | 80-200mm | 80-200mm | 80-200mm |
| Row spacing | 100mm | 150-200mm | 100-200mm | 150mm | 100-150mm |
| Row | 4 | 6 | 8 | 10 | 12 |
| Power | 4.05kW | 7.5kW | 7.5kW | 7.5kW | 7.5kW |
Type 3: Tractor-driven Seedling Transplanter Machine
This transpalnter machine features the tractor-driven. The transplanting rows range form 2-12(even rows). But most functions are available, such as fertilization, rotary tillage, ridge, sowing, drip irrigation, film covering, watering. If you have any need, welcome to contact us at any time.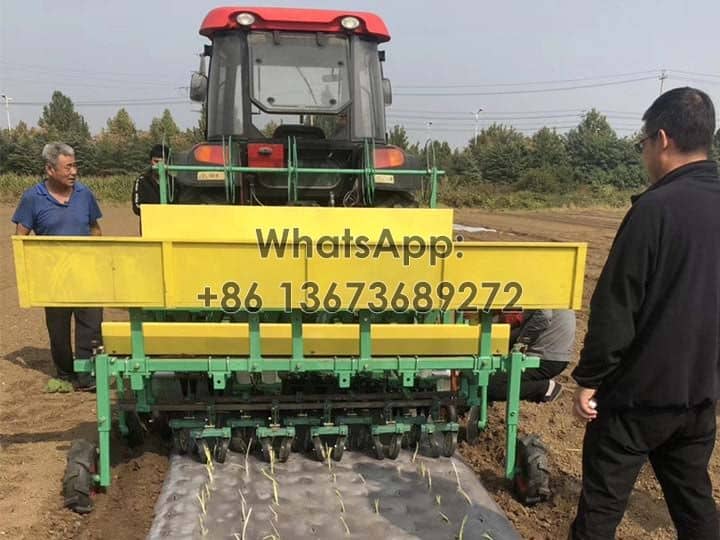 Tractor-driven Transplanter Machine Construciton
This vegetable transplanter machine has the tractor, one operator should be available. The others have the similar structure to the above two kinds.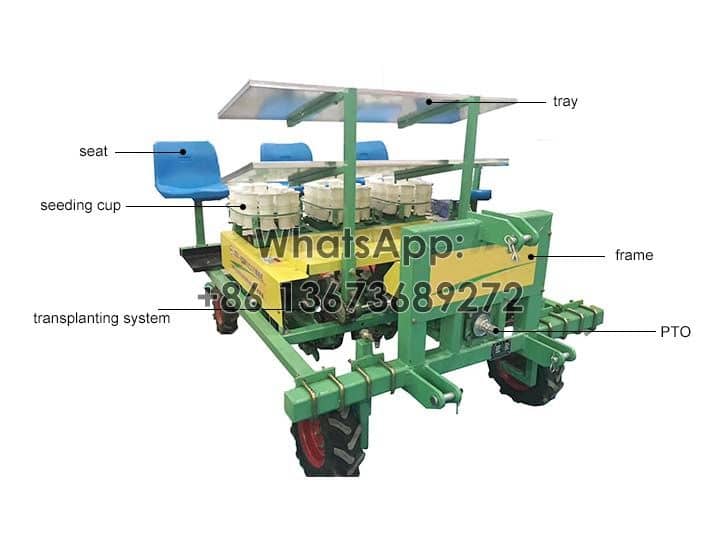 Technical Parameters
| | | | | | | |
| --- | --- | --- | --- | --- | --- | --- |
| Model | 2ZBX-2 | 2ZBX-4 | 2ZBX-6 | 2ZBX-8 | 2ZBX-10 | 2ZBX-12 |
| Plant spacing | 200-500mm | 200-500mm | 100-400mm | 100-400mm | 100-400mm | 100-400mm |
| Row spacing | 250-500mm | 250-300mm | 150-300mm | 150-300mm | 150-300mm | 150-300mm |
| Capacity | 1000-1700㎡/h | 1000-2700㎡/h | 1400-3400㎡/h | 2000-4000㎡/h | 2700-5400㎡/h | 3700-6700㎡/h |
| Row | 2 | 4 | 6 | 8 | 10 | 12 |
| Power | ≥30 | ≥50 | ≥60 | ≥60 | ≥60 | ≥60 |
Wide Applications of Vegetable Seedling Transplanter
This machine has a variety of applications, including vegetables, melons, flowers, and others.
Vegetables like onions, tomatoes, lettuce, cabbage, eggplant, peppers, cucumbers, etc.
Melons like watermelon, cantaloupe, pumpkin, zucchini, etc.
Flowers like peony, jasmine, etc.
Others like hemp, tobacco, etc.
Looking forward to your inquiries, and we'll get back to you very soon.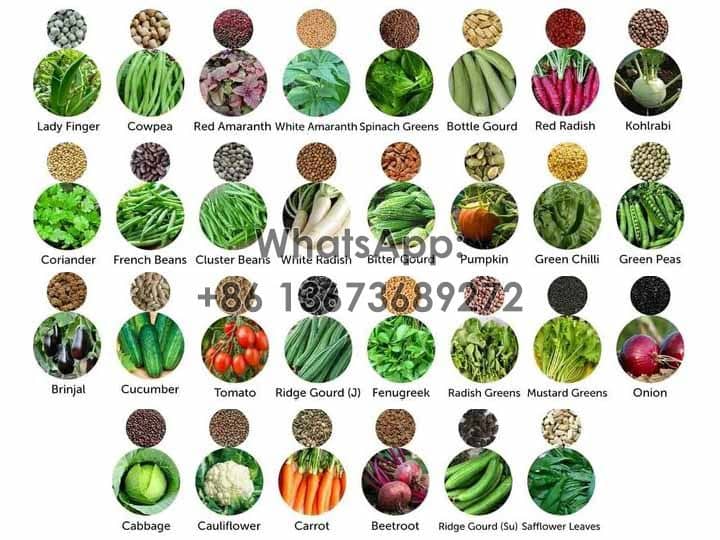 Comparison of Self-propelled Transplanter and Cralwer Type Transplanter
1. Different applicable rows
The manual transpalnter is suitable for little working row, such as, 2 rows and 4 rows. If planting above 4 rows please change other types., While cralwer type has 4-12 rows, when working like tank, and it's more stabilize with special frame.
2. Plant spacing and row spacing
If planting space under 15cm, buying the self-propeleld type is not a good choice.
Cralwer type has the narrow planting space and narrow row spacing, such as 10*10cm with high planting density. Plant row can be from 2 to 12 row. We suggest crawler type transplanter machine.
3. Working area
Self-propelled type machine mainly work at small field, such as, in greenhouse, massif, hilly area. Working in the ridged fields is also good. It's small size and easy to operate.
The cralwer type mainly works at big farmland, flat land, working without ridge will be better. It has high working efficiency.
Successful Case: Automatic Vegetbale transplanter Machine Exported to Colombia
This Colombian client is ready to transplant lettuce and already has a machine for growing lettuce seedlings. So after he came to us from Google website, the purpose was very clear, that is, to transplant lettuce. So, when talking about the details, our sales manager knew that he was transplanting on a flat ground, and it was 4 rows. This was why our sales manager recommended the self-propelled transplanter to him. After understanding the relevant machine performance, parameters, working videos, etc., we reached a cooperation this year. And in the April, we prepared the machine and also shipped to his destinaiton.
FAQ
Q: Where is your factory?
A: Qingzhou city, Shangdong provience. It's city of factory.
Q: What vegetables are suitable for this machine to transplant?
A: Tomato, lettuce, Chinese cabbage, cabbage, sweet corn, pumpkin, hemp seed, okra, cucumber, aubergine, melon, watermelon, capsicum, chilli, beans, etc. 
Q: What's the capacity of tractor-driven vegetable transplanter?
A: 3600plant/hour.
Q: Can this machine have film function?
A: Of course, the cralwer type and tractor type both can.
Q: How about ridging function?
A: Only tractor-driven type transplanter machine is available.
Q: How about warranty and after-service?
A: 2 years as warranty. We offer parts of machine, video on how to install machine, and engineer online service.
Q: Which is nearest airport?
A: Qingdao airport. From airport to factory, it takes 3 hours by car.