Maize Grits Milling Machine | Maize Grits Making Machine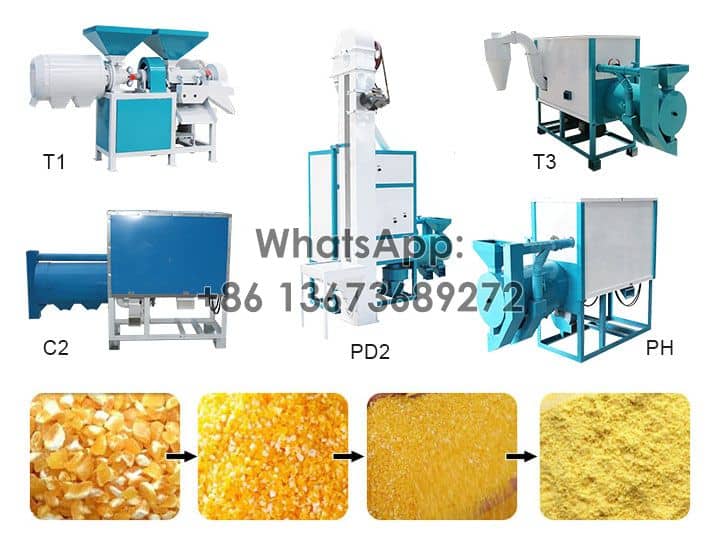 Maize grits milling machine is mainly to produce corn grits and corn flour. Commonly, you can get three finished products after processing by the corn grits making machine. They are respectively big corn grits, small corn grits, and corn flour. In addition, the proportion of the finished product can be adjusted. The corn grits and cornmeal produced by our machines can be used for many purposes, which can be eaten directly, or used in the food industry to make snacks and desserts.

The machine can be used not only in small rural workshops but also in large production lines, such as maize flour plants. It can generate income for investors in various aspects. Besides, our corn grits making machines are exported to many countries and regions. There are the Philippines, Sri Lanka, Timor-Leste, Bangladesh, Kenya, Burkina Faso, Angola, Zambia, etc.
Hot Sell Maize Grits and Milling Machine -Types of Maize Milling Machines
As a professional agricultural manufacturer and supplier, we have a wide variety of agricultural machines. As far as maize grits milling machines are concerned, we have five models for you to choose from. They are T1, T3, PH, PD2, C2. These are very popular maize grits making machines, each with its own characteristics.

T1 small-scale maize grits and flour milling machine can use an electric motor or diesel engine as the power system. In addition to this, the maize grits milling machine cannot perform peeling corn and making grits at the same time. The machine first peels and then makes grits. It has stable performance and is suitable for small rural workshops.

T3 industrial maize peeling and grits making machine has two motors, so it can peel and make grits at the same time. Also, there's a cyclone in the back for a husk and dust collection. In this way, the whole process is more cleanly. Besides, this kind type of the corn grits machine can collocate with the elevator, it's also popular in the world. We once exported a T3-type maize grits milling machine with the elevator to Timor-Leste. If you are interested, welcome to contact us immediately!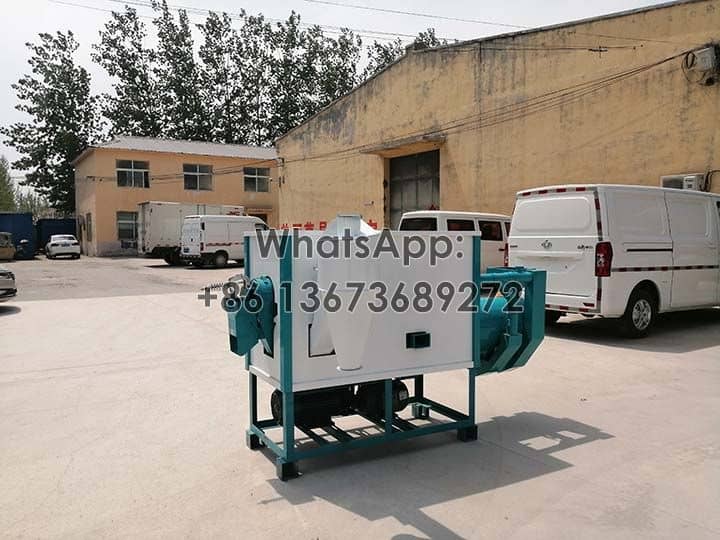 PH high-quality corn grits machine is very similar to T3, the difference is that PH maize grits milling machine does not have the cyclone.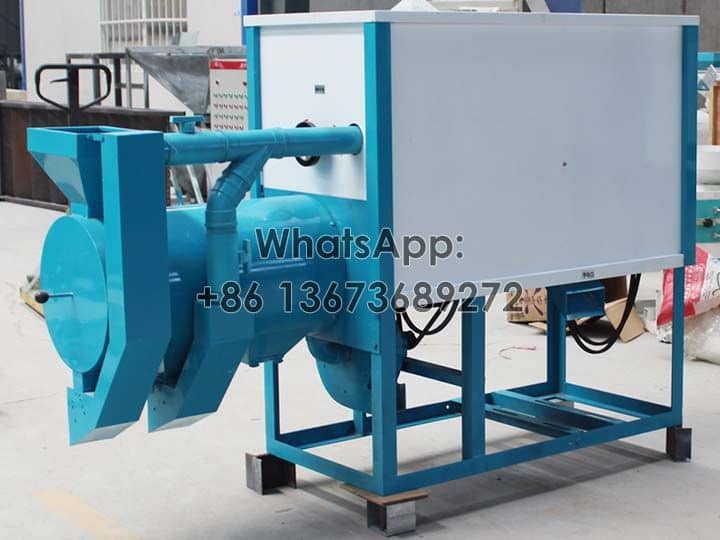 PD2 advanced maize grits making machinery has a double elevator, which can grind corn more quickly and efficiently.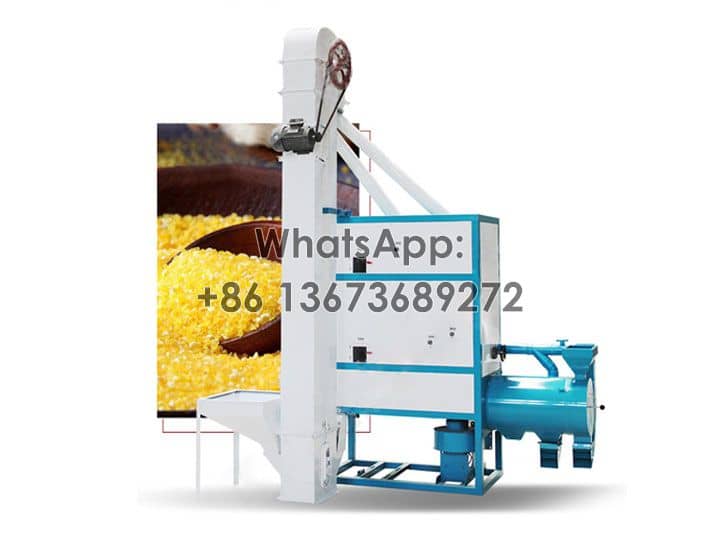 C2 multifunctional maize grits milling machine is more affordable than others.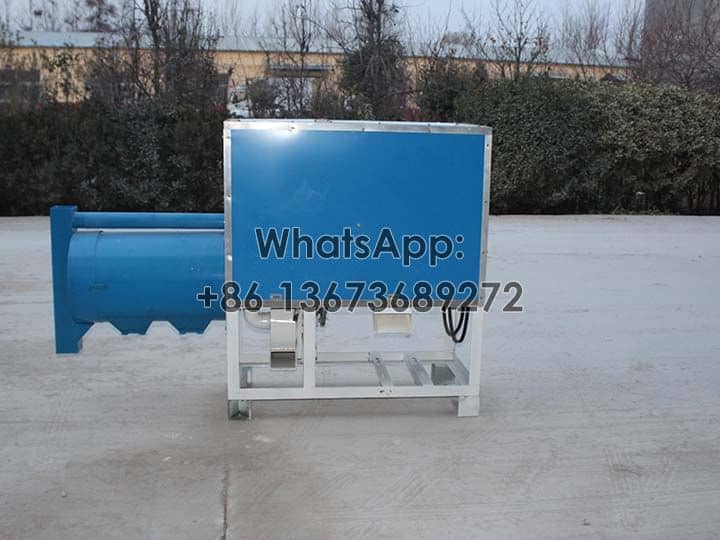 Working Video of Industrial Maize Grits and Flour Making Machine
How Are Maize Grits Made? – Corn Grits Manufacturing Process
According to the principle of the maize grits milling machine, in the maize grits manufacturing process, first peel, then make grits and finally get the finished products.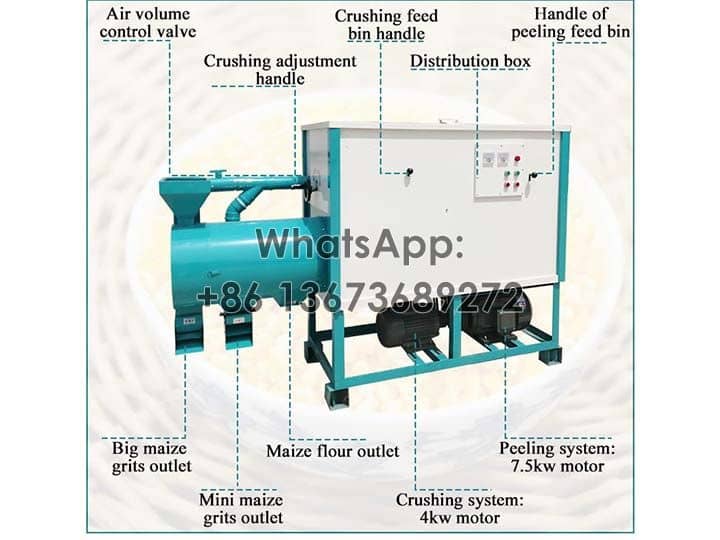 Peeling
The peeling device includes a peeling knife and a peeling pressure insert. Among them, there is a peeling screen in the peeling knife. The pressure plate plays the role of drying, de-cleaning, and high efficiency.
Feed the corns into the hopper, and then start the motor. The peeling works will begin. Corns are peeled and crushed into several pieces. Also, the black germs are removed.
Making grits
The maize grits milling machine has the grinding core, adjustable handle, locking handle. Based on your demands, you can adjust the handle to achieve your goals.
Finished products
Commonly, there are three products: big grits, small grits, and cornmeal. After getting the big corn ballast, then use the grits machine, three separators can divide the finished products into three kinds. The ratio can be adjusted according to your requirements.

Advantages of Automatic Maize Flour and Grits Milling Machine
Automatically completing the peeling, grits and flour milling, saving labor.
High efficiency, stable performance, super quality.
Adjustable ratio of finished products, meeting various requirements.
With various available maize meal mills, you can choose a suitable maize grits milling machine.
Advanced unique design, complying with the market trend.
List for Easily Damaged Parts for Maize Grits Milling Machine
In the corn grits manufacturing process, some parts are easily broken. There is a list to show you, and you should understand that separately supply of breakable parts.
| | | | | |
| --- | --- | --- | --- | --- |
| Serial number | Part name | Material | Unit | Quantity |
| 1 | Grinding core | Alloy cast iron | set | 1 |
| 2 | Roller | Cold cast iron | set | 2 |
| 3 | Take-off knife | Wear-resistant cast iron | piece | 1 |
| 4 | Peeling screen | 45# steel plate | piece | 1 |
| 5 | B1300 gross | Rubber | piece | 2、3 |
| 6 | Brush, rag | / | piece | 2、1 |
| 7 | Grits machine 1211 | / | set | 2、1 |
| 8 | Peeling machine 307 | / | set | 2、1 |
Maintenance of Maize Grits Milling Machine
The fasteners and bearings should be inspected regularly. The loose parts damaged should be replaced or repaired in time.
Regular cleaning of bearings, clutches, and rotating parts. Don't be lacking in lubricating oil.
The grinding core, roller, knife, the screen should be inspected regularly.
Regularly check whether the nut at both ends of the roller in the peeling machine is loose, and tighten it when it is loose.
Successful Case: Exporting Maize Grits Milling Machine to Bengal
In January this year, we received inquiries from Bangladeshi customers. After communicating with him, we knew that he didn't have enough maize processing plant cost. Thus, he decided to buy a stand-alone machine for production. Also, he is running a corn farm for selling corn grits and corn meal. Learning about this, our sales manager recommended to him the high-quality T3 maize grits making machine. Moreover, he saw the small corn cob grinder for sale and requested this machine. Finally, he ordered 1set of maize grits and flour milling machine and 5 sets of the small corn grinder.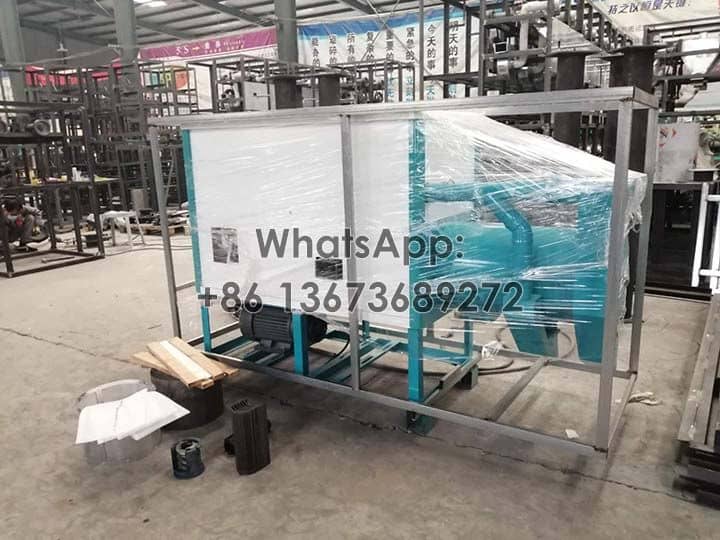 Technical Parameters of Hot Sale Corn Maize Grits Milling Machine
| | | |
| --- | --- | --- |
| Model | T1 | T3 |
| Power | 15hp diesel engine or 7.5kW motor | 7.5+4kW motor |
| Capacity | 200kg/h | 300-400kg/h |
| Size | 1400*2300*1300mm | 1400*2300*1300 mm |
| Weight | 350kg | 680kg |
FAQs of the Corn Peeling and Grits Milling Machine
You may encounter all sorts of confusion when choosing a machine. I have written a special FAQ about maize grits milling machines for your reference, I hope it will help you.
Working Video of Hot Sale Maize Corn Grits Making Milling Machine