Nursery Seedling Machine | Automatic Seeding Machine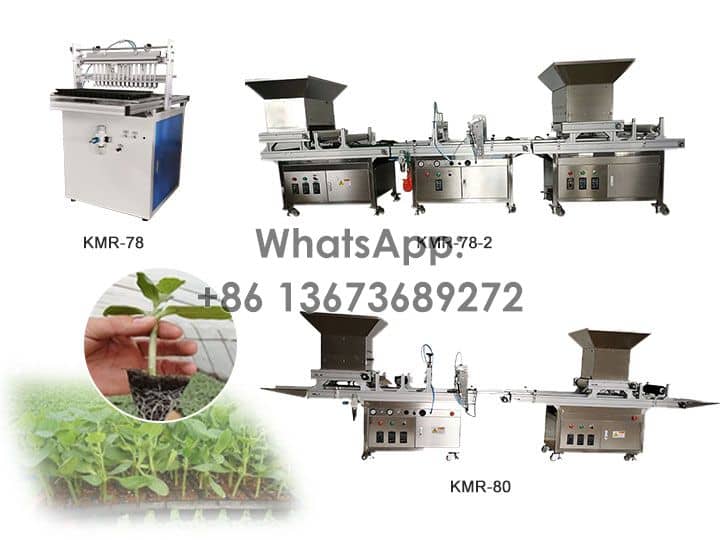 The function of the nursery seedling machine is to cultivate the seedlings of various vegetables, fruits, and flowers. It can be used with transplanting machine to carry out the next transplanting work. Our automatic seed sowing machine has the advantages of high quality, flexibility, and efficiency. Besides, our seed dispenser machine has CE certificate. The automatic seeding machine is very popular among foreign countries and regions, such as USA, Canada, Morocco, Kenya, Thailand, Australia, Nigeria, etc. If you have an interest, welcome to contact us for more details!
Seed Planter for Sale
Being a professional nursery seeding machine company, we have three types of nursery seedling machines for your choice. Of course, we put additional functions based on these three types. Now, let me introduce them one by one.
Type One: KMR-78 Hand Seeding Machine
From its name and machine appearance, you can clearly know that this is a manual tray seeder machine. This kind of nursery seedling machine is made of carbon steel and works with the air compressor. This semi-automatic nursery seeding machine has a capacity of 200 trays per hour.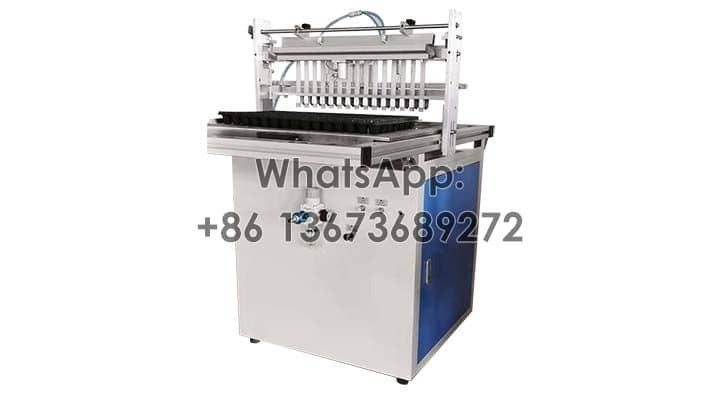 Semi-automatic Nursery Seedling Machine Structure
The manual tray seeder machine has very simple structure, including the nozzle, tray workbench, air compressor connection.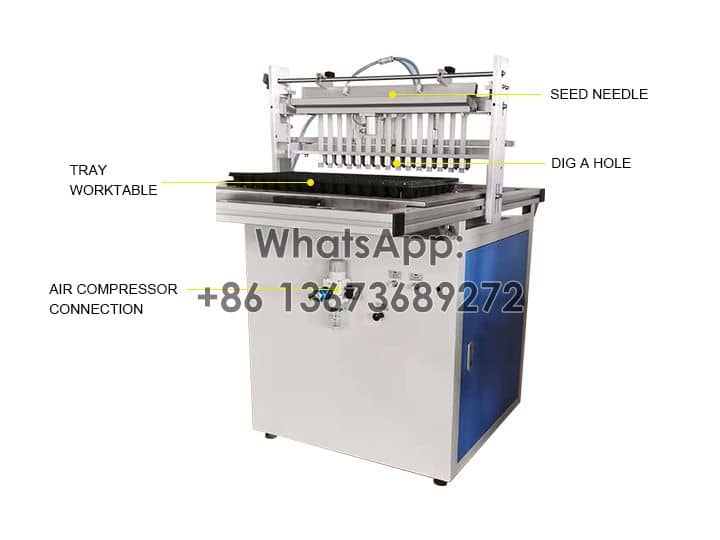 Technical Parameters of Manual Seeder Machine
| | |
| --- | --- |
| Model | KMR-78 |
| Capacity | 200tray/h |
| Size | 1050*650*1150mm |
| Weight | 68kg |
| Material | carbon steel |
| The material of nozzle | Aluminum alloy |
List of Vulnerable Parts
| | | |
| --- | --- | --- |
| Name | modal | Vulnerable reason |
| Air control valve | 3A110-06-NC | Frequent working |
| Suction nozzle | 0.5-07 | Bending deformation and blocking |
Type Two: KMR-78-2 Automatic Seeding Machine
KMR-78-2 seed dispenser machine is automatically completing the soil covering, brushing, digging, sowing, and soil covering and brushing again. Because of the removable three parts, we can allocate them according to the customers' demands.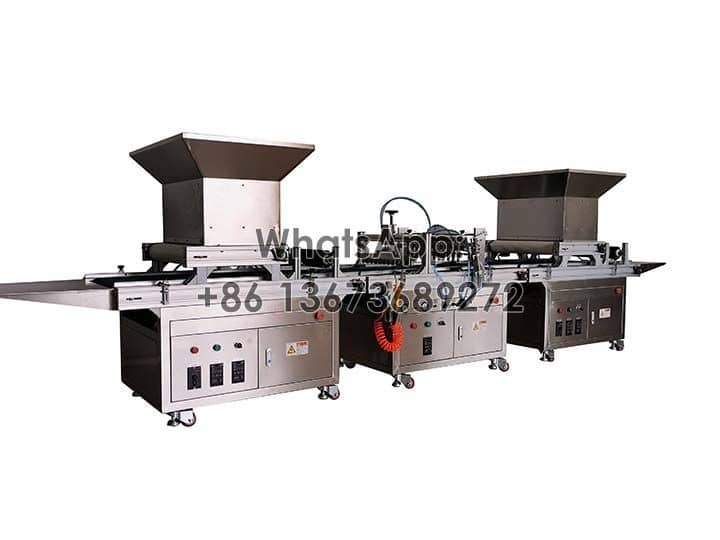 Automatic Tray Seeder Machine Design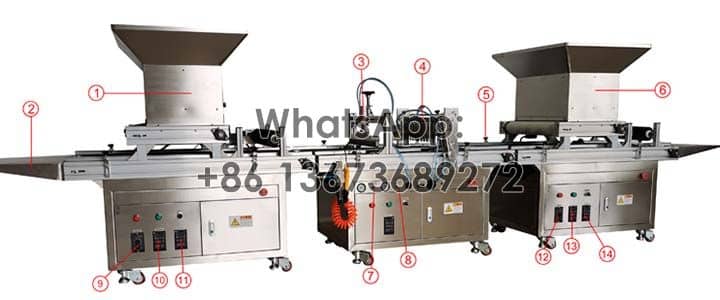 | | | | | |
| --- | --- | --- | --- | --- |
| 1. soil container | 2. layer board | 3. dug a hole | 4. put seed into tray | 5. conveyor for tray |
| 6. soil container | 7. put seeds into hole | 8. absorb seed | 9. adjust speed for brush | 10. adjust speed |
| 11. adjust seed for soil | 12. adjust speed for brush | 13. adjust speed | 14. adjust speed for soil | |
Technical Parameters of Tray Seeder Machine
| | |
| --- | --- |
| Model | KMR-78-2 |
| Capacity | 500-600trays/hour |
| Precision | >97-98% |
| Principle | Electrical and air compressor |
| Size | 4800*800*1600mm |
| Weight | weight |
| Material | Stainless steel |
| Voltage | 220V /110V 600w |
| Size for seed | 0.2-15mm |
| Width of tray | ≤540mm |
| Suitable tray | 32/50/72/104/105/128/200cell |
Type Three: KMR-80 Automatic Nursery Seeding Machine
This nursery seedling machine adopts the stainless steel material, dural and long service life. What's more, you can add nutrients to the soil. This kind of soil is very beneficial to the seed growing. If you are interested, please contact us at any time for more details!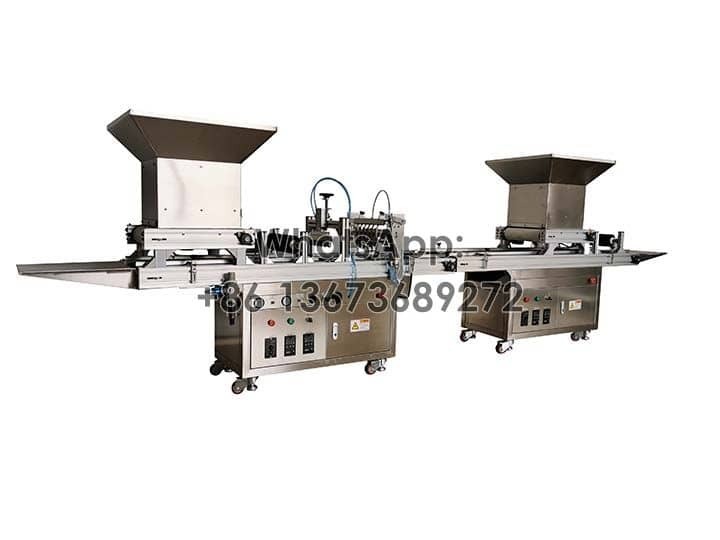 Nursery Seedling Machine Design
The automatic nursery sowing machine has two parts and can be dissembled. One part has integrated the soil covering, digging, and seed sowing. Another part is the soil covering. You can remove based on your own demands.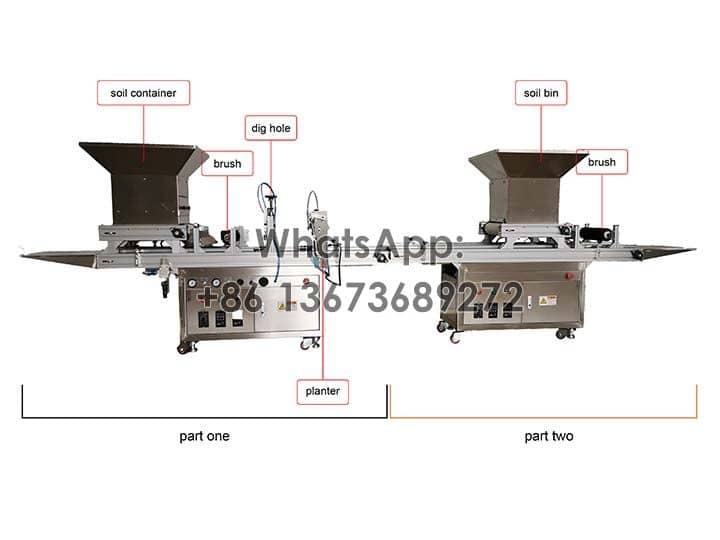 Technical Parameters of Taizy Nursery Seedling Machine
| | |
| --- | --- |
| Dimension | 1700*1600*1300mm |
| Voltage/power | 220v, 600w, 300w |
| The maximum size for seedling trays | Width:320mm |
| The size of the seed | 0.3-12mm |
| Dimension | 1700*600*1300mm |
| Voltage/power | 220v / 225w |
Advantages of Nursery Seedling Machine
Complete tools. The toolbox is well-equipped and covers almost all tools.
The suction nozzle is intact. Different seeds require different suction needles, we have 5 sets of suction needles, covering almost all seeds.
The machine can complete automatic drilling and sowing, saving manpower.
High emergence rate, low loss rate.
The plug plate has a high degree of adaptation. Whether it is a black plug tray or a white plug tray, whether it is a PE material or an EPS material, it is available.
Applications of Automatic Nursery Seeding Machine
The nursery seedling machine has a wide range of applications, such as melons, vegetables, and fruits. Details are as shown below: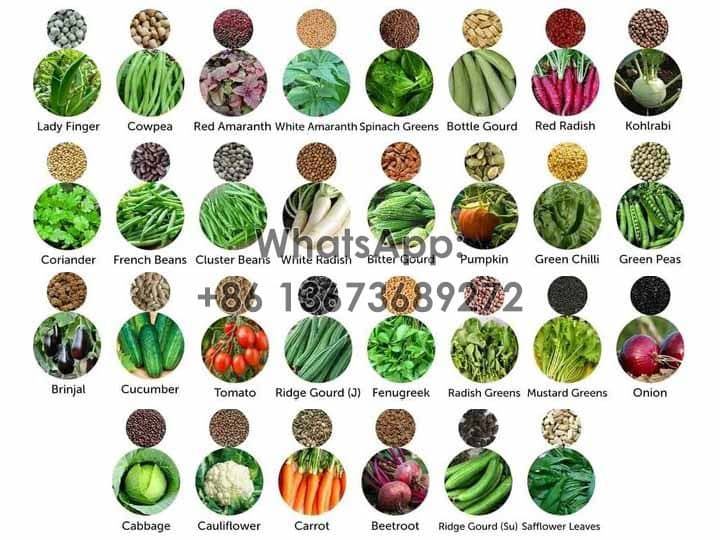 Why Choose Taizy as Top Choice for Nursery Seedling Machine?
We have been in this area for more than 10 years. In the international market, we certainly have our unique competitiveness.
CE certificate. Our seedling machines are CE certificated, which proves that our machines meet the standards and are compliant when exported to any country.
Customized machine. This machine can be completely customized according to the customer's needs, so don't worry about not meeting your own needs.
No after-sales problems. Because we will be equipped with 5 sets of suction nozzles with the machine, and the toolbox is also fully equipped, hence there will be almost no after-sales problems.
Maintenance of Nursery Seedling Machine from Taizy
Save surplus seeds and clean the nursery seeder machine after planting.
Clean carefully when the machine is off use for a long time. Inject motor oil in linking components and grease to chain and wheel. Put this machine in the dry and airing area.
Lubricate camshaft and linkage sowing area.
Successful Case: Automatic Nursery Seedling Machine Exported to Canada
The Canadian client contacted us via WhatsApp and told us he wanted an automatic nursery seeder machine to breed the melon seedlings. So, our sales manager knew that the Canadian client wanted a melon seedling machine. Owing to his demands for automation, the sales manager recommended the KMR-78-2 and KMR-80. Also, the sales manager respectively introduced the machine's function, performance, and working principle to him. The Canadian client required the machine's photos and videos. After learning them, the client decided to buy MR-78-2, because he thought this type fit his demands, and he liked its appearance. Finally, we reached cooperation and we packed the machine and send it to its destination.
Working Video on Automatic Seeding Machine