Watermelon and Pumpkin Seed Harvester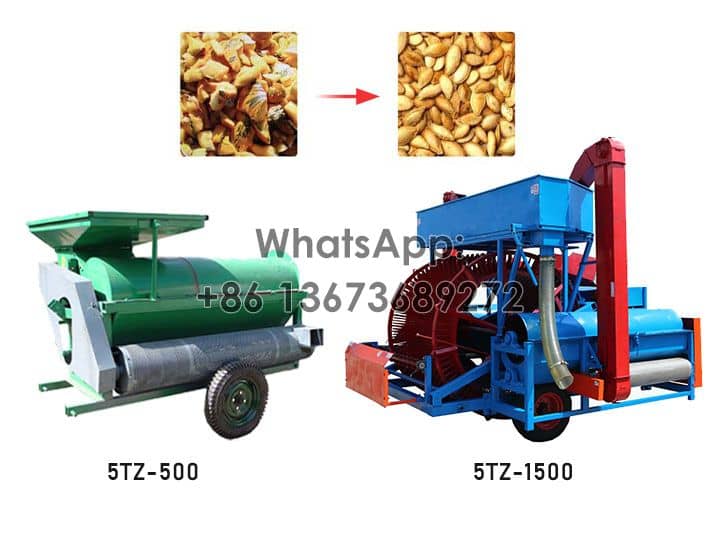 Pumpkin seed harvester is mainly used for harvesting and deseeding pumpkins. This pumpkin seed extractor has three options for power, respectively POT, motor, and diesel engine. Customers can choose the suitable one based on the actual situation. Besides, the pumpkin harvester machine can harvest the cantaloupe seed, gourd seed, melon seed, etc. Also, our pumpkin seed separating machine is well received by many countries and regions. For example, Mexico, the United States, France, Australia, Philippines, Morocco, Israel, South Africa, Canada, etc. And we have successful cases about the pumpkin seed collector in these countries. Don't hesitate to come and contact us!
Type 1: Small Size Melon and Pumpkin Seed Extractor
This small pumpkin seed extraction machine is driven by a 30-50 hp tractor, and the selected screen varies, as does the number of melons that can be processed. The machine has a CE certificate. Also, the machine handles a variety of melons with 85% cleanliness and less than 5% crushing. If you are interested, welcome to contact us.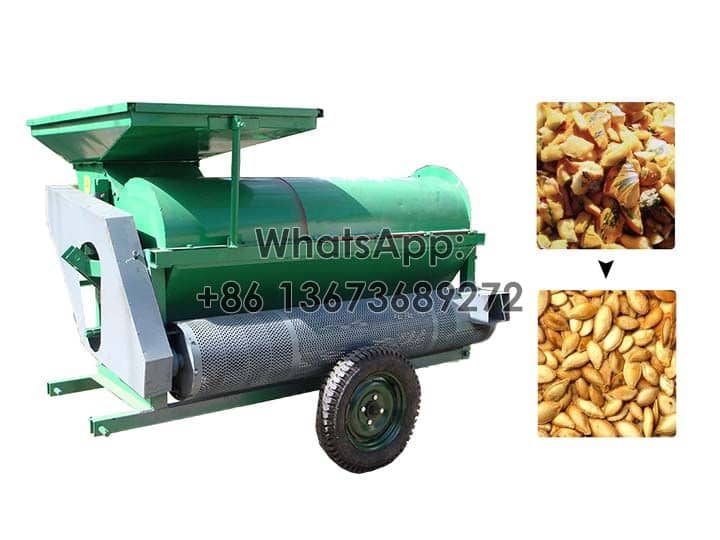 Structure of Pumpkin Seed Picker Machine
In Taizy Agro Machine Co., our pumpkin harvesting machine has very simple structure, including inlet, outlets for pumpkin seeds, pumpkin rind. So, it's easy to understand and operate.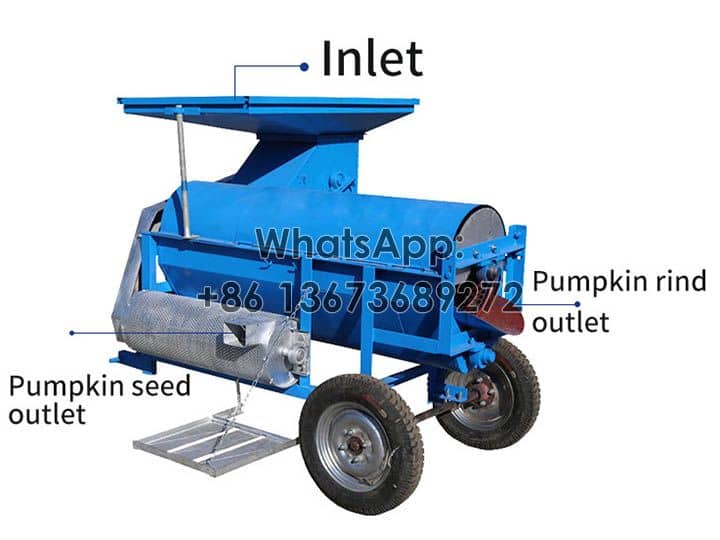 Parameters of Melon Seed Harvester
| | |
| --- | --- |
| Model | 5TZ-500 |
| Dimension | 2500*2000*1800mm |
| Weight | 400kg |
| Working speed | 4-6km/h |
| Capacity | 300-500kg/h |
| Cleaning rate | ≥85% |
| Breaking rate | ≤5% |
| Min power | 30hp |
| Max power | 50hp |
| R.P.M | 40 |
| Connect way | three-point linkage |
Type 2: Large Size Pumpkin Seed Extractor
The pumpkin seed harvester machine has the functions of picking, crushing, squeezing, separating, cleaning, storing, and unloading. And different separating nets can be selected for harvesting watermelon and pumpkin seeds. Besides, the machine is driven by a tractor through PTO, which is especially suitable for the plain farm operation. It should be noted that the seed extraction machine can only be used for harvesting ripe watermelons and pumpkins, and its performance will not be ideal if they are unripe or rotten.
It's a fully automatic seed piking machine, automatically loading melons, equal to two small pumpkin seed harvester machines.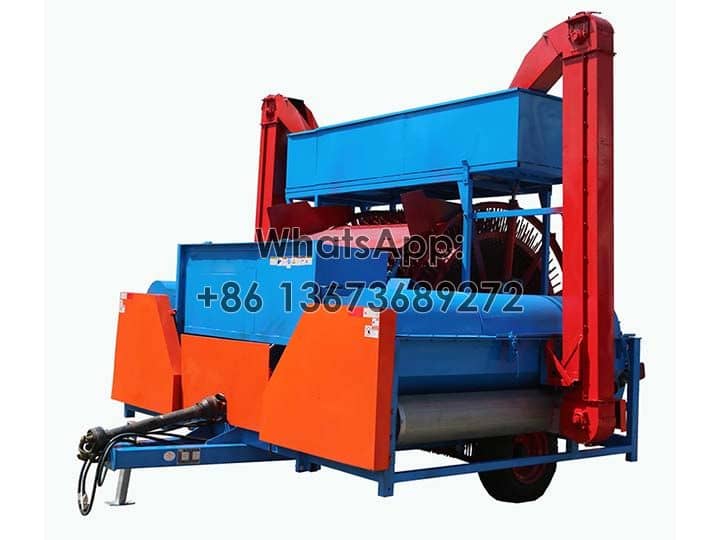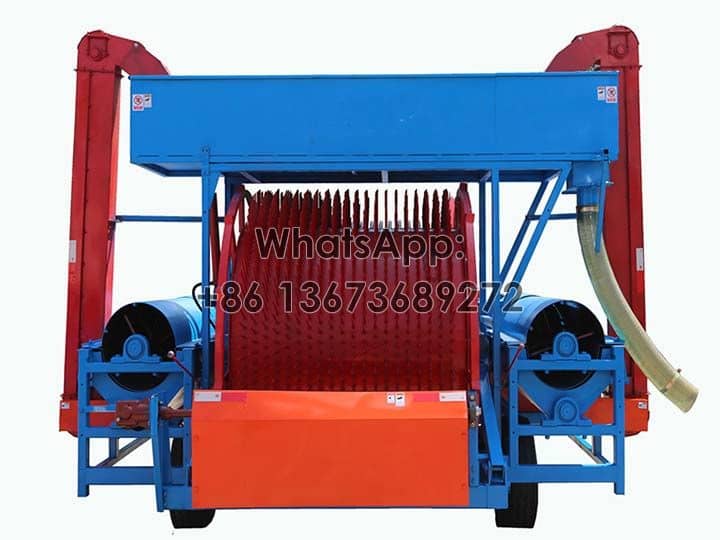 Structure of Pumpkin Harvester Machine for Sale
Watermelon seeds harvester and extractor consist of frame, watermelon picking barrel, seeds extractor, crushing container, cleaning barrel, elevator, seeds storage bin, gearbox, tyre, and hydraulic tube.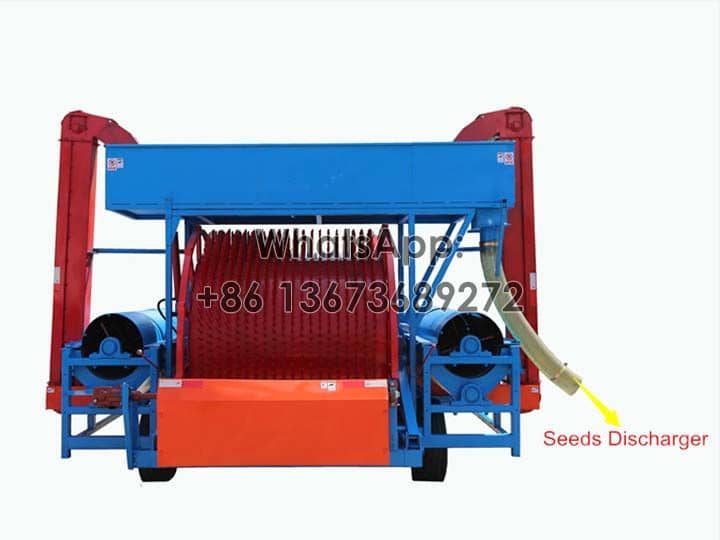 What are the Parameters of Pumpkin Seeds Picker?
| | |
| --- | --- |
| Model | 5TZ-1500 |
| Weight | 3388kg |
| Working speed | 2-5km/h (6600m2/h) |
| Material container | 1.288m³ |
| Cleaning rate | ≥85% |
| Breaking rate | ≤0.3% |
| Power | 60-90kW |
| Input speed | 540-720rpm |
| Connect way | three-point linkage |
Characteristics of Pumpkin Seed Collecting Machine
Simple to use, easy to operate, safe and reliable operation.
Reasonable structure, stable performance, super quality.
Three power systems. This pumpkin seed harvester can use PTO, motor, diesel engine.
Strong flexibility. Because the watermelon seed extractor can use three power sources, it's suitable for field operations or fixed occasions in plain areas.
CE certificate. The pumpkin harvester for sale has CE certificate, complying with the market requirements.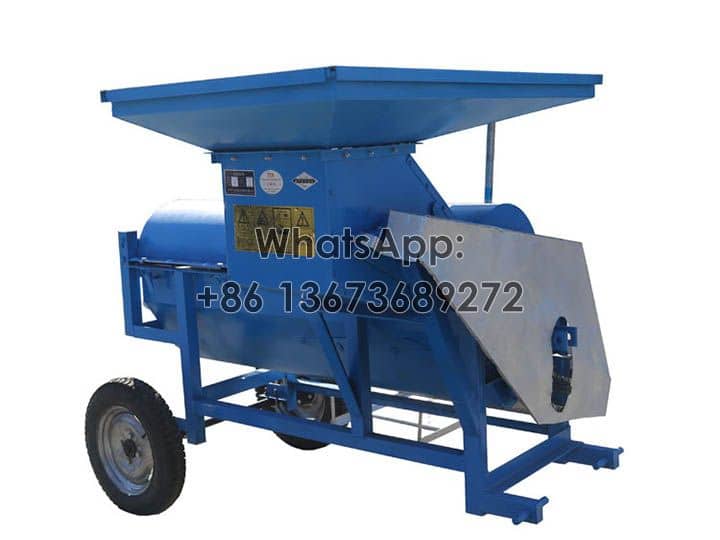 Wide Applications of Watermelon and Pumpkin Seeds Harvester
Generally speaking, this machine for removing the seeds from pumpkin has a wide range of applications. It can get various fruit seeds, such as watermelon seeds, cantaloupe seeds, gourd seeds, and others. Thus, this pumpkin seed harvester has a large potential market. If any doubts, please contact us at any time for clarifications!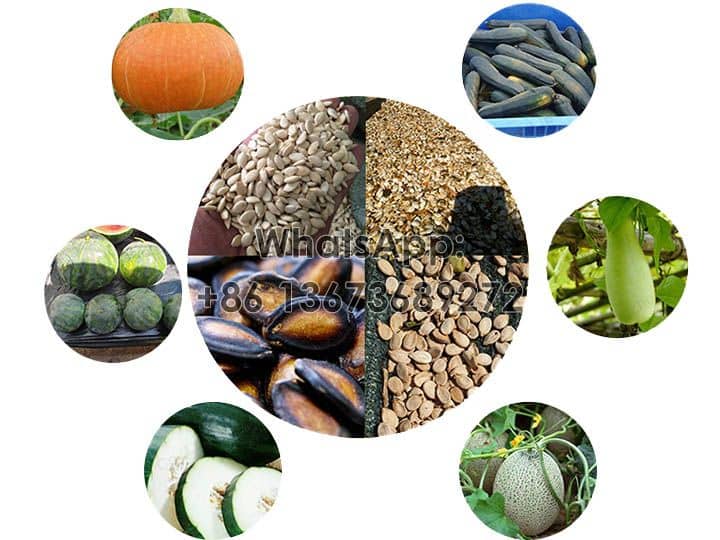 Usage of Pumpkin Seeds
As is known to all, we can get the pumpkin seeds from the pumpkin seed extractor. But what kind of functions of pumpkin seeds, even watermelon, and other seeds? Actually, these seeds are widely used for Health and Skin Care Products. What's more, we harvest pumpkin seeds for eating, planting, etc. Of course, the other seeds are the same.
How are Pumpkin Seeds Shelled?
The watermelon and pumpkin harvester machine can connect with the small tractor when working. The tractor drives the machine working by PTO.
1. The watermelon and pumpkin harvester machine can pick up watermelon or pumpkin into the hopper (the big size pumpkin seed harvester picks automatically while the small size one manually).
2. The machine crushes the watermelon or pumpkin with a crusher shaft.
3. Crushed watermelon or pumpkin goes into the separating drum.
4. With the shaft running, watermelon or pumpkin skin and meat are discharged from the separating drum, and watermelon or pumpkin seeds draw into the cleaning drum.
5. With the cleaning shaft working, watermelon or pumpkin seeds are cleaned and separated again.
6. Seeds are discharged out with a cleaning shaft rotation.
Equipment Used with Pumpkin Seed Harvesting Machine
This is also a harvesting machine for pumpkin and watermelon. It can break the pumpkin or watermelon stems, collect pumpkin or watermelon, and lay them by one side. So, this equipment helps farms save time. Also, it generally works with the pumpkin seed harvester machine. Looking forward to your inquiry!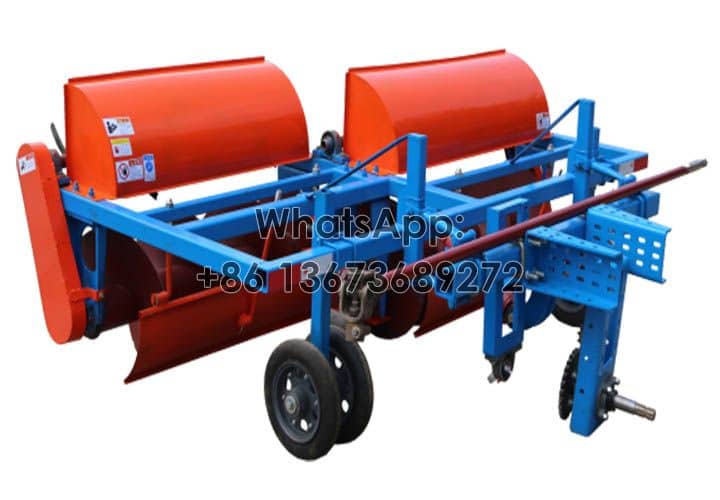 Successful Case: Pumpkin Seed Harvester Sold to France
Our sales manager Winnie received an inquiry about a seed harvester from a French customer. He has been engaged in planting for many years. And he has grown a large area of pumpkin fields, mainly selling pumpkin seeds to make health products. He saw our pumpkin seed extractor on the website and thought it was very useful to him, so he took the initiative to contact us for an inquiry about the pumpkin seed harvester price. Our sales manager Winnie sent the picture and working video, he was very satisfied. Both sides signed the contract.
Later, when selecting the cleaning barrel, the pumpkin seeds to be collected by the French customer were measured and matched with the appropriate screen mesh. Finally, it was successfully sent to France by sea. We also provide the sesame peeling machine, oil press machine, and other various agro machines.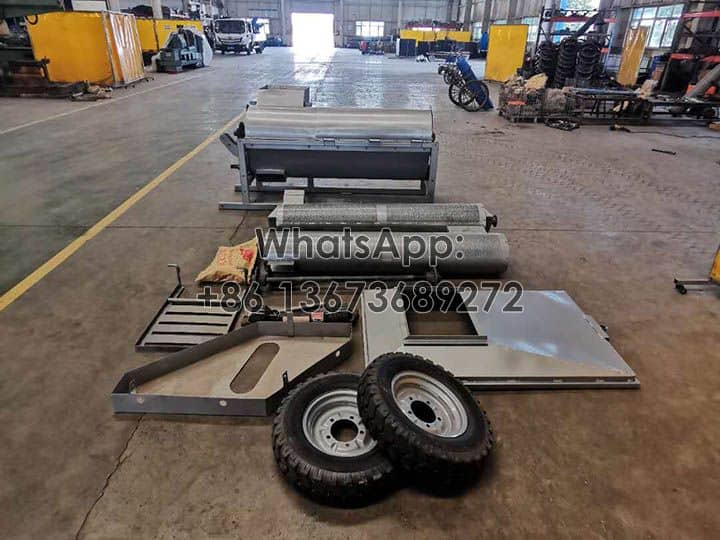 FAQ of Watermelon and Pumpkin Seed Harvester
Q: How to confirm the size of melon seeds?
A: Measure the length and width of the melon seeds.
Q: How about the tractor interflow shaft?
Q: What kind of seeds are suitable?
A: Zucchini, watermelon, pumpkin, cucumber, melon (Australia).