8-row Seedling Transplanter Machine Sold to Paraguay
A customer from Paraguay wanted to change his planting method, so he bought an 8-row seedling transplanter machine for onion transplanting. He had been planting by labor before and found it time-consuming and inefficient, so he wanted the related agricultural machinery that could improve his planting efficiency.
Introduction to this Paraguay client
This Paraguayan customer often imports goods from China. But it was the first time that it involved the agricultural sector, and this time it was for his own use for transplanting young onion seedlings. Therefore, he was not very familiar with this machine and needed to choose it with the help of a professional.
Benefits for the client from Paraguay buying the 8-row onion seedling transplanter
Because in the communication with the customer, we learned that this customer had previously used manual planting and transplanting, which was very time-consuming. And this customer is planning to buy a tractor, so the purchase of this 8-row vegetable transplanter machine is a match. This will not only improve the efficiency of this customer but also improve the survival rate of onion seedlings.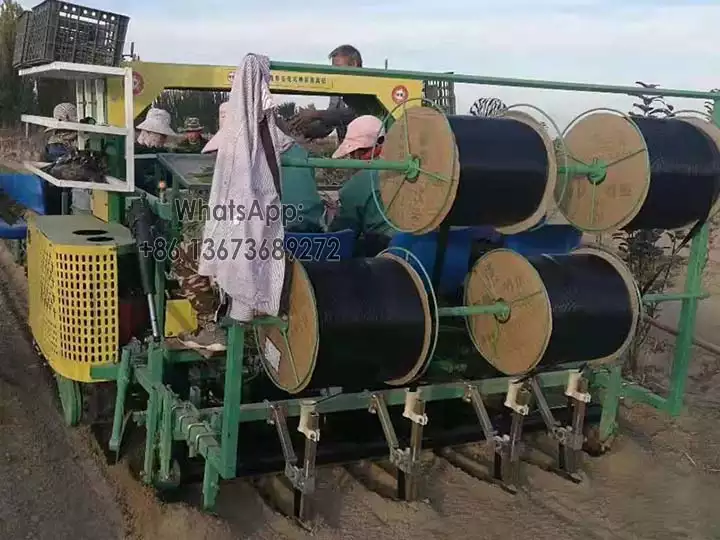 1. I'm going to transplant the onion, and want a distance of 40cm for the cleaning process for the weeds in the ground. What kind of vegetable transplanter do you recommend?
Growing onions, generally 6 or 8 rows of the seedling transplanter machine.
2. If I want to add some functions, like plastic mulching, drip irrigation, and tilling, is it possible?
Definitely, okay. Like our tractor-driven seedling transplanter, we can add functions such as irrigation, mulching, rototilling, monopolizing, fertilizing and watering.
3. I care much about the machine's quality. So, what type of quality I'm getting with this 2zbx-8? And if I want, can it make it with better quality, and I have no problem paying extra, or your production is a standard base quality?
I'm sure that our machine has excellent quality. We have sold this kind of machine to many countries, such as Finland, Zambia, Indonesia, Morocco, etc. The feedback from these customers is very good.
In the production process, we have a strict set of the quality control system, so there is no need to worry about the quality of the products.
4. What about your after-sale service?
One year of after-sales service for free. We provide spare parts within one year for free(Naturally damaged spare parts). You just need to pay the express cost.
Spare parts: chain, chain buckle. If you have any questions when you receive and use the machine, you can contact us in time. We can also provide video help and online help. For more than one year, if you have any questions, you can also contact us directly. We provide lifetime service.
Reference to the onion seedling machine parameters for Paraguay
Item
Machine parameter
Qty
Seedling Transplanter Machine
Row: 8
row to row is 15cm
plant to plant is 10cm
Capacity: 28800 seedlings per hour
with plastic mulching, Rotary tillage, Drip irrigation tape
1 set
Notes: This customer requested this transplanter to add the functions of rototilling, mulching and drip irrigation. In addition, special attention was paid to after-sales service.