Automatic silage making machine sold to Kenya
Congratulations! In June 2023, one Kenyan client bought an automatic silage making machine with diesel engine for his business. Our silage baler machine is very popular among livestock and is sold to many countries, such as Kenya, Botswana, Algeria, Jordan, Georgia, Nigeria, Pakistan, Portugal, etc.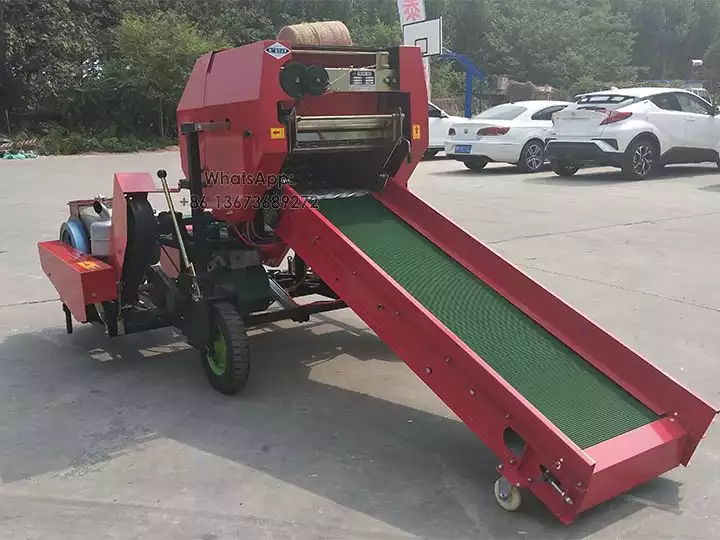 Why buy the silage baler machine for Kenya?
A customer in Kenya who has his own imported electrical appliances decided to introduce the machine and use it for his own home use in this purchase of baling and wrapping machine, considering his own business needs.
Points that the client cares about the automatic silage making machine
Machine advantages
During the communication with our sales representative Anna, she explained the advantages of the upgraded machine to the customer in detail, the machine was upgraded with external bearings, and it was this upgrade that led to the deal with the Algerian customer.
Arrival time in Kenya
The customer had a special concern about the time of arrival of the automatic silage making machine in Kenya. To address the customer's concerns, Anna actively coordinates with logistics partners to ensure the machine could reach the customer on time and meet the time requirements of his business operations.
Payment safety
Thus Kenyan expressed concerns about payment security when making payments. In order to provide a more secure and reliable payment method, Anna used the Ali platform to draft the order and shared the transaction record and amount of the baling and wrapping machine with the customer to increase the customer's trust and the security of the payment.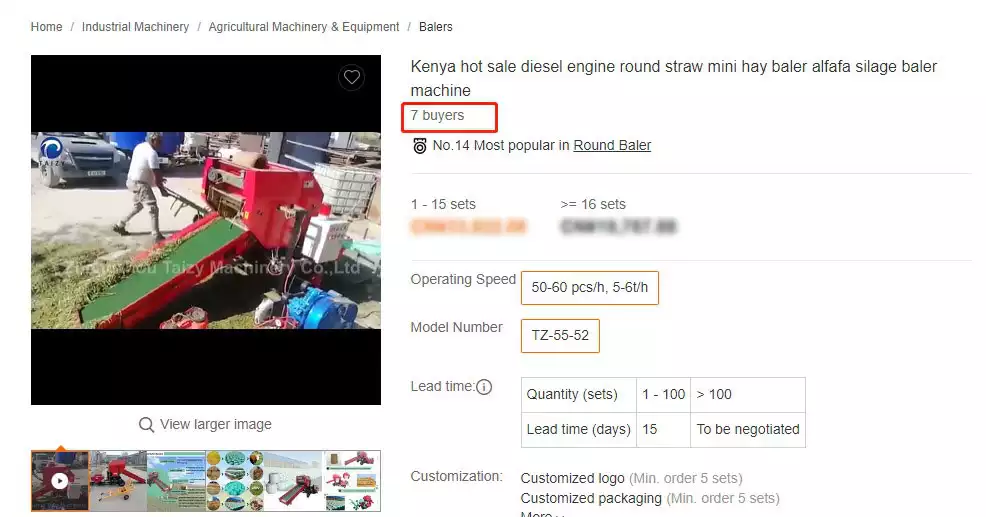 Machine list for Kenya
Picture
Specification
Qty


Silage Baler with diesel engine
Model: TZ-55-52
Power:5.5+1. 1kw, 3 phase
Diesel engine:15hp
Bale size: Φ550*520mm
Baling speed:60-65piece/h, 5-6t/h
Machine size:2135*1350*1300mm
Machine weight:510kg
Bale weight:65- 100kg/bale
Bale density:450-500kg/m³
Rope consumption:2.5kg/t
Wrapping machine power:
1. 1-3kw,3 phase
1 set
Yarn
Length:2500m
Weight:5kg
Around 85 bundles/ roll
5 pcs
Film
Length:1800m
Weight:10.4kg
Around 80 bundles/ roll for 2 layers. Around 55 bundles/ roll for 3 layers.
3 pcs
silage making machine for Kenya
Notes:
2 pcs of yarn are free and 2 pcs of film are free.
The automatic silage making machine is delivered to the warehouse in Nairobi.
Payment term: 40% as deposit paid in advance, 60% as balance paid before delivery.
Shipping time: About 35 days.