55-75bales/h Corn Silage Baler Machine Sold to Indonesia
Taizy corn silage baler machine is designed for baling and wrapping the silage for storage for a long time, beneficial to those who raise animals in the livestock area. This silage baler machine is a model 70, motor only, and is fully automatic, saving labor and making it a good helper for the livestock industry. Recently an Indonesian customer purchased this machine along with an automatic feeder.
Details of communication about the corn silage baler machine with the Indonesian customer
The Indonesian customer was looking for a silage baling machine on the Internet for his livestock business. Now he was preparing the silage for preparation and also for sale. And when seeing the corn silage baler and wrapper machine, he was very interested in this machine, and then send the inquiry to us.
Our sales manager Lena contacted him very soon after receiving his inquiry. According to his inquiry, Lena sent the machine information, including the machine parameters, photos, videos, etc. As checking this information, the customer indicated that he wanted a fully automatic silage baler and wrapper machine, saving time and labor. So, Lena recommended the corn silage baler machine(50 type with the air compressor and trolley & 70 type and trolley).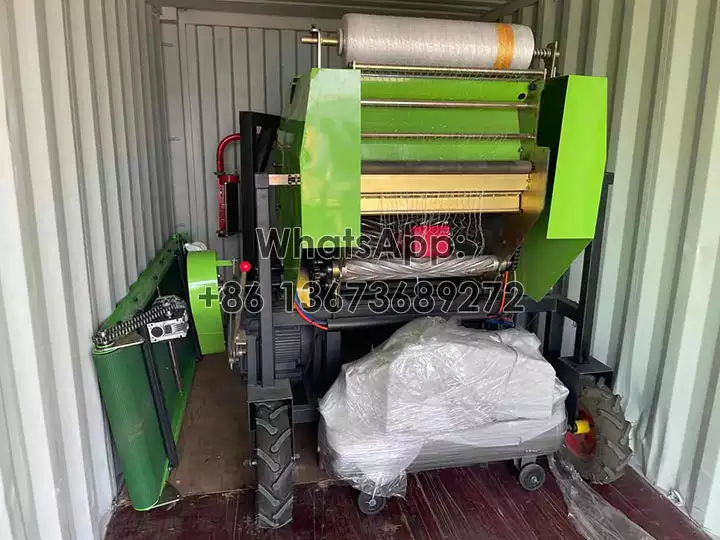 Later, the customer expressed he needed big capacity, so the 70-model corn silage baler machine was highly recommended. And the customer also required the plastic net for bundling the silage, film for wrapping the silage, also spare parts. Besides, he thought manual feeding silage was so slow, asked whether there was a relevant machine for feeding. Thus, Lena solved this problem with an automatic feeder machine. Finally, the Indonesian customer ordered the corn silage baler machine, feeder machine, plastic net, film, and spare parts.
Machine parameters ordered by the Indonesian customer
Item
Specification
Quantity
Silage round baler machine
(with the air compressor and the trolley)

Model: TS-70-70
Power: 11kw+0.55kw+0.75kw+3kw+0.37kw electric motor
Bale size: Φ70*70cm
Bale weight: 150-200kg/bale
Capacity: 55-75bales/h
Air compressor volume: 0.36m³
Feeding conveyor(W*L): 700*2100mm
Filming cutting: Automatic
Wrapping efficiency: 6 layers need 22s
Size: 4500*1900*2000mm
Weight: 1100kg
1 set
Feeder machine
(with the electric motor)

Power: 3kw electric motor
Inside volume: 5m³
Size(L*W*H): 3100*1440*1740mm
Weight: 595kg
1 pc
Plastic net

Width: 70cm
Thickness: 25um
Weight: 10kg
Total length: 1500m
Material: LDP
25 pcs
Film

Weight: 11.4kg
Width: 33cm
Thickness: 25um
Total length: 1800m
Packing: 1 roll/carton
Material: LDP
25 pcs
Spare parts
5 pcs of tracheal joints
4 pcs of bearings  
1 pc of blade box  
4 pcs of gears
5 meters of airline
1 pc of chain
/