6BHX-1500 Peanut Shelling Unit Shipped to Brazil
This peanut shelling unit is an addition to the original peanut shelling machine with a cleaning machine, which is more powerful and saves manpower. With a shelling and cleanliness rate of over 99% and a breakage rate of less than 5%, this machine is a very worthwhile purchase. Therefore, it is also more popular in the market. Recently, a customer from Brazil ordered a groundnut shelling machine from us.
Details of discussing the peanut shelling unit with the Brazilian customer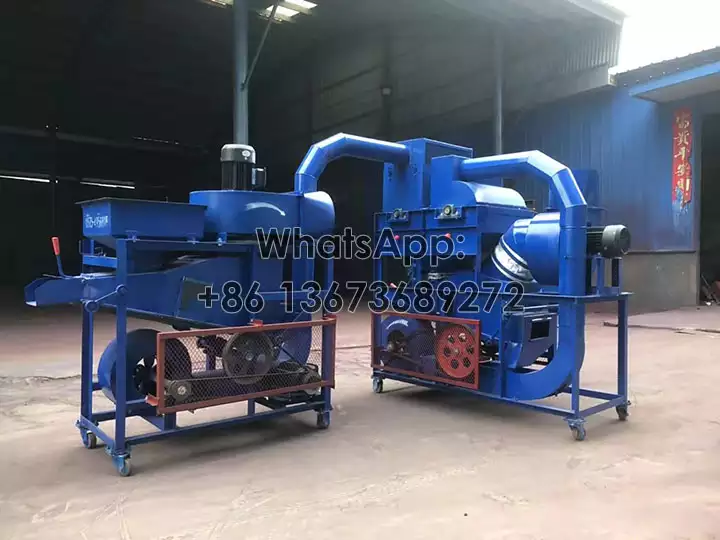 The Brazilian customer wanted a machine for shelling peanuts to get clean and intact kernels. So he looked for a machine on the internet and when he saw our peanut shelling unit, he was very interested and sent us an inquiry.
Our sales manager, Coco, contacted him soon after receiving his inquiry. Knowing that he wanted a high-quality peanut shelling machine, she recommended our peanut shelling machine to him. There are not only the parameters of the machine but also photos and videos. After viewing the machine, the customer wanted to know more about the 700-800 kg/h (6BHX-1500) machine.
The two then talked in detail about the details of the machine, such as the machine screen configuration, motor configuration, how to transport the peanuts to the sheller, whether the conveyor belt was free, etc. After confirming one by one, Coco finally confirmed the machine voltage with the customer to see if the voltage needed to be changed. Finally, the Brazilian customer placed an order for the peanut shelling unit.
Machine parameters for the Brazilian customer
Item
Specification
Quantity
Peanut shelling and cleaning machine
Model: 6BHX-1500
Capacity: 700-800kg/h
Shelling rate: ≥99%
Cleaning rate: ≥99%
Breakage rate: ≤5%
Loss rate: ≤0.5%
Humidity: 10%
Shelling motor: 1.5kW+3kW
Cleaning motor: 2.2kW
Weight: 520kg
Size: 1500*1050*1460mm
Voltage: 220V 50HZ 3 phase
1 set
Conveyor
Conveyor for peanuts to the cleaning machine
1 pc