Bangladesh Customer Bought Silage Baler Machine
The silage baler and wrapper machine is a good helper for storing silage. It is equipped with an electric motor for use. If the power supply is not convenient, it can work with a diesel engine. The silage baler can be used not only for baling corn silage, and straw silage, but also for straw, wheat straw, straw sawdust, waste stalks, various straws, and other floating materials. It will automatically bale the silage materials and wrap the film. In short, the bale wrapping machine is designed to solve the silage storage problem. In May this year, a customer from Bangladesh bought and received a silage baler machine.
Advantages of Purchasing A Silage Baler and Wrapper Machine
For the livestock farmer, the baling is efficient and dense. It can greatly improve the baling speed of silage and help them to make silage faster. In addition to this, wrapped silage can have a longer storage life and can pass through feed shortages more comfortably and vegetatively. The silage baler is also suitable for extrusion baling of corn straw, wheat straw, and pasture grass, which greatly reduces the storage footprint, improves transportability, and reduces the possibility of fire. That's why the Bangladesh customer bought the silage baler machine.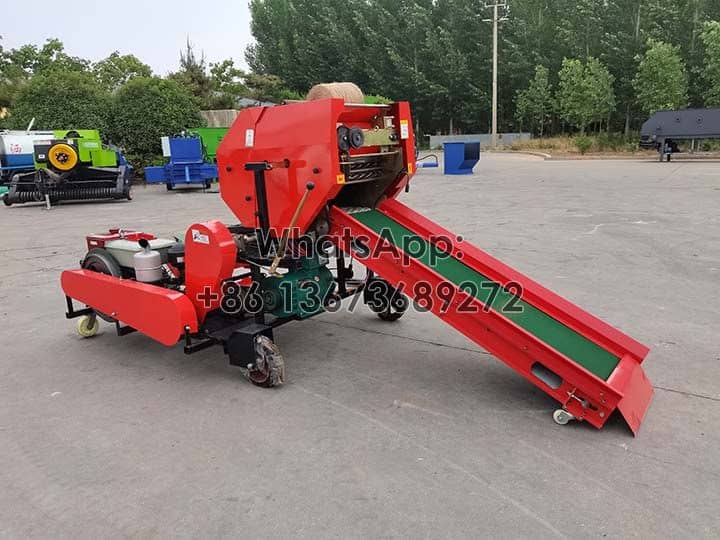 How did Bangladesh Customer Buy the Silage Baler Machine?
Our sales manager Winnie received an inquiry from a customer in Bangladesh about a baler machine. He runs a cattle farm and wanted a 50-type baling and wrapping machine. As a professional agricultural machinery company, we certainly have the machine to meet his needs. In the process of communication, he asked a lot of information about the machine, and Winnie answered all of them.
For example, is this machine available for both rope and net?
Do you give the rope/net for free when you buy the machine?
The Bangladesh customer needed the machine urgently, how many days after payment could he receive the silage baler?
Features of Silage Wrapped by Forage Film
Good quality of silage. Due to the good sealing of wrapped silage, it improves the quality of the anaerobic fermentation environment and also improves the nutritional value of the feed. So, the silage has an aromatic smell, high crude protein content, and low crude fiber content. Moreover, it has high digestibility, good palatability, high feed intake rate.
No waste. Mildew loss, fluid loss, and feeding loss are greatly reduced. Traditional silage lost up to 20%-30%.
No pollution of the environment. Due to the good sealing performance, there is no liquid flowing out of the phenomenon. Proper packaging, small volume, high density, easy to transport, and commercialization. This ensures a balanced supply and year-round use of modern livestock silage for small, medium, and large dairy farms, beef cattle farms, goat farms, farmers, etc.
Long storage period. Good sealing and compaction, not affected by the season, sun, rainfall, and groundwater level. The silage can be stacked in the open air for more than 2-3 years.