TZ-55-52 Silage Baler for Sale to Malaysia
The silage baler for sale is a special machine for silage baling, with an output of 50-60 bales per hour and a very high efficiency. And our silage baler and wrapper is always exported and very popular abroad! Recently, a Malaysian customer ordered one of this type of baling and wrapping machine from us.
Details of the silage baler for sale to the customer from Malaysia
In July this year, a customer from Malaysia sent us an inquiry for a baling and wrapping machine. After communication with him, our sales manager Lena found out that the Malaysian customer had his own livestock farm and wanted to stock silage, so he started looking for the right machine for him online.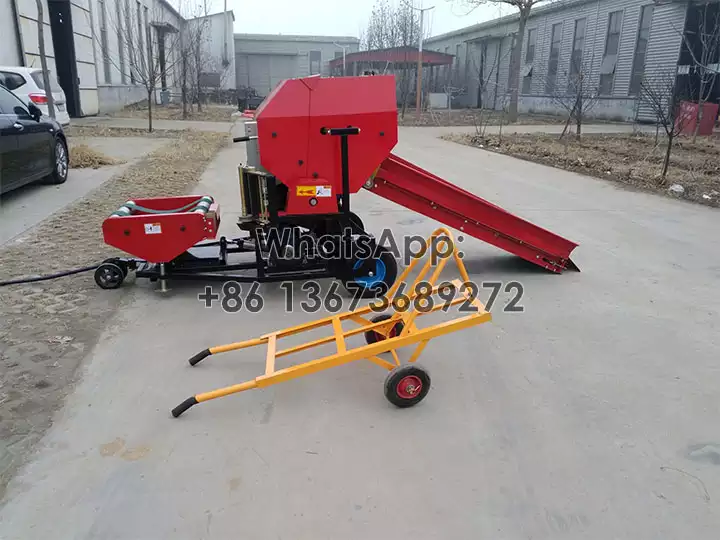 Lens recommended the silage baler for sale to him based on his needs. At the beginning she sent relevant machine parameters, photos, configurations, videos, etc. for the customer to read. After viewing the machine, the customer asked how to bale the silage and what material would be better, Lena explained that rope or net could be used to bale the silage and then wrap it.And the rope or net would gradually decompose during storage and would not cause any harmful effects to the silage. After this question was answered, the customer's confidence in us grew and the order about the silage baler machine was placed.
Paramters of the machine ordered by the Malysian customer
Item
Specification
Quantity
Silage baling and wrapping machine
Model: TZ-55-52
Power: 5.5+1.1kw
Voltage: 415V, 50HZ, 3 phase
Bale size: Φ550*520mm
Baling speed: 50-60 pcs/h, 5-6t/h
Machine size: 2100*1500*1700mm
Machine weight: 750kg
Bale weight: 65-100kg/bale
Bale density: 450-500kg/m³
Film wrapping speed 13s for 2 layer film ,19s for 3 layer film
1 set
Yarn
Weight: 5kg
Length: 2500m
1 roll yarn can bind about 85 silage bales
  
Packing : 6pcs/PP bag
Bag Packing size :62*45*27cm
20 pcs
Film
Weight:10kg
Length: 1800m
Packing: 1 roll/carton
Packing size: 27*27*27cm
 
if wrap 2 layers,1 roll film can wrap about 80 silage bales,the silage can store about 6 months .
 
if wrap 3 layers,1 roll film can wrap about55 silage bales,the silage can store about 8 months .
30 pcs
Spare parts
5 pcs of tracheal joints
4 pcs of bearings  
1 pc of blade box  
4 pcs of gears
1 pc of chain
1 set of electric component
/