Fully automatic silage maker machine sold to Georgia
Good news to Taizy!A middleman in Georgia recently successfully purchased a fully automatic 50 diesel silage maker machine, a purchase that was awarded in a government tender. The customer, who is the owner of a company he runs, had very specific requirements for the baling and wrapping machine.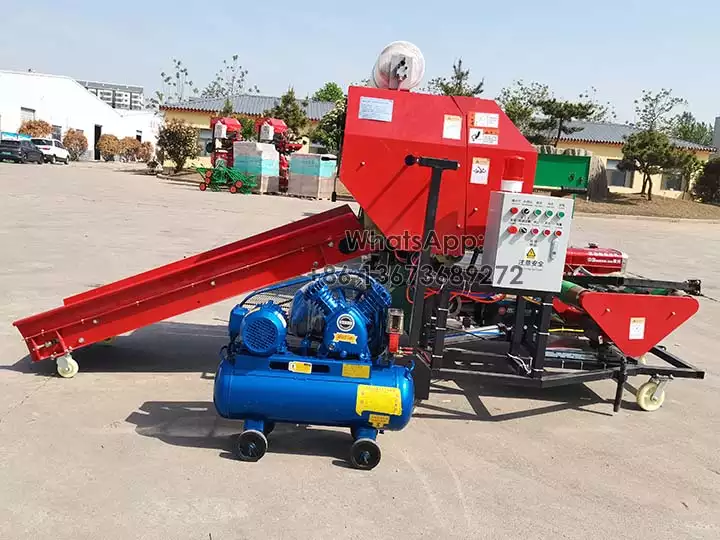 The customer stressed the need for a fully automatic machine and wanted it to be a diesel model to ensure stable operation and efficient performance. In addition to the fully automatic and diesel model requirements, this customer also had specific requirements for the silage maker machine's parameters, including wrapping size, throughput capacity and number of wrapping layers, to ensure that the machine would meet their specific production needs.
We provided him with the relevant machines as he requested, and provided video photos as a reference during the production process.
Concerns that the customer bought the silage maker machine
Payment method
Due to banking issues, this customer chose to pay us in RMB from a local bank to ensure a smooth transaction. Furthermore, a 50% deposit was agreed upon and the remaining 50% was to be paid before the silage making machine was delivered.
After-sales service
In addition, he is very concerned about the delivery time and after-sales service, and wants to deliver the machine on time and get good after-sales support. And whether the machine is installed with installation instructions, etc. Our sales manager, Winnie, made sure of this and gave a timely reply, ensuring smooth communication between the two sides.
Machine list for Georgia
Item
Specification
Qty
Silage Baler
Diesel engine:15hp 
Bale size:Φ550*520mm
Baling speed: 60-65 piece/h, 5-6t/h 
Machine size:2135*1350*1300mm
Machine weight:850kg
Bale weight:65-100kg/bale
Bale density:450-500kg/m³
Rope consumption:2.5kg/t
Wrapping machine power: 1.1-3kw, 3 phase
Film wrapping speed:13s for 2 layer film,19s for 3-layer film
(we can customize 6 layers for you)
60L air compressor
1 set
Plastic Net
Diameter:22cm
Length of roll:50cm 
Weight:11.4kg
Total Length: 2000m
Packing size: 50*22*22cm
1 roll can bind about 270 silage bales
1 pc
Film  
Weight:10kg
Length: 1800m
Packing: 1 roll/carton
Packing size: 27*27*27cm
6 pcs
fully automatic silage maker machine list for Georgia
Notes to the fully automatic silage maker machine:
This 55-52 model baling and wrapping machine is with diesel engine, trolley, 60L air compressor, 6 layers of wrapping, control cabinet to be customized, and wooden box packaging.
Payment Term: 50% as deposit paid in advance, 50% as balance paid before delivery.
Delivery Time: Around 20 days after receiving your payment.