Electric Powered Silage Round Baler for Sale to Algeria
Our silage round baler for sale and automatic feeder are specially designed for baling of various silages. And it is loved by customers at home and abroad because of its good performance, good baling effect, and good quality. In February this year, a customer from Algeria ordered a set of baling and wrapping machine, silo, and other agricultural machinery from us.
Basic information about the Algerian client
He is the owner of an import company locally, often importing large amounts of machinery and equipment from abroad. This time it was in accordance with the procurement plan and started again with the purchase of related agricultural machinery.
Points that the Algerian client cares about the silage round baler for sale and other agricultural machinery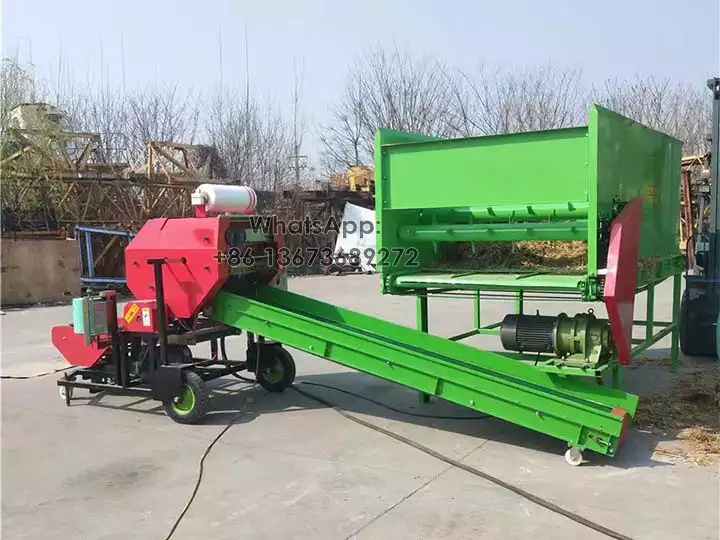 How about the bearing for the silage baler machine? Is it easy to refuel?
How about the spare parts? I'm doing business, but no spare parts for the corn silage baler machine. If I buy many spare parts, give me the wholesale price, please.
Certificate of conformity, Certificate of origin, packing list, weight note, Certificate of free marketing, invoice, BL, all these certificates should be ready.
This customer also reminded that keep in mind no transshipment by Spain.
After paying, the client wants the machine to be delivered as soon as possible.
Machine list for the client from Algeria
No.
Picture
Name & Parameters
QTY
1
Silage Baler
with the automatic cutting knife
And FEEDING BINS (Cuves d'alimentation )
Accessories: (for each baler)
Compressor: 1 pc , Plastic film: 1 pc
Hemp rope: 1 pc, Cart: 1 set
Toolbox: 1 set
8 sets
2
Silage Clamps

5 sets
3
Silage Mower
9 sets
4
Silage Shredder
2 sets
5
Reaper
Cutting Width(mm) : 1200
diesel engine
2 sets
Spare parts list for the silage round baler for sale
Because he purchased the silage round baler for sale locally, he also bought lots of spare parts. Details are as follows:
| | | | |
| --- | --- | --- | --- |
| S/N | Picture | Name | QTY |
| 1 | | Bearing FL205 (big balers) | 20 pcs |
| 2 | | Sprocket (big balers) | 58 pcs |
| 3 | | Air Cylinder (big balers) | 2 pcs |
| 4 | | Roll and Shaft (big balers) | 29 pcs |
| 5 | | Air spring (big balers) | 2 pcs |
| 6 | | Sprocket wheel | 500 pcs |
| 7 | | Aluminum Roller | 500 pcs |
| 8 | | Air spring | 60 pcs |
| 9 | | Air cylinder | 20 pcs |
| 10 | | Oil-water separator | 30 pcs |
| 11 | | Conveyor belt | 70 pcs |
| 12 | | Chain | 10 pcs |
| 13 | | Special bearing | 5 pcs |
| 14 | | Basement | 20 pcs |