Tractor Driven 4 Row Corn Planter Shipped to Argentina
Great news! Taizy 4-row corn planter was sold to Argentina in August this year. Our corn planter for tractor is very popular because it can sow large areas of maize with a high degree of mechanization. If you are interested in this type of corn planter, please contact us!
Discuss the details of the corn planter order for the Argentine customer
This Argentinian customer bought the machine for his own use. He has a large planting area and grows crops according to the local climate and growing habits. Therefore, he is now looking for a maize planter to plant corn in the upcoming planting season. After seeing our corn seeder on Google, he was interested and sent us an inquiry.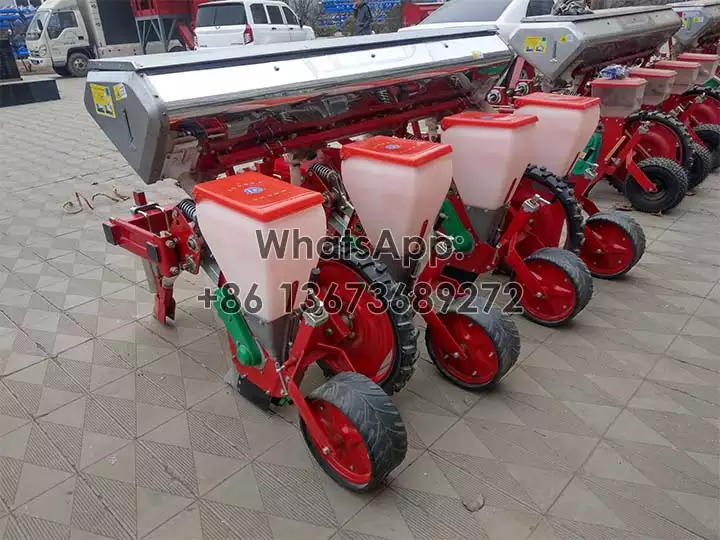 He was contacted by our sales manager Coco. She found out about the size of the planting area of the Argentinian customer and, on this basis, Coco recommended a 4-row corn seeder and sent him the relevant parameters, photos, videos, examples of transactions, delivery pictures, etc. The Argentinian asked how to adjust the plant spacing and Coco explained that there was a handle on the machine that could be adjusted. The Argentinian customer then asked questions about payment and delivery, which Coco answered patiently and carefully. After this was sorted out, the Argentinian customer placed his order with us.
Why did the Argentina customer choose a Taizy corn planter?
CE certificate. Our maize planter is CE certified, the whole machine meets the quality standards for the production of machines and the quality is guaranteed.
Patent certificate of the machine. The machine has its own patent certificate at home and abroad, and the patented technology is unique in the entire agricultural machinery manufacturing industry.
How does a 4-row corn planter work?
Parameters of the 4-row corn planter machine
Item
Specification
Quantity
4-row corn planting machine

Model: 2BYFSF-4D 4 rows
Fertilizer box: 260L
Seedbox: 8.5L
4 Row spacing: 35-60CM
Plant spacing: 80-360MM
Depth of furrowing: 6-8CM
Depth of fertilizer application: 6-8CM
Overall machine size: 1630*2050*1150MM
Weight: 420KG
Three-point suspension, 6 keys PTO
1 set