How to make grits from the whole corn?
Corn is one of the most important food crops in the world. And because of its drought resistance and high yield, it has always been the main crop that people eat, like corn grits, cornmeal. After the corn is harvested, we need to thresh it with a corn thresher and then make what we need. This requires the use of a corn grits making machine. The foods we often eat with corn are maize grits and cornmeal. In addition, it can also be used in the food processing industry to make various snacks.
Brief introduction of the corn grits making machine
When you want to get corn grits and cornmeal with low cost and high efficiency, this maize grinding machine is a good choice. Hence, this corn grits machine is mainly to produce corn grits and corn flour. Three finished products are available, big corn grits, small maize grits, and cornmeal. You can adjust the ratio to meet your demands.
Generally speaking, the machine uses the motor, with advantages of super quality, stable performance, high efficiency.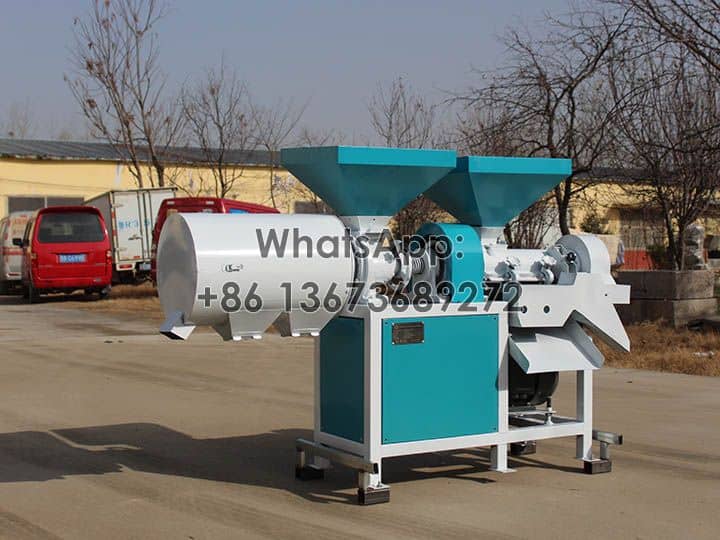 How to make corn grits into cornmeal?
In the maize grits manufacturing process, first corn peeling, and then grits making.
For corn peeling, due to the friction and extruding of the internal machine parts, the roller is continuously working. So, the corn shell will be peeled gradually and become several pieces. Finally, the peeled and crushed corns come out from the outlet.
For grits making, pour the cleaned corn kernels into the grinding hopper. materials move forward through the traction clutch crushing device, and corns are crushed in the process. Then crushed corns come into the classification system. In this step, three finished products appear owing to the three-separation circular screen.

How to choose the suitable one among the five types?
As a well-known agro machine manufacturer and supplier, we have four types of corn mill machines available. The corn mill machine for sale is T1, T3, PH, PD2, and C2. When you consider this corn grits making machine, there are several tips for your reference.
Purpose. What is your purpose for purchasing this machine? We all know the finished products can make polenta grits, so you want to sell cornmeal grits or have other purposes. In fact, the above types all can satisfy you.
Budget. How much are you planning to buy? Under the circumstances of the same function, C2 is cost-effective.
Configuration. The service life and machine quality are close to the machine configuration. Therefore, if you want a high-quality and durable machine, the high configuration is your top choice.