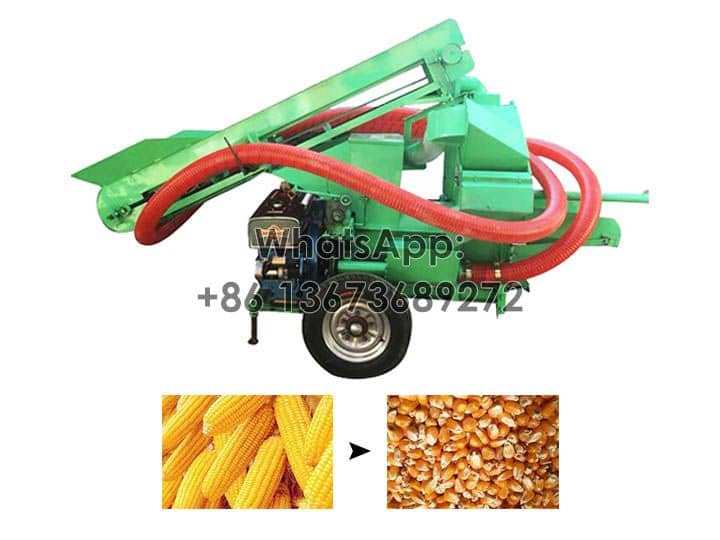 Maize thresher is professionally designed for corn, shelling corn into corn cobs and corn kernels with the capacity of 6t per hour. The corn cobs and kernels are in wholes without breaking. Also, it's a large-capacity automatic corn sheller. The maize threshing machine can be powered by the diesel engine or electric motor. Now, this type of corn sheller has advanced based on the customers' requirements. It's much more popular among medium-scaled and large-scaled farm owners. Looking forward to your inquiries!
Maize Thresher Design
Actually, the maize sheller has the simple structure. It consists of corn inlet, corn cob outlet, corn kernel outlet, dust outlet, conveyor belt, pipes.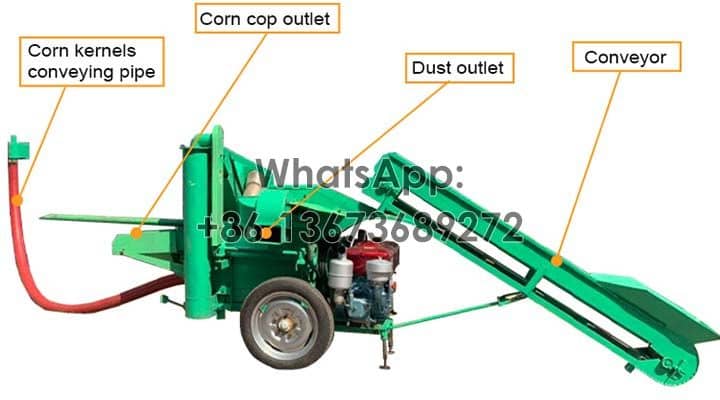 Advantages of Maize Sheller
The threshing rate can reach up to 99.5%, effectively shelling corn.
Conveyor belt for transporting corns, saving labors.
High working efficiency, capacity is about 6t/h.
The blower is blowing away the impurities, guaranteeing the maize seed is very clean.
Diesel engine or electric motor are good choices for the area where is lack of electricity.
Easy to move due to the tow bars and wheels.
Working Process of Maize Thresher
As a professional agricultural company, this machine is commercial corn sheller. Let's better learn the process of the maize threshing machine.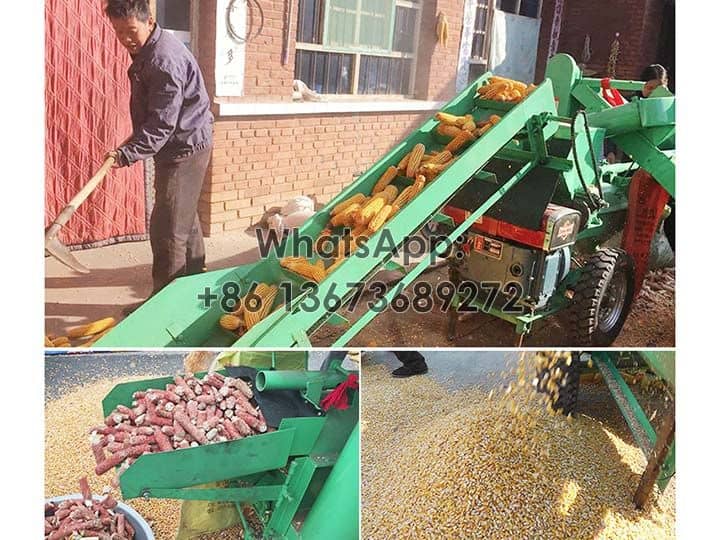 Feed the corn through the conveyor belt, until the corns reach the threshing chamber.
After threshing and separating, the light impurities will be blew out from the dust outlet.
The whole corn cob comes out from the corn cob outlet, at the same time, the corn seeds are discharged from the corresponding outlet.
Optional Equipment
1. Conveyor belt
This conveyor belt is for the maize transporting. It's used for the maize thresher for the purpose of labor-saving and high efficiency.
2. Pipe for conveying the corn seeds
The device benefits to farmers, because it can directly arrive to the big container to storing the maize seeds.
Pay attention, the maize threshing machine price varies in accordance with the different collocation.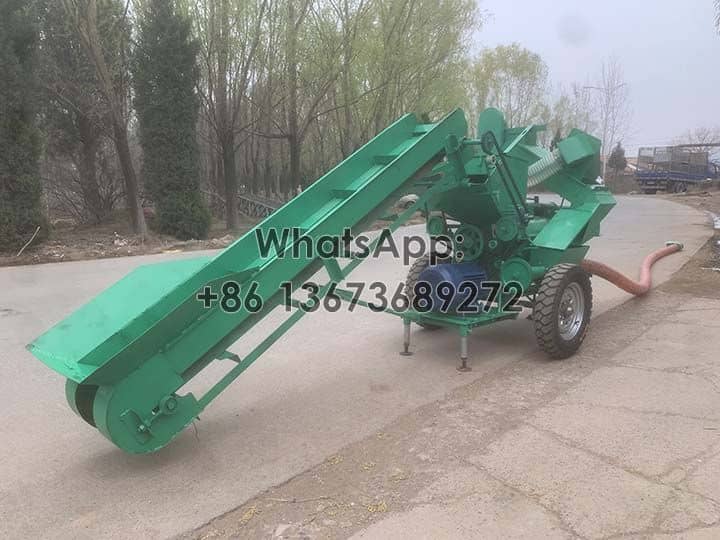 Several Things to Clarify
Is this machine only for corns? If other crops, such as millet, sorghum, is this machine applicable?
This corn thresher can be only used for shelling dry corns. Other crops can choose other threshing machines. For example, sorghum can use the multifunctional thresher.
Can the maize thresher peel the corn husk?
No, this maize threshing machine is suitable for corns without husks.
Can sweet corn use this machine to thresh?
The corn thresher for sale is different from the sweet corn thresher. This machine is threshing dry corns. If you want to thresh the sweet corn, the sweet corn sheller machine is the better choice.