MT-860 Multipurpose Thresher Sold to Indonesia
In fact, the multipurpose thresher is very useful because of its wide range of applications. Not only corn millet threshing but also sorghum and soybean can be threshed. In addition, the multi crop thresher has single and double air ducts. You can choose one according to your needs. The main function is to separate the corn kernels and the corn cob. This year we sent out a multifunctional thresher with an output of 1.5-2 tons per hour to Indonesia.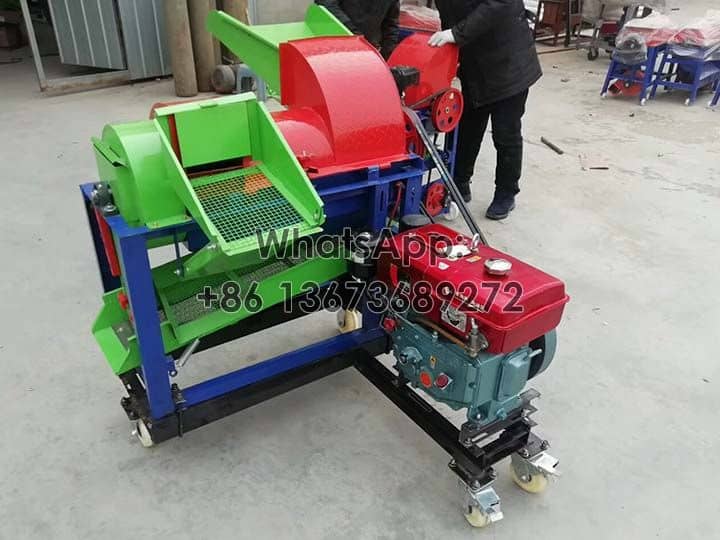 Order Details
In February this year, we received an inquiry from Indonesia. The customer mainly grows a corn field by himself. And his previous thresher was a small manual maize sheller, so this time he wanted to buy an affordable thresher. Originally, the Indonesian customer planned to buy a large-capacity corn thresher. After our sales manager, Winne communicated with him, learned that he used it himself, and he also planted sorghum and soybeans. Therefore, Winne recommended the MT-860 multipurpose thresher to him.
After watching the working video of the machine, the Indonesian customer understood the performance of the machine. Thus, he ordered the multipurpose corn threshing machine and preferred the diesel model.

Advantages of Choosing This Machine
Fully functional. Because it is a multipurpose corn threshing machine, corn, sorghum, soybean, and millet can be threshed.
Capacity is applicable. The Indonesian customer uses it by himself, so he feels just right for the production capacity of 1.5-2t per hour.
Affordable. For personal use, this multipurpose thresher is affordable and within the customer's budget.
How about Multi Crop Thresher Machine Price?
Various aspects affect machine prices. Such as buyers' needs, budget, machine configuration, etc.

In Indonesia, the domestic economy is mainly extortion to other countries and labor output. This type of technology machine is mainly attached to imports. Therefore, in the local market, machine prices are relatively high. For Indonesian customers, he should consider these. His money is sufficient to pay. Also, he can achieve his goal. And the machine configuration meets his demands. Therefore, every customer considers differently. If you have any doubts, please contact us immediately for clarification. Our sales manager is very professional and can provide the most suitable solutions.