Peanut Harvesting Equipment Transported to Turkmenistan
Taizy peanut harvesting equipment is a machine that has been upgraded again according to the market needs, with the advantages of good soil leakage and low resistance. It is a good helper for farmers. In September this year, a customer from Turkmenistan ordered two units of this peanut harvester machine.
Basic information about the Turkmenistan customer
After communication, our sales manager Winnie knows that this customer has his own company, and has his own company website, is a very strong customer. And, he is especially interested in various peanut-type machines. And we have just the machine to meet his needs.
Why did the client order two sets of peanut harvesting equipment?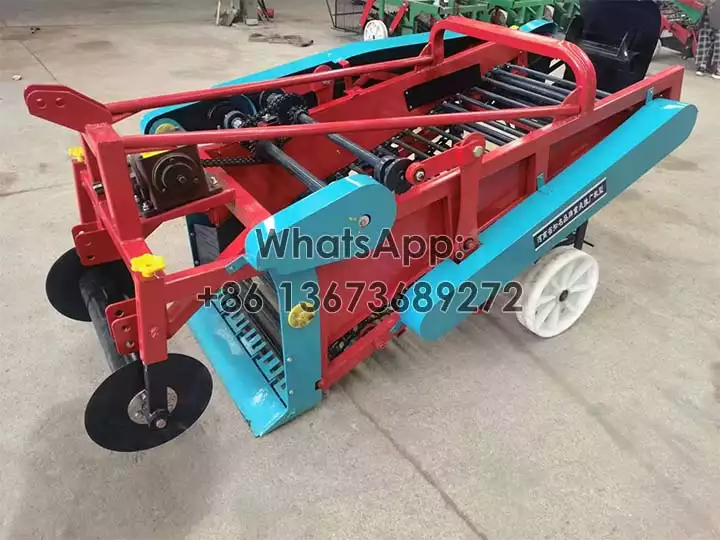 This customer came across our company website while searching on Google, opened our product listings and content to see what he needed, and then contacted us via WhatsApp.
At the beginning of contacting, the client expressed that he was so interested in the peanut harvesting equipment, and also wanted the relevant information. Winnie sent the relevant machine parameters, videos, configurations, etc. He learned that our machine is the latest design, novel style, and good harvesting peanut effect.
After reading the information about the machine, he proposed that he would buy two machines because of the good performance and quality of our machines, and the output of these two machines could meet his needs. So two peanut harvesters were ordered.
Reasons for the customer choosing Taizy Agro Co., Ltd
Thoughtful services. Winnie provided professional and considerate service to him from the very beginning. In the beginning, she replied in time and sent feedback videos and shipping pictures, etc. Also, Winnie solved his doubts and questions patiently and carefully.
Quality machine. This peanut harvesting equipment is the latest type in Taizy, new-designed based on the customers' needs. Features: ① add 3 rollers for shaking the soil, good soil leakage; ② movable shovel, small resistance, more than 20 horsepower tractor is applied; ③ double spiral, no phenomenon of falling fruit; ④ add vibrating sieve, for picking up the fallen fruit.
Peanut harvester parameters ordered by the Turkmenistan customer
Item
Parameters
Quantity
Peanut harvesting equipment
Model: HS-800
Power: 20-35HP tractor
Capacity: 1300-2000㎡/h
Harvest width: 800mm
Weight: 280kg
Size: 2100*1050*1030mm
2 sets