8 Sets of 5TD-125 Rice Thresher Exported to Burkifanaso
This rice thresher is a multifunctional machine, mainly used for threshing rice and wheat, but also for beans and sorghum. It can also be powered by the electric motor or diesel engine or PTO, thus giving the customer a wide range of options. The rice-wheat thresher is therefore very popular in the domestic and international markets. Recently, a customer from Bukifarnasso ordered 8 sets of diesel-engined threshers for rice and wheat.
Detailed communication process about the rice thresher with the Bukifarnasso customer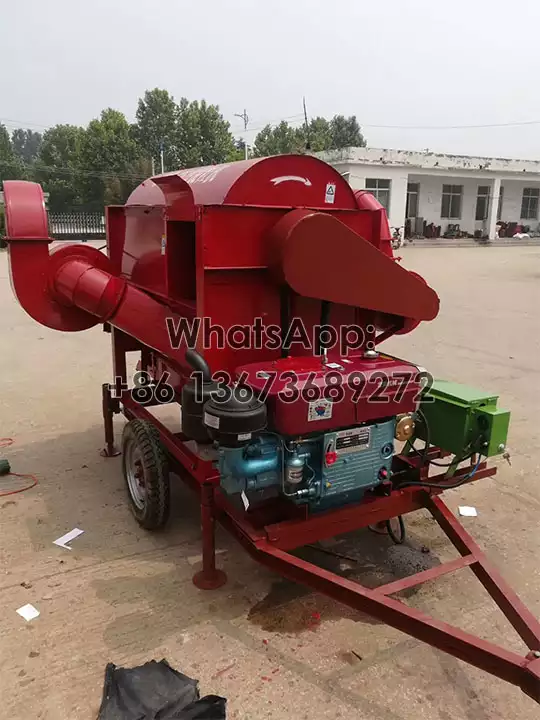 This customer saw our machines online and sent us an inquiry about the paddy thresher via WhatsApp. Winnie, our sales manager, contacted him.
Based on his needs, she recommended our Taizy rice thresher to him. The customer was sent the parameters of the machine, photos, and various videos for reference. Winnie also confirmed with the customer which model he was interested in, which type of power he preferred, etc., in order to better recommend the right machine for him.
Through detailed discussions, Winnie knew that the end customer prefers the diesel models, so she recommended the diesel-engined rice thresher. The 125-model paddy thresher was also recommended based on the hot-selling production model.
After detailed communication with the sales manager, Winnie, about the 5TD-125 rice thresher, the customer was very satisfied. And the voltage was confirmed and then the order was placed.
Why did this Bukifarnasso customer buy 8 sets of rice and wheat threshers?
The customer runs a shop that sells a variety of agricultural machinery and is a local dealer. The customer was planning to buy a number of machines for threshing wheat and rice for sale. After seeing our rice thresher and talking in detail, he knows about the quality of our machines, which are often exported. Thus, he ordered 8 machines from us.