Hand Corn Planter | Walk Behind Corn Planter | 1 Row Corn Planter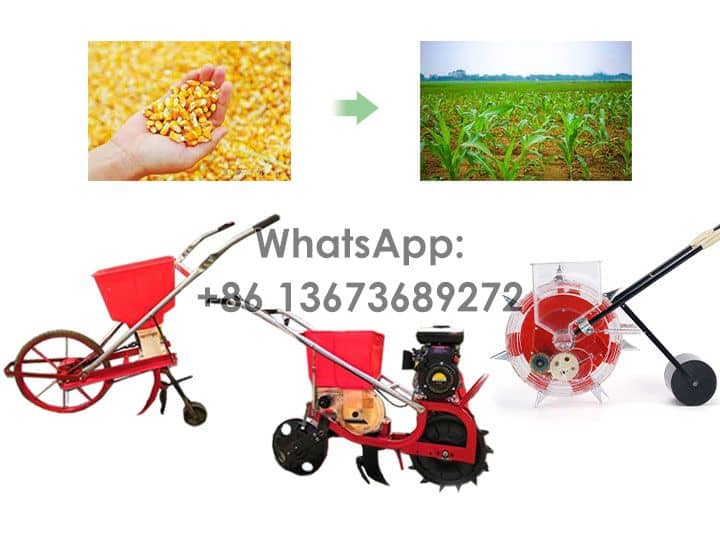 Corn is one of the most important crops in the world. Therefore, from the beginning of planting to harvesting, it is inseparable from the relevant corn machinery. The hand corn planter to be introduced today is specially designed for corn sowing. Of course, it can also sow wheat, peanuts, beans, sorghum, rape, cotton, etc. This hand corn seeder machine is suitable for sowing in hills, mountains, etc. Our hand row planter is very popular in Nigeria, Kenya, and other regions. Welcome to consult anytime.
Type One: Walk Behind Corn Planter
This kind of hand corn planter has a very simple structure and easy operation. Actually, this one row planter needs two persons to work together. One person should pull the rope and then move forward, and another person is holding the corn planter to move. From its structure, we can clearly know that the hand conr seeder can fertilize and sow, but cannot do at the same time. This small corn planter does not use any power, only labor. Therefore, it is especially suitable for aid projects in some countries, bringing convenience to people in poor areas.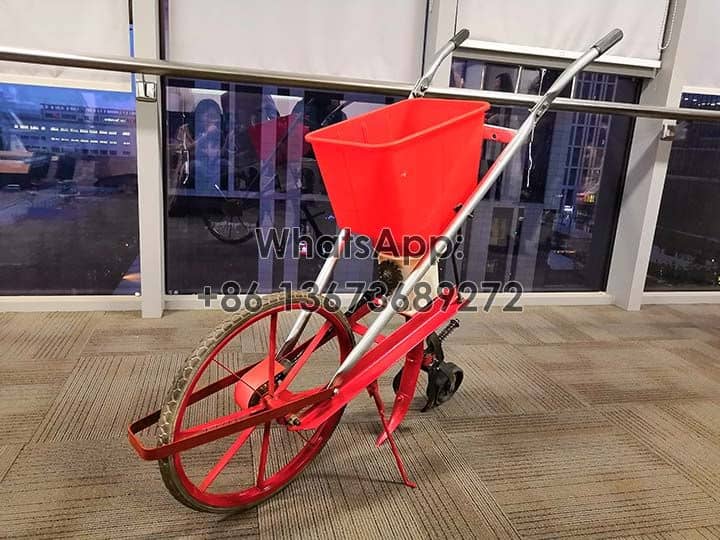 Working Video of Hand Corn Planters for Sale
Technical Specifications
| | |
| --- | --- |
| Model | TZY-100 |
| Capacity | 0.5acre/h |
| Size | 1370*420*900mm |
| Weight | 12kg |
Type Two: 1 Row Corn Planter with Gasoline Engine
This manual corn planter is an upgrade based on the old fashioned seed planter, a gasoline engine equipped. This hand corn planter can sow seeds by one person, and has the gasoline engine as power, which can greatly save manpower and improve efficiency.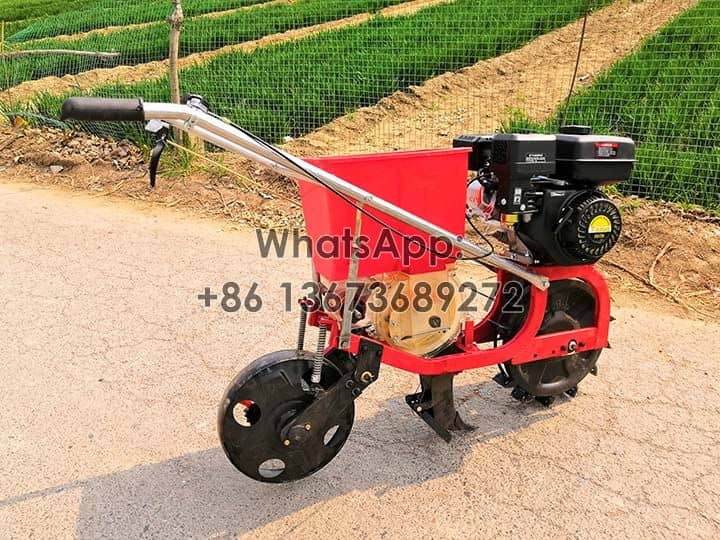 Compared with the type one machine, except for the gasoline engine, the rest is basically the same. If you have any questions, you can contact us at any time.
Equipped with Gasoline Engine
In our factory, there are two kinds of gasoline engines. One is a 170F gasoline engine, and the other is a 152F gasoline engine. The specific shape of the machine is shown in the figure below.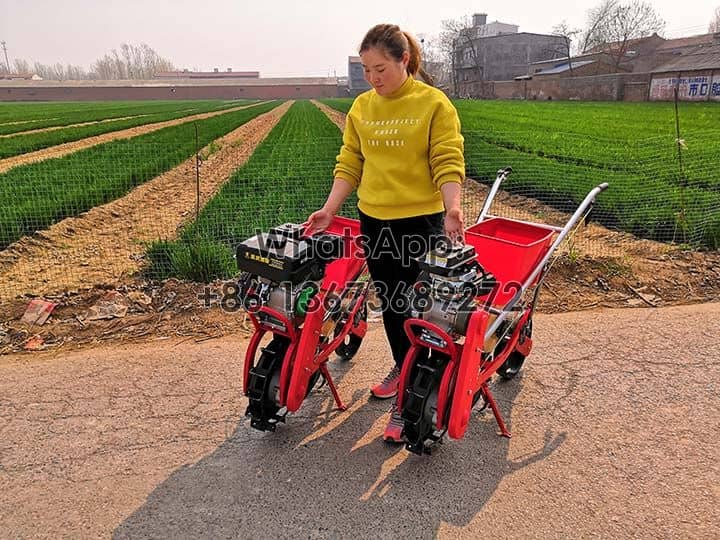 Type Three: One Row Hand Corn Planter
The hand corn planter has a duckbill, which can be used for the corresponding crops by changing the seed wheel. There are a total of 8 types of seed wheels. In addition, the number of duckbills determines the size of the plant spacing. The more duckbills, the smaller the plant spacing. And there are 12 duck bills at most. Its sowing depth is 3.5-7.8 cm. We have been exporting a small cabinet of this machine to Zambia.


Structure of Corn Row Planter
Actually, there is an armrest to push forward. The seedbox is to hold the seeds and then sow through the duckbill. The wheel is to cover the soil. Besides, we have different colors for this hand corn planter. You can choose what you prefer.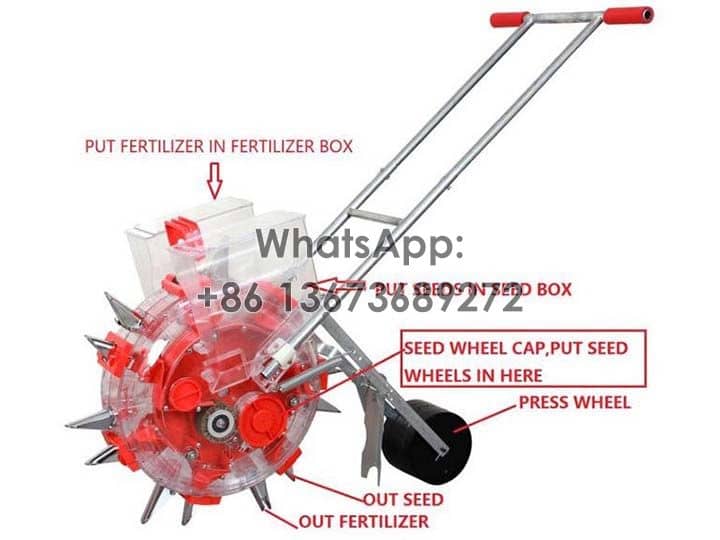 Technical Parameters
| | |
| --- | --- |
| Seeding depth | 3.5-7.8cm |
| Seeding quantity | 1-3 pcs, adjustable |
| Duckbill | Max. 12 pcs |
| Weight | 11 kg |
| Packing size | 58*58*25 mm |
Highlights of Single Row Walk Behind Corn Planter
Easy operation, simple structure, good quality.
Lightweight, easy to move.
Suitable for hilly, mountainous areas.
Convenient to sow various crops, such as wheat, cotton, sorghum, wheat, beans, corns, rapeseed, etc.
Environment protection. Manual operation, friendly to the environment.
Why Choose Taizy as Top Choice?
ISO certificate. Our hand corn planter has the ISO certificate, complying with the relevant regulations and rules. Thus, machines are of good quality and reach national standards.
Rich experience in exporting. We have exported our various agro machines, like corn harvester, corn thresher to many countries and regions. Such as Zambia, Africa, South America, Nigeria, Peru, etc. Therefore, for exporting, we have many experiences.
Thoughtful after-sales service. After receiving machines, we still follow our customers' situation. What's more, we provide a 24-online service to answer all inquiries from customers.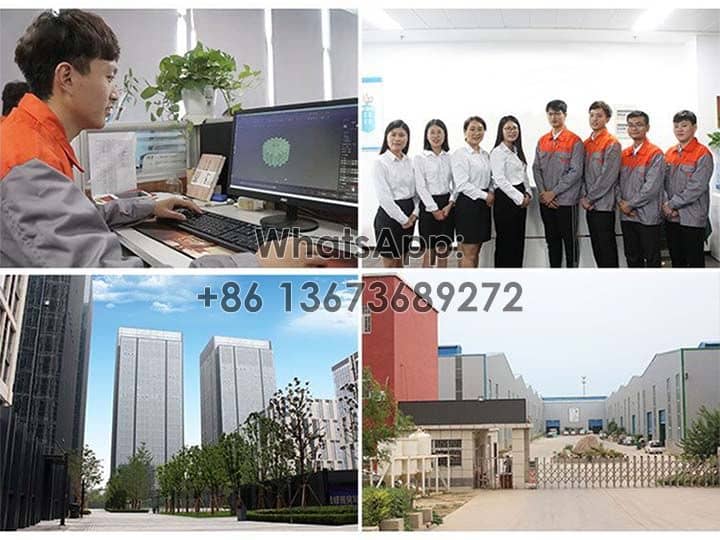 Successful Case: Hand Operated Corn Planter Exported to Peru
We received the comment from our google website. Our Peru customer said he wanted 20pcs 1 row corn seeder with the gasoline engine. Because he is a big farm owner, he wanted to purchase for his labors. Our sales manager Coco provided services to him. The Peru customer ordered 20pcs once and worried about the delivery time. Coco explained to him that our factory would produce the machine on time, and made a progress plan for him. Moreover, Coco would send the progress to him. After reading this, the Peru customer felt at ease and signed a contract and paid full payment quickly.
FAQ of Hand Corn Planter
Q: How many pieces should be ordered once?
A: The minimum order is 20 pcs.
Q: What crops can be planted by this planter?
A: Many crops are available. For example, wheat, cotton, sorghum, peanut, beans, rapeseed, etc.
Q: How do you guarantee the production if order 100pcs once?
A: We're integrated manufacturing and trading. Hence, we have strong strength to produce your required goods on time. Also, we will make a progress plan to ensure your rights.
Q: How long can you deliver machines?
A: Generally speaking, after receiving the deposit, we need one week to arrange the goods. So, if everything goes smoothly, we start to deliver the machines after one week.
Q: Which transportation method do you use?
A: Commonly, by sea. If you have other requirements, please inform us. And we will arrange the most suitable transportation method.