Automatic Paddy Rice Nursery Seedling Machine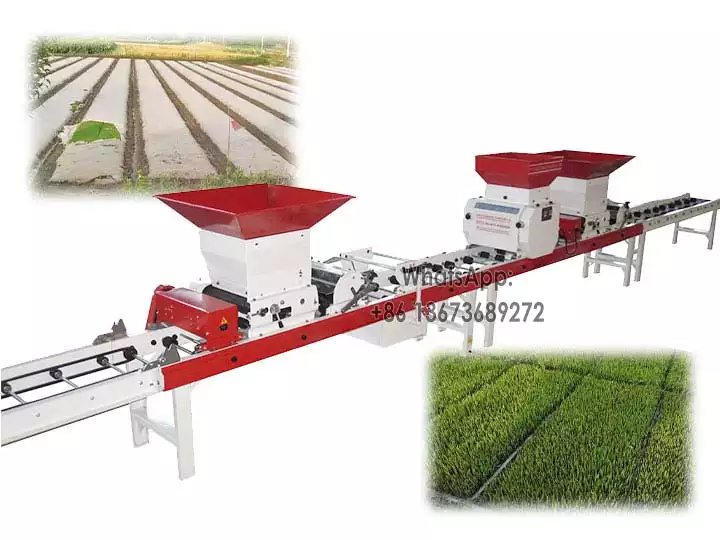 Taizy's rice nursery seedling machine is specially designed for rice cultivation, mainly for various kinds of rice seedling raising. This machine has high efficiency and can carry out 969-1017 trays of seedling raising in an hour. It is a nursery machine that plays a positive role in rice planting for large-area rice growers.
Because of its high efficiency, good quality, and good performance, this rice seedling machine is widely loved by customers, especially rice growers. If you are interested in this kind of machine, please contact us!
Why Use the Paddy Rice Nursery Seedling Machine?
Rice planting is a very important agricultural planting, accounting for a large proportion of grain. All rice growers know that rice seedlings should be raised, but the traditional way of raising seedlings is very tiring.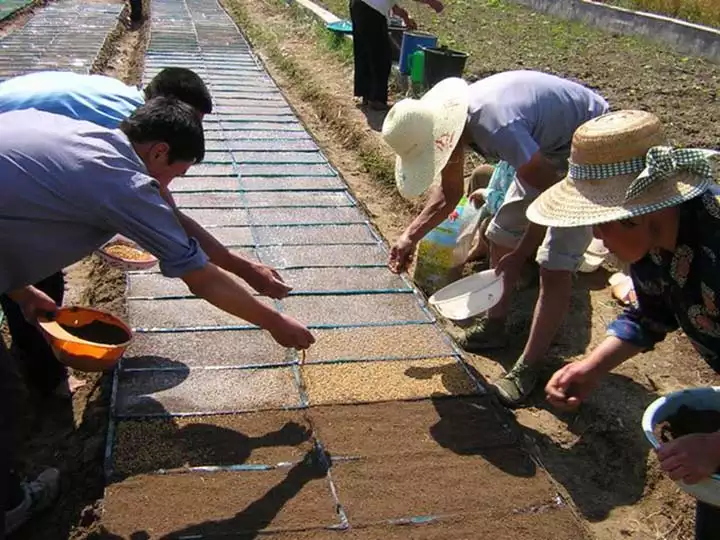 Before sowing, the seedling fields should be turned over several times, and enough farmyard manure should be put in, hoping to cultivate a good harvest that year. People often work in the field all day.
The use of the seedlings raising machine can quickly raise rice seedlings, and 969-1017 trays can be carried out in one hour, which is not only efficient but also greatly saves manpower.
Rice Nursery Seedling Machine for Sale
As a professional manufacturer and manufacturer of various agricultural machinery, we have two types of rice seedling machines, one is fully automatic and the other is semi-automatic.
Fully automatic rice nursery seedling machine
As the name implies, the fully automatic rice seedling raising machine can complete the whole work process with full mechanization and automation. In addition to the most basic main rice seedling machine, there are also machines including a tray feeder – a soil loader – a tray stacker.
Semi-automatic rice nursery sowing machine

The semi-automatic rice nursery seedling machine does not have a soil loader, so it needs manual soil loading. The other machines are the same.
Structure of Automatic Rice Seeding Machine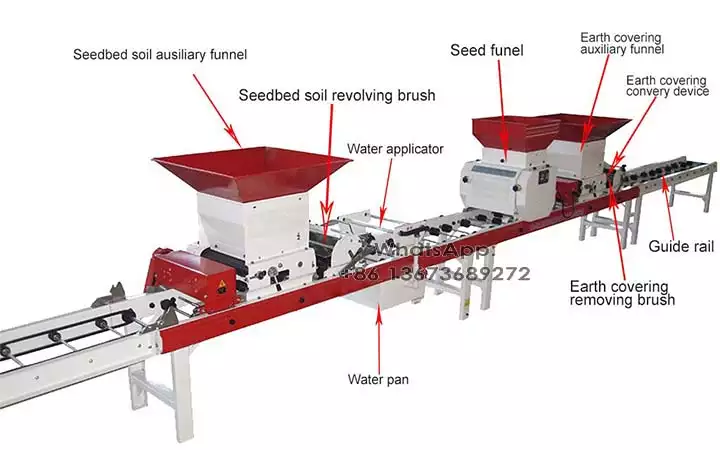 Based on the great design, the automatic seeding machine has the function of soil spreading, watering, seeding, and earth covering as an integration, which can finish rice dish all operation procedures at one time.
Technical Parameters of Taizy Rice Nursery Sowing Machine
Model
TZY-280A
Capacity
969-1017trays/hour
Power
240kw for deliver
120kw for seeding
Seedbed soil auxiliary funnel
45L
Seed funnel
30L
Seedbed soil auxiliary funnel
45L
Sowing quantity(Hybrid rice)
95~304.5g/tray
Size
6830*460*1020mm
Weight
190kg
Thickness of subsoil
18-25mm
Thickness of surface soil
3-9mm
Video of Rice Nursery Seedling Machine – Fully Automatic & Semi-automatic Rice Seeder Machine