Single Row Corn Harvester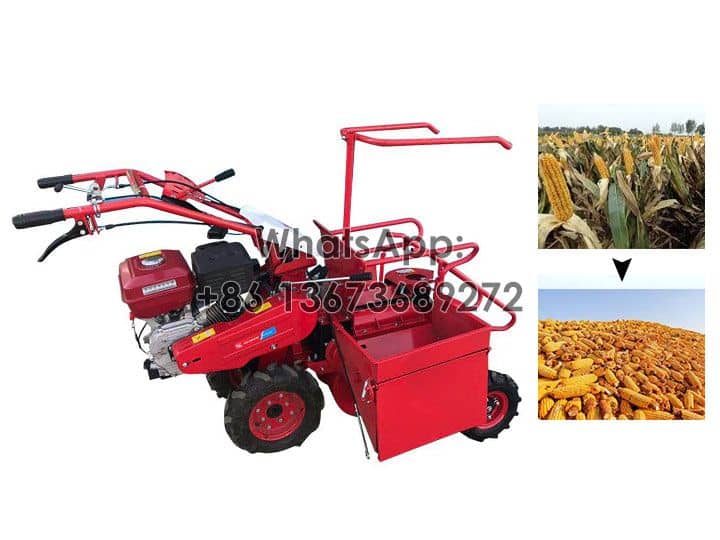 Single row corn harvester is self-propelled maize reaping equipment, mostly used in the small cornfields in small land blocks, mountainous regions, hilly grounds. It's small maize harvester, powered by diesel engine or gasoline engine. Besides, the one-row corn picker has functions of corn picking and stalks crushing. The crushed stalks get back to the field. Also, the stubble height of the corn stalks is adjustable based on your requirements. What's more, the harvesting part of this machine is designed independently, which can be removed. And the remaining part can be used as a micro tillage machine. After corn harvesting, you can use corn thresher to get corn kernels. Do you have an interest in this corn reaper? Please contact us as soon as possible!
Structure of One Row Maize Harvester for Sale
To be honest, this machine has a simple and compact structure. It has armrest to control the machine. Also, from its structure, we can know it's easy to operate, very friendly to users.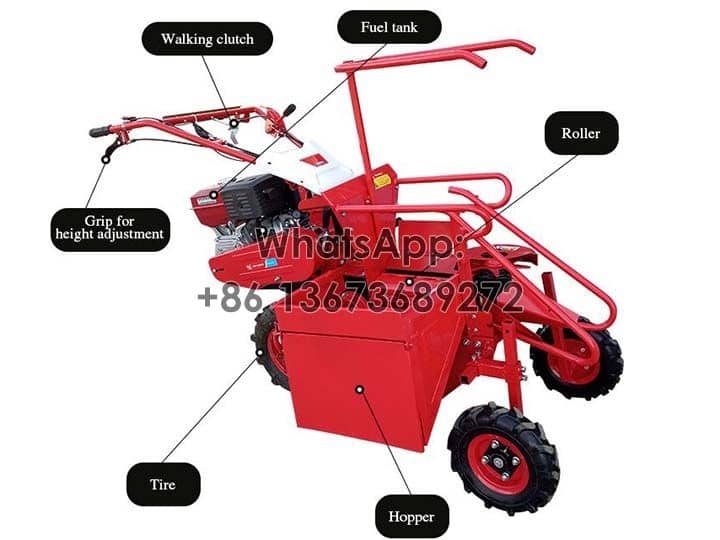 Features of Corn Reaper
Multiple functions. This single row corn harvester can complete corn picking and stalks crushing back to fields at the same time.
Strong adaptability. 1 row corn picker can carry out work under the mountainous and hilly district, small fields.
High efficiency. Skilled operator can achieve 0.03-0.06 hectare per hour.
Easy operation. Persons have no need to expertise and train too much.
Flexible operation, small corn harvester machine, simple structure.
Low oil consumption, cost-effective, thus low cost.
Working Principles of Single Row Corn Picker
This self-propelled corn harvester is equipped with the corresponding engine, supplying power through the gearbox. The walking tires are working by power supplied through one gearbox. For another gearbox, it drives two harvesting wheels and one crushing blade set. When 1 row corn reaper advances, pull the corn stalk into the harvesting inlet. And then the harvesting wheel pulls the corn stalk down. But during the descending, due to the big size of corns, the corn can be pulled into the harvester barn. The corn stalks will be crushed by the crushing blade set.
Successful Cases of Single Row Corn Harvesting Machine
This year, our sales manager Winne received an inquiry from Nigeria. He purchased for his corn farms. But his farms were located in the hilly regions. Therefore, Winne recommended this kind of corn harvester to him. Of course, he asked other manufacturers and suppliers. Compared with these companies, he found we're a professional and reliable company. So, he ordered 30 sets one row corn harvester from our Taizy Company. After receiving the machines, he sent good feedback to us and hoped we could cooperate again.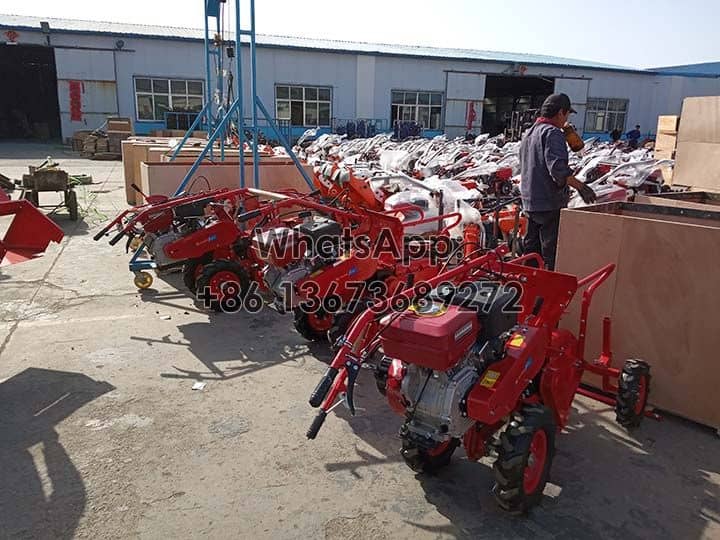 FAQ
Q: Can this harvester peel the skin of corn?
A: No, it can't.
Q: Where are the corn stalks after harvesting?
A: The corn stalks are back to fields after crushing through the 10 blades in the bottom of the machine.
Q: How about the stubble height?
A: It's adjustable, but the minimum height is 10cm.
Q: Is the blade easily damaged? How long can I use it?
A: Yes, the blades are broken easily, especially meeting with big stones or other very hard obstacles. Usually, it has a service life of one year. We send you an extra 1 unit (10pcs) for free with the corn harvester when delivery.
Q: What power does this corn harvester use?
A: 188F gasoline engine or 188F air cooling diesel engine.
Q: Will there be some corn that cannot be harvested?
A: With the practice experience, the corn harvesting rate is more than 98%.
Q: How many corns can be collected in the barn at the side of the machine?
A: Depends on the corn size, usually it can collect 30-50pcs.