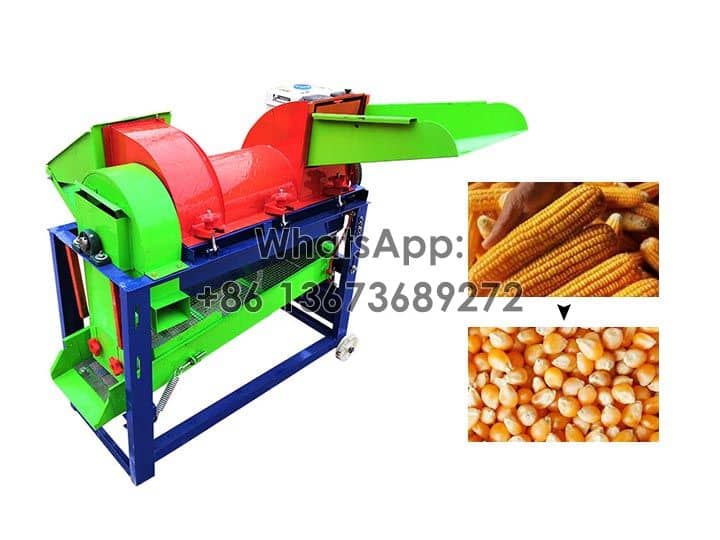 The multifunctional thresher is upgraded equipment based on the maize thresher, suitable for corns, sorghum, soybeans, millet. It can collocate with the diesel engine, gasoline engine, or electric motor as the power device. Besides, you should choose the different screens for the corresponding crops. Our multifunctional threshing machines are very well known abroad and loved by people in Indonesia, Zimbabwe, Benin, Nigeria, Botswana, and many other countries.
The reasons are as follows:
Wider applications. Compared to the maize thresher, the multifunctional corn threshing machine also can shell sorghum, soybeans, and millet.
More functions. This multi function sorghum thresher can peel and thresh at the same time.
Hot Sell Multi Corn Threshing Machine for Sale
As a specialist agricultural machinery company, we have a wide range of machine brands. As far as the multifunctional thresher is concerned, we have two models, the MT-860 and the MT-1200, which are cost-effective, easy to operate, and have a wide range of functions. The multi crop threshing machine is more powerful than the maize thresher. As a result, this machine is also more popular in the agricultural machinery market.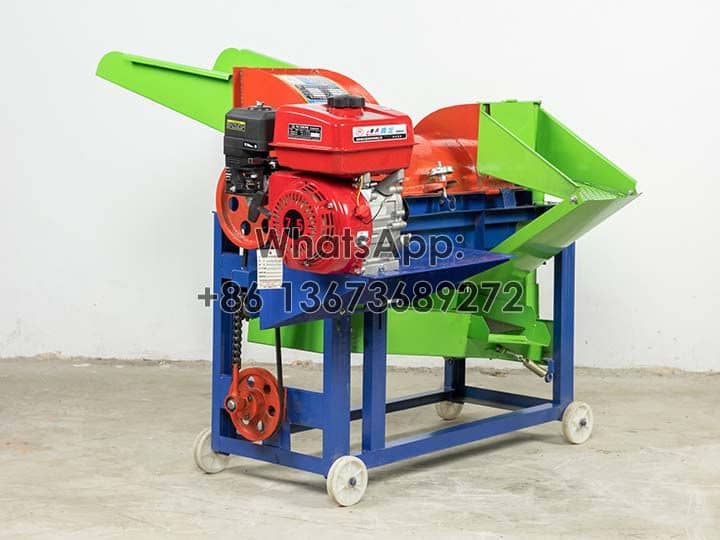 Structure of Multi Purpose Maize Sheller
Catering to the market tendency, the multifunctional thresher has the simple design. This thresher machine is made up of inlet, corn kernel outlet, impurity outlet, draught fan. One thing to attention is that single draught fan and double draught fans for this small grain thresher. For the machine with the double draught fans, the crop seeds are much cleaner.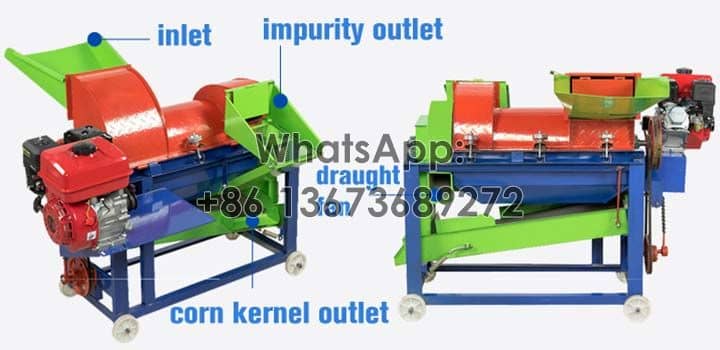 Technical Parameters of Multifunctional Thresher
As you can see from the parameter table, the MT-860 multifunctional thresher has a capacity of 1.5-2 tons per hour, while the MT-1200's capacity varies depending on the crop. What's more, the former can be powered by a diesel, electric or petrol engine, while the latter is generally equipped with a diesel engine. Nevertheless, the range of applications is the same for both, with sorghum, soybeans, maize and millet being threshed.
Model
Power
Capacity
Weight
Size
Application
MT-860
Diesel engine, gasoline engine, electric motor
1.5-2t/h
112kg
1150*860*1160mm
Sorghum, Millets, Maize, Soybean
MT-1200
10-12HP diesel engine
corn 3t/h,
Soybean 2t/h
Sorghum, Millets, Wheat, Rice 1.5t/h
200kg
2100*1700*1400mm
Sorghum, Millets, Maize, Soybean
Characteristics of Combined Peeler and Thresher Machine
It has the advantage of high efficiency, low breakage, and low impurity.
Three power devices are available. Diesel engine, gasoline engine, and electric motor all are suitable for carrying small multifunctional thresher to work.
Screens. This machine can peel and shell the corn, sorghum, millet, bean, the size of these crops are different, thus, screens should match the crops.
Humanized design. Small wheels are equipped, and easy to move. And the machine height is proper for human height, convenient to put grains.
Cost-effective. The poor farmers can afford the machine and save money. Also, the machine is multi functions.

What Screens Are Suitable?
For the multifunctional thresher, you should use the matched screens to thresh crops.
Threshing maize, install Ø20 screen and hammer, bottom screen uses Ø 6.
Shelling sorghum, install Ø8 screen and threshing claw, bottom screen uses Ø 6.
Threshing millet, install Ø5 screen, bottom screen uses 1.5*1.5.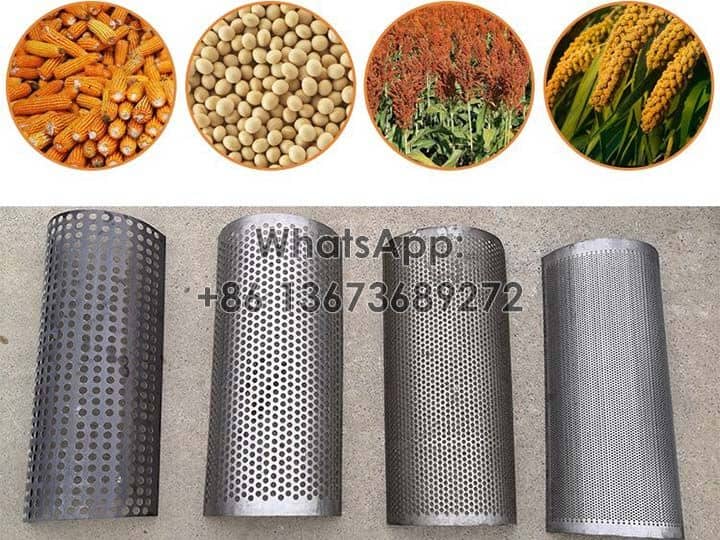 Comparison of Maize Thresher and Multifunctional Thresher
Application range. The maize thresher is only for the corns. While this small scale grain thresher is suitable for corns, sorghum, millet, soybeans.
Different functions. The corn sheller can thresh the corn without any peels. But the multifunctional thresher machine can peel and shell the crops.
Capacity. The maize sheller is 6t per hour, large capacity. The threshing machine for corn, soybean, millet, sorghum only has 1.5-2t per hour.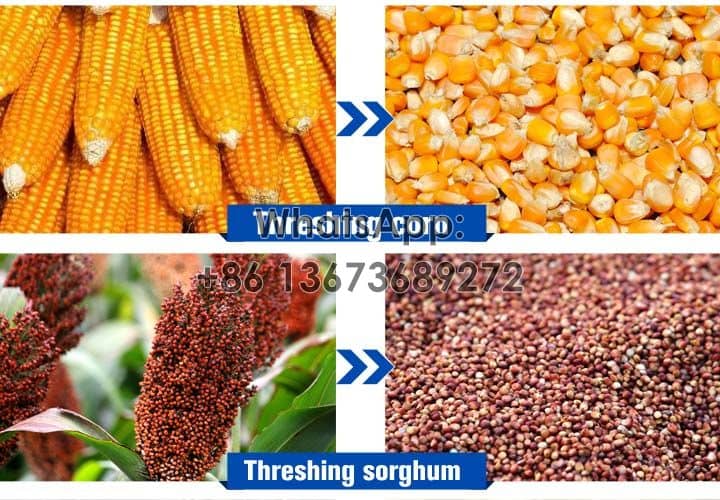 Successful Case: Multi Corn Thresher Machine Exported to Zimbabwe
Zimbabwe is a large agricultural country with vast plains where maize can be grown and where the local people eat three meals a day based on maize flour. Our Sales Manager, Grace, received an inquiry from a customer in Zimbabwe. He wanted to buy a maize threshing machine for threshing maize. After understanding his needs, Grace recommended this multifunctional thresher as it was more versatile and cost-effective than the others. The Zimbabwean customer was so pleased with the parameters and the video that he placed an order immediately.
FAQ of Multifunctional Thresher
Q: How to shell different crops?
A: Open the cover, and then change the screen. When threshing corns, remove the four rollers inside.
Q: If no idea about using the machine, what should I do?
A: Don't worry. Along with the machine, we provide manuals and videos about installation, operation, screen changing, etc.
Q: Is it convenient to move?
A: Of course, the multifunctional corn threshing machine has wheels and tow bars, easy to move.
Q: Which crops can use this multifunctional thresher?
A: Corns, sorghum, millet, soybeans.
Q: How about MT-860 power?
A: 2.2-3kW electric motor, 6-8Hp diesel engine, 170F gasoline engine.
Q: What's the capacity of this MT-860 grain thresher? Threshing rate?
A: Respectively 1.5-2t per hour, ≥95%. 
Video of Multifunctional Thresher Machine for Threshing Maize, Beans, Sorghum, Millet