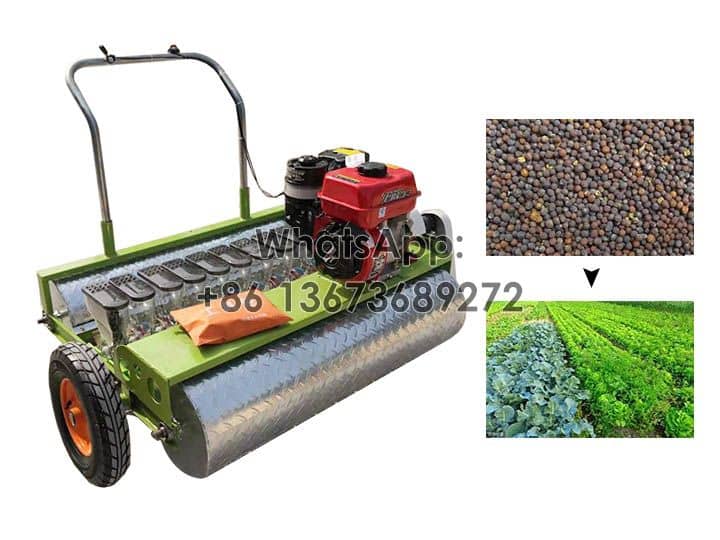 Vegetable seed planter is designed for sowing various vegetable seeds. Its applications cover almost all kinds of vegetable seeds, such as beets seeds, kale seeds, broccoli seeds, mustard seeds, etc. This vegetable seed planter has very simple structure, easy operation, and long service life. Besides, it's a highly automatic sowing machine. But one person should hold the direction. According to your demands, you can choose the rows that you want. We also can tailor machine rows based on your actual situation. The rows range from 1 to 12. Also, if buying a vegetable sowing machine, you're able to flexibly select rows to plant vegetable seeds. So, you can get the space you want. Welcome to contact us for more details!
Working Video of Vegetable Seed Planter Machine
Structure of Vegetable Seed Planter for Sale
This vegetable seeds planter machine design is very friendly for cultivators. Firstly, the gasoline engine is available, supplying the power for planting vegetable seeds. Also, persons only need to hold the armrest to control the direction. And then, the toolbox is attached to the machine. The roller functions to level soil.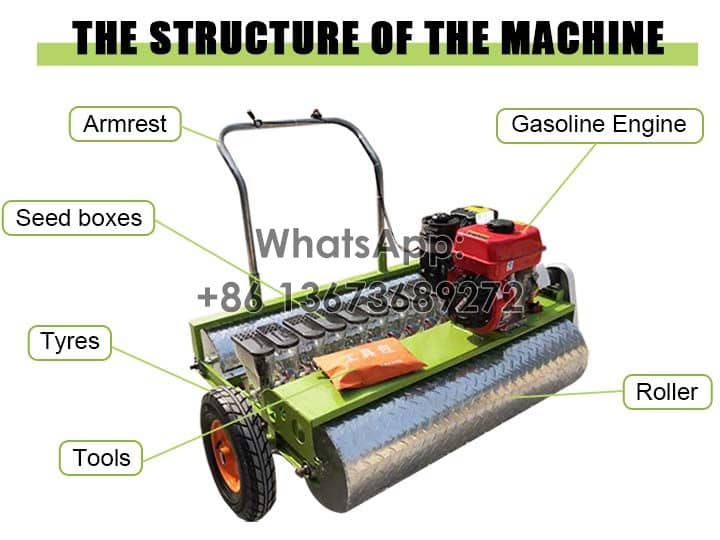 Advantages of Vegetable Seed Planter for Sale
Different rows for planting vegetable seeds. Rows vary within 1-12. You can sow seeds in accordance with your land situation.
Gasoline engine. This gasoline engine supplies power which the vegetable seed planter requires.
Wide applications. The vegetable sowing machine has a variety of applications, such as celery, amaranth, bok choi, arugula, Yu choi, etc.
A set of seeding disc for all sorts of vegetable seeds. This set can solve all your vegetable seeds sowing problems.
Simple operation. Only one person is in charge of the direction, and then the machine can run very well.
Flexible sowing. You can choose the suitable sowing boxes within required spacing to adapt your land needs.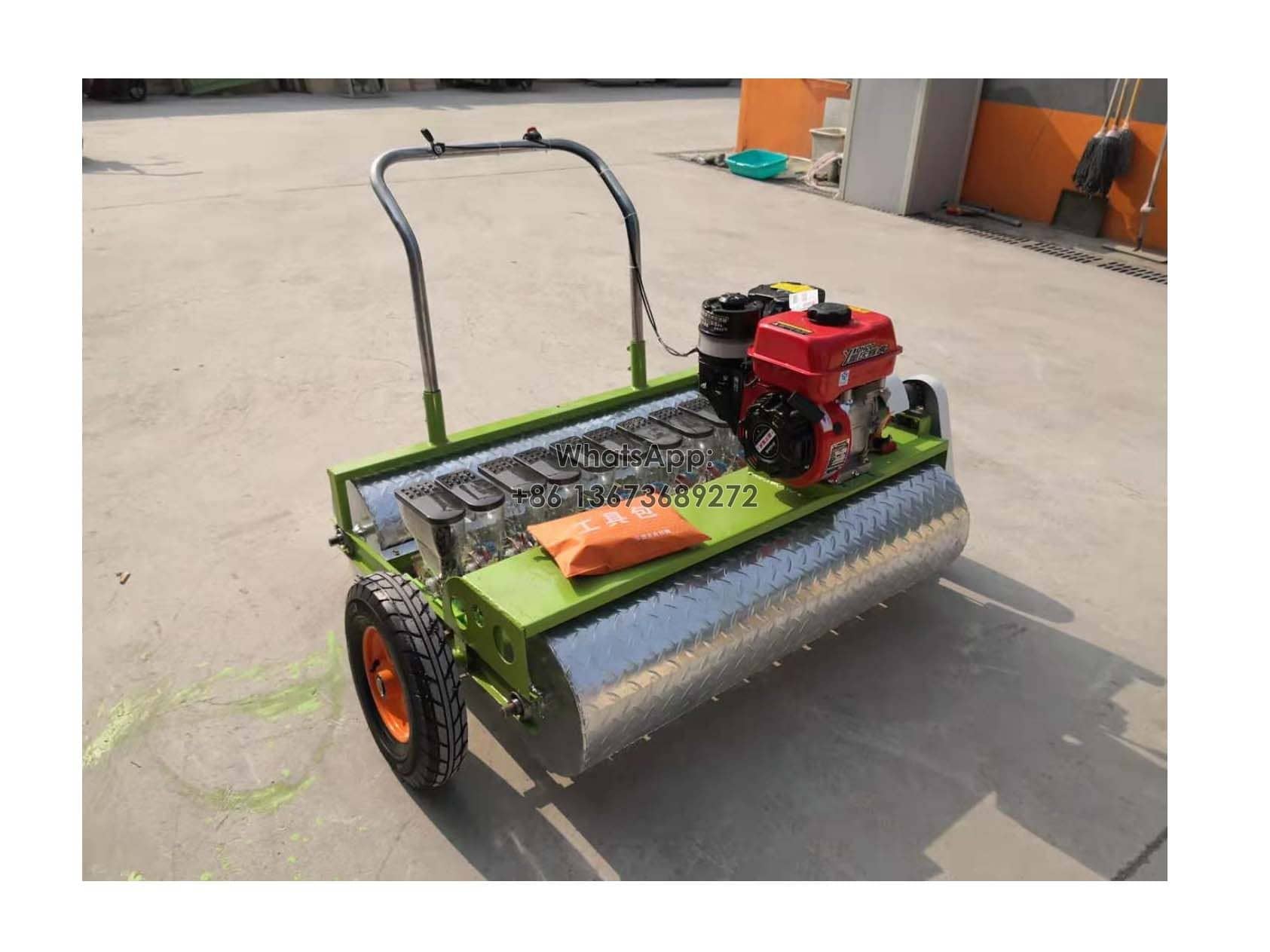 Wide Applications of Hand Vegetable Seed Planters
The vegetable seeder from Taizy Company has an immense range of applications. Vegetable seeds are, for example, beets, kale, broccoli, mustard, celery, amaranth, Bok choi, arugula, Yu Choi, Taiwan cabbage, spinach, chards, scallions, leeks, cilantro, Kan Kong (ong Choi)(water spinach), Napa cabbage, carrots, radish (Daikin and Asian types), turnip, etc. All types of vegetable seeds are applicable to this vegetable seed sowing machine. If you are not sure, get in touch with us very soon, we can offer professional solutions to you.

Differences Between Standard Configuration and High Configuration – Push Vegetable Seed Planter
The fundamental difference is the structure of the hand-held vegetable seed planter.
Standard configuration: one shaft design. All seed boxes are threaded together by a shaft.
High configuration: the seedbox is installed in the fixed position, convenient to disassemble.
When you want to replace the seeding disc to plant different seeds, for the standard configuration, you need to pull out the whole shaft, more troublesome.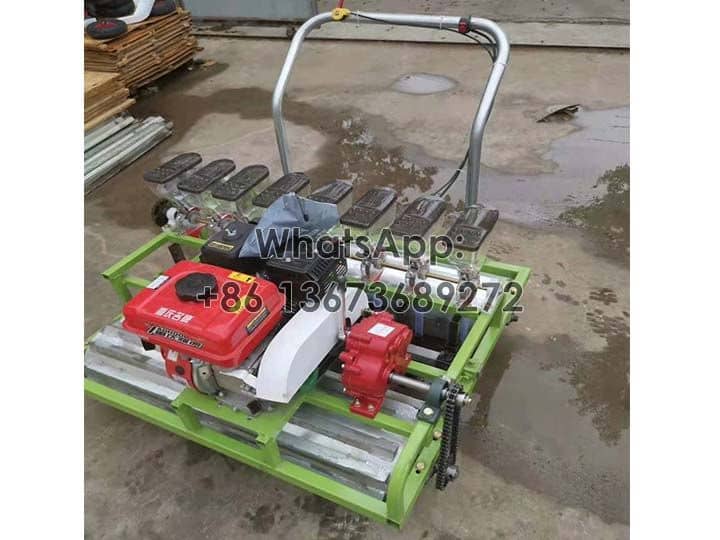 Package and Shipping of Small Commercial Vegetable Seed Planters
This vegetable seed planter machine is also exported to foreign countries and regions. Not only this machine, we also export the corn seed planter, wheat planter, etc. Before exportation, we package the machine into wooden cases. During shipping, the machine can get protection, avoiding crashes causing damage.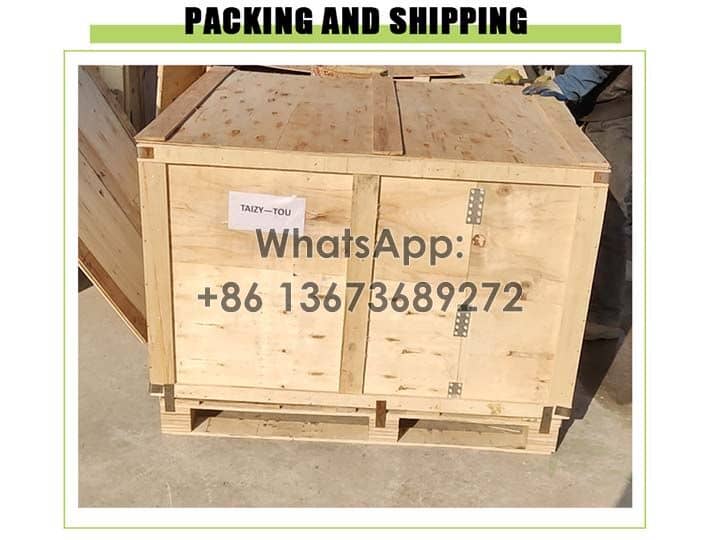 Technical Parameters of Vegetable Seed Row Planter
| | |
| --- | --- |
| Model | SC-9 |
| Rows | 1-14 |
| Seeds | spinach, carrot, celery, etc. |
| Power | Gasoline Engine |
| Packing Size | 116*126*87cm |
| Weight | 160kg |