Large Corn Sheller Machine Sold to Ghana
This large corn sheller machine is essentially a multifunctional thresher with different capacities for different crops. When threshing corn, the capacity is 2000-4000 kg per hour. In addition, the machine can be used with an electric motor, diesel engine, and PTO. In September this year, one customer from Ghana ordered one large multifunctional threshing machine and other related machines.
Why did the Ghanaian customer contact us?
This Ghanaian customer has his own fields, which are very large, and is a farmer. It was harvest time and he wanted a threshing machine to thresh his crops. While browsing the web, he came across our corn thresher and contacted us!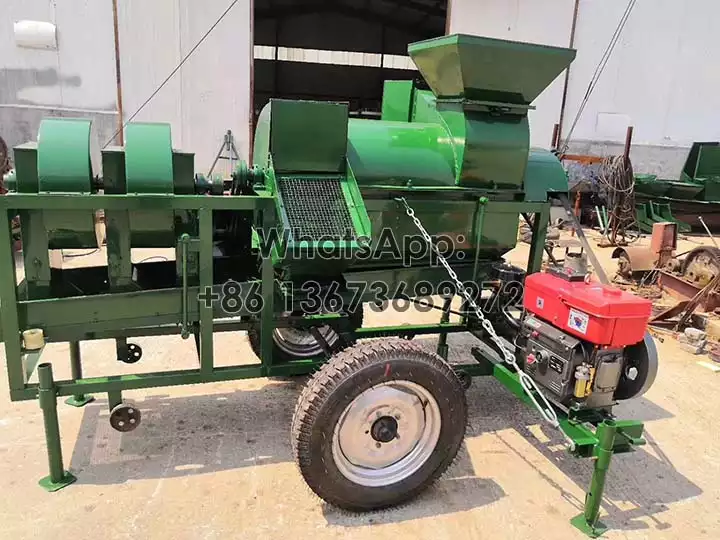 The detailed process of the large corn sheller machine ordered by the customer
After this Ghanaian customer contacted us, our sales manager, Cindy, introduced him to the machine. In the process of talking, Cindy knew that he himself preferred a large corn sheller machine and wanted a diesel engine, a stand, and a big wheel configuration, so Cindy recommended this machine to him.
During this time, he also suggested that he wanted the hand-held corn planter and the weeder. Therefore, Cindy introduced the relevant machine to him. Of course, during the conversation, there were some questions, which are explained in the following paragraphs.
Finally, the Ghanaian customer ordered the corn thresher machine, the hand-held corn planter, and the weeder.
Questions raised by the customer on the corn sheller machine
Q1: What can be threshed by this machine?
A1: Corn, sorghum, millet, soybeans.
Q2: What kind of power is applicable?
A2: Diesel engine, electric motor, PTO.
Q3: What are the advantages of this machine compared to other machines?
A4: The machine has three layers of screens
This corn sheller machine can be equipped with an optional stand and big wheels, so it is very easy to move.
The machine is multifunctional, one machine can thresh four kinds of crops.
Q4: I have my own agent in Guangzhou, can I pay RMB?
Q5: When can I receive the machine after payment?
A5: After we receive the money, the machine can be shipped in 3-5 working days if it is in stock. If it needs to be manufactured, you should wait another week.
Corn machines parameters ordered by the Ghanaian customer
Item
Parameters
Quantity
Multifunctional corn sheller machine
Model: 5T- 1000
Power: 12 diesel engine
Capacity(kg/h):
Corn 2000 -4000
Sorghum, millet 1000-2000
Beans 500-800
Size: 2460*1400*1650mm
Packing size: 2460*810*1650mm
Weight: 460-700kg
1 set
Hand push corn planter
/
5 sets
Weeder
/
5 sets