Buy feed pelletizer machine for Democratic Congo
On a busy feedlot in the Democratic Republic of Congo, an ambitious farmer was trying to find a more efficient way (feed pelletizer machine) to produce animal feed pellets. His goal was to provide high-quality feed to ensure his poultry and livestock remained healthy and vigorous.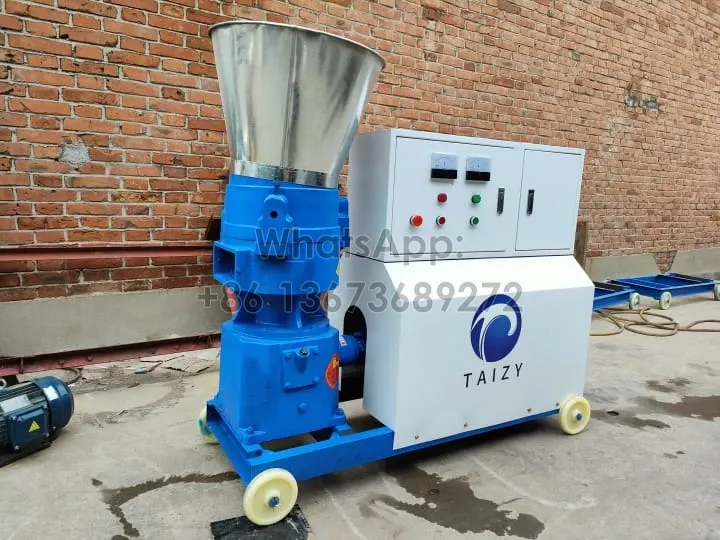 The challenge for this farmer was that traditional feed processing methods were time-consuming and had limited efficiency. He was looking for a way to produce feed pellets quickly, easily and efficiently to meet the needs of his farm.
Choosing the Taizy solution
While looking for a solution, this farmer came to know about the feed pelletizer machine from Taizy. He was so impressed by the machine's features and performance that he decided to introduce it to his feedlot. Therefore, the sales manager of Taizy was contacted. We recommended him the suitable flat die pellet mill and the matching corn grinder according to his needs, which helped this customer to have better feed pellet production.
Why choose the feed pelletizer machine and corn grinder?
Efficient production: Our poultry feed pellet machine and grinder are able to efficiently produce uniform pellets from raw materials, increasing production speed and reducing labor requirements.
Versatility: This pellet mill is suitable for a wide range of raw materials, including corn, grain, straw and more, providing greater flexibility.
Sturdy and durable: Taizy's feed pelletizer machine and corn grinder are carefully designed and made of high-quality materials, making it extremely durable and able to withstand long periods of intense use.
Easy to operate and maintain: Our chicken feed making machine is easy to operate and requires only a short period of training for the operator to become proficient in its use. In addition, maintenance of the machine is relatively simple, reducing downtime.
Machine list for Democratic Congo
Item
Specifications
Qty
Hammer Mill Machine
Model: 9FQ-420
Power : 11kw/15hp
Capacity : 500kg/h
Hammer: 24 pcs
Size : 1500*800*1400 mm
Now color is blue
1 pc
Disk Mill 
Model: 9FZ-35
Capacity:
≥1500kg/h
Power: 15kw 
Weight: 140kg
Size: 1060x560x1370mm
1 pc
Pellet Mill Machine
Model: KL300B
Size: 1360*570*1150mm 
Weight: 450kg
Power: 22 kw
Capacity:800-1000 kg/h
1 pc
Small Vibrating Screen Machine
Power: 2.2kw
Speed: 1400 rpm
Output: 1000 kg/hour
Feeding device: automatic inflow
Size: 1 70*80*100cm
1 pc
machine list for Congo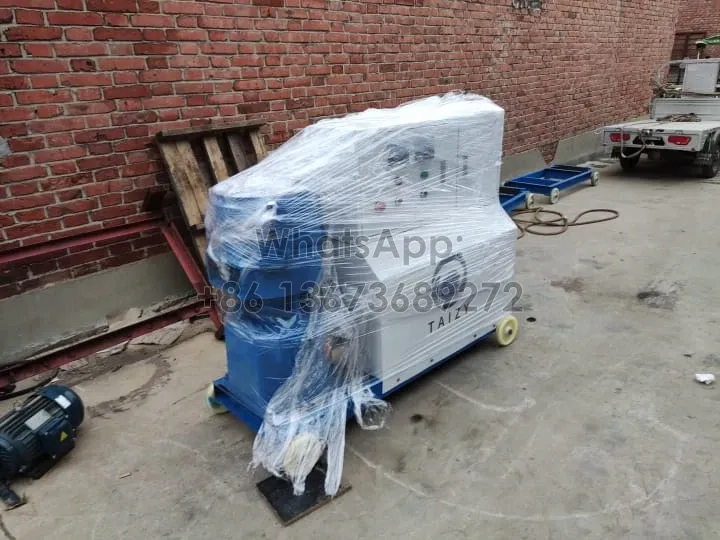 Benefits for the client after using Taizy machines
After introducing the grinder and feed pelletizer machine, the farmer quickly saw significant improvements. The speed of his feed pellet production increased dramatically, and the uniformity and quality of the pellets also improved significantly. This not only saved him time and labor costs, but also provided his farm with more high-quality feed, keeping poultry and livestock in better health.