Supply of Hydraulic Oil Press to Germany
In October this year, a German customer ordered a hydraulic oil press from us Taizy. Our hydraulic oil press machine is very suitable for sesame oil and is hot pressed. Of course, we also have the screw oil press, semi-automatic oil press, and hot and cold oil press. We have four types of oil presses for you to choose from. If you are interested in this, please contact us!
Details of the hydraulic oil press ordered by the German client
How did the client contact us? – ways to get in touch with us
This German customer specializes in the production of sesame oil and wanted an oil press for sesame oil production. So he started looking on the internet and first came across our website and then contacted us directly via WhatsApp.
In addition to this, you can also send us an email or leave a message directly on the message board of the website.
The specific communication details on the hydraulic oil extracting machine with the client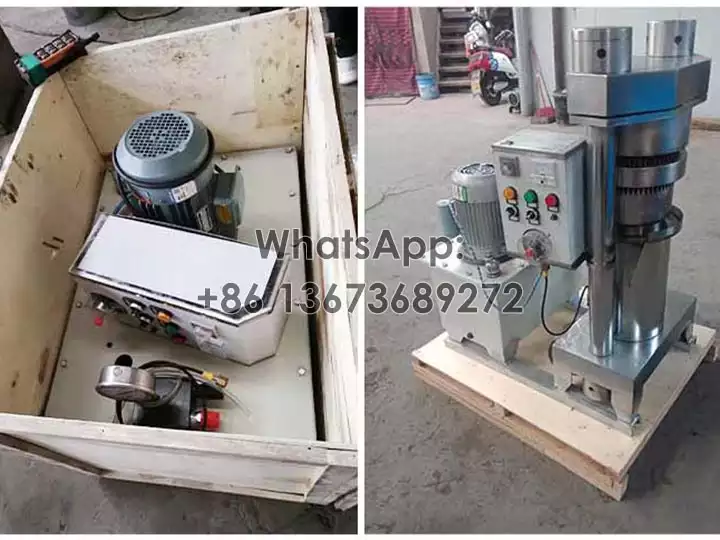 He was contacted by Anna, our sales manager. Initially, she knew that the customer wanted an oil press and then asked him about the material he wanted to process. Once she knew it was sesame, Anna recommended the hydraulic oil press. The name of the machine tells us that it is a hydraulic press with a very high oil yield and that it is designed with features that make it ideal for sesame oil extraction.
Anna also sent the customer the machine parameters, photos, and the working video. After listening to the presentation, the customer was so satisfied that he placed an order for the hydraulic oil press.
Machine parameters of the hydraulic oil press machine
Item
Specification
Quantity
Hydraulic oil extraction machine
Model: 180
Voltage: 380V 50HZ three-phase
Working pressure: 55-60MPA
Heating power: 720kW
Barrel capacity: 4kg
Motor power: 1.5kW
Packing size: 800*900*1050MM
1 set