Peanut Picker Machine Sold to Turkmenistan
Our peanut picker machine has a great performance to separate groundnut seedlings and peanuts. This groundnut picker machine can be used with a tractor, is very easy to move, and the fruit-picking effect is good, up to 99%. In September this year, a customer from Turkmenistan ordered one set of the peanut picking machine from us.
The detailed process of ordering the peanut picking machine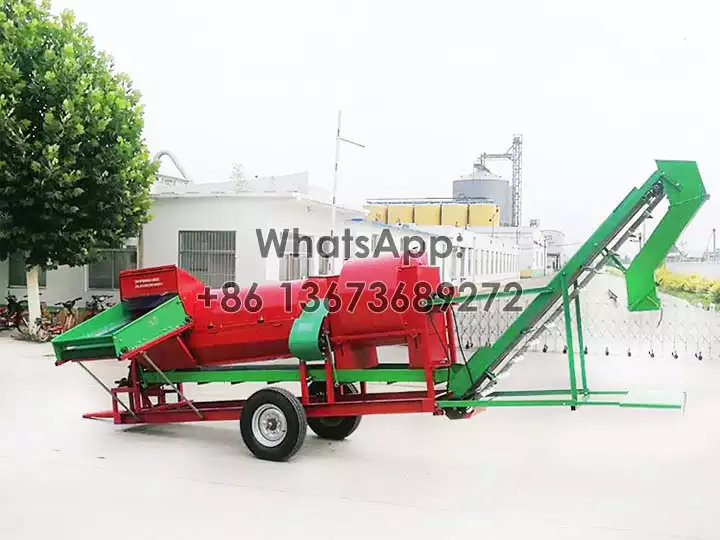 This customer from Turkmenistan is a big and powerful businessman with his own large plantation. In addition to that, he has some commercial activities and often imports machines from China. This time it was a peanut picker to buy for his own customer.
While browsing the website, he saw our peanut machines and was very interested in them, so he contacted us. Through the conversation, our sales manager Winnie knew that he was helping his customer to find a machine, and first recommended two types of peanut machines to him. After asking him about his customer's planting area and requirements for machine efficiency, she recommended our large-sized fruit picker and sent relevant information and parameters of the machine.
After reading these, and waiting for his customers to confirm, the Turkmenistan customer immediately placed an order to buy.
Why did the Turkmenistan customer order Taizy peanut picker machine so quickly?
Through the overall conversation, the following points were summarized.
Good quality of our peanut picker machine. Because it is to buy the machine for his customer, he hopes the machine quality is very good, and will not be in use in the process of various problems. And our machines are sold all over the world and received all kinds of praise. During the communication, Winnie sent him feedback on the machine after the peanut picker was sold in Italy, which also increased the Turkmenistan customer's confidence in our machine and accelerated his purchase progress.
Good service of sales manager. Because it is international trade, there is a time difference problem. But our sales manager Winnie, no matter what time this customer's questions, after reading, the first time to reply, so that she can timely and effectively solve the customer's problems, but also let the customer feel the importance.
Customer strength. In fact, whether to buy the machine successfully is greatly affected by the budget. Like this customer, all aspects of the machine meet his needs, and his funds are sufficient, so he can quickly place an order to buy.
Peanut picker machine parameters for the Turkmenistan customer
Item
Parameters
Quantity
Groundnut picker machine
Power :≥35HP tractor
Capacity: 2100kg/h
Inlet Dimension: 1100*700mm
Weight: 720kg
Size: 5800*2100*900mm
Dimension of screen: 3340*640mm
Loss rate:≤1%
Broken rate:≤3%
Impurity rate:≤2%
1 set