Groundnut Picker | Peanut Picking Machine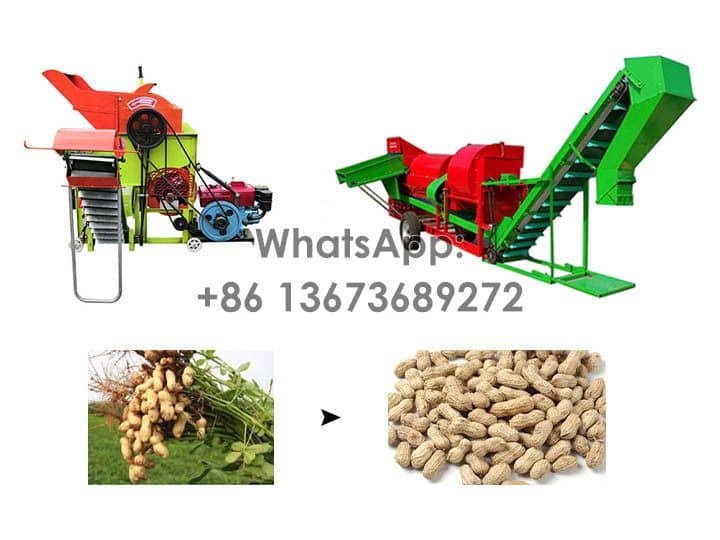 Groundnut picker is an ideal machine for picking up peanuts with a capacity of 800-1000kg per hour. The power system of this peanut picker machine can be an electric motor or a diesel engine. Besides, the peanut picking machine has a picking rate of 99%. Also, its breaking rate is less than 1%. Due to the impurity rate of less than 1%, you can get relatively clean peanuts.
Our groundnut picking machines are exported overseas, such as Sudan, Senegal, Zimbabwe, Brazil, Nigeria, Mexico, Italy, etc. All in all, our groundnut picker has super quality, stable performance, and high efficiency. Welcome to contact us via WhatsApp No. +86 13673689272.
Type 1: Big Size Groundnut Picker
A wet and dry peanut picking machine is suitable for seedling and fruit separation of peanuts after digging. It is the ideal choice for picking fresh peanuts. The groundnut picking machine adds the new fan, and tube to blow away impurities and broken soil. Therefore, it has the advantages of clean fruit picking, high picking rate, low crushing rate, clean cleaning, work, reasonable structure of the whole machine, automatic bagging, free walking in the field to move easily, etc.
Besides, on the basis of the original one, Taizy Machinery Company has developed a new large peanut fruit picking machine. In addition to the original machine, a fruit collection box has been added. This machine is very popular in Sudan, India, and other places.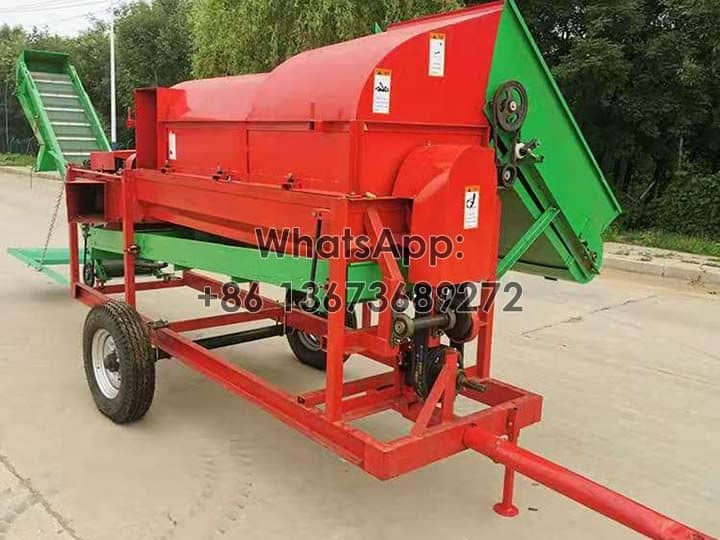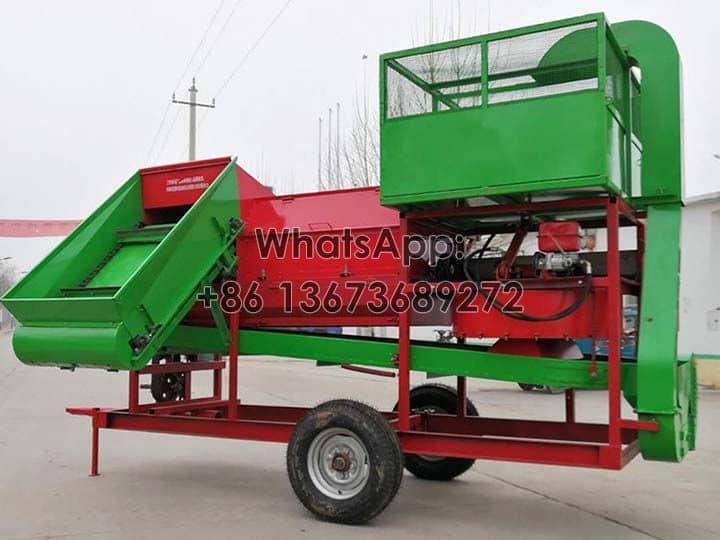 Components of Peanut Picking Machine
This type of groundnut picker can use an electric motor, diesel engine, or tractor-driven. It consists of the frame, vibrating screen, wheels, fans, inlet, elevator, and finished product outlet. One thing you should know is that you can put the bags to connect to the outlet.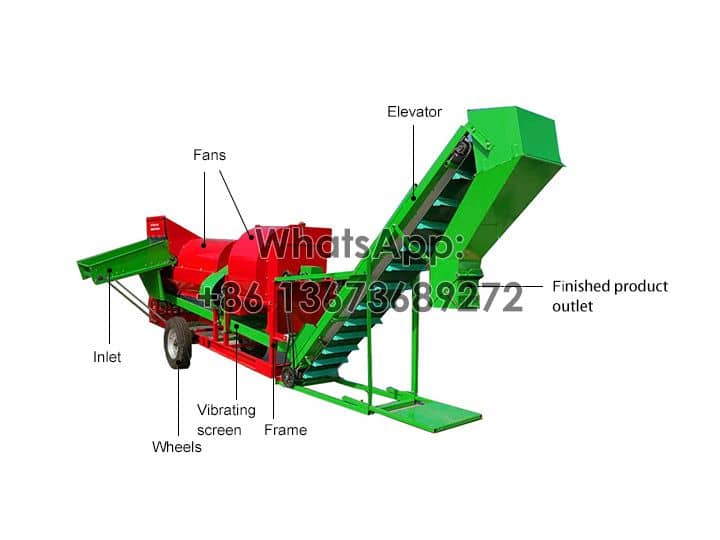 What Features Big Groundnut Picker?
After picking, the peanut fruit is clean and free of residue and can be directly bagged for storage after drying.
Easy to operate, clean fruit picking, less breakage, small power supporting.
The machine adopts a large drum, thick material, stable performance, and strong continuous working ability. All parts are coordinated.
The groundnut picking machine is fixed and doing flowing operations with the tractor through the universal joint.
Technical Parameters of Groundnut Picker Machine
| | |
| --- | --- |
| Model | 5HZ-1800 |
| Power | 25-37kw |
| Rotation speed of the roller | 550r/min |
| Loss rate | ≤1% |
| Broken rate | ≤3% |
| Impurity rate | ≤2% |
| Capacity | 1100kg/h(wet peanut) |
| Inlet dimension | 1100*700mm |
| The height from inlet to ground | 1050mm |
| Weight | 720kg |
| The model of separation and cleaning | Vibrating screen and draught fan |
| The dimension of the screen | 3340*640mm |
| Dimension of machine | 5800*2100*1900mm |
| The diameter of the roller | 600mm |
| The length of the roller | 1800mm |
| Capacity unit power | ≥30kg/kWh |
Type 2: Small Size Groundnut Picker for Sale
This peanut picking machine is for peanut harvest with vine directly picking fruit, flexible mobile in the field, clean for picking fruit, low shell crushing rate, and less loss. Dry and wet stems both are available, with clean threshing and a low crushing rate. Peanut straw in fresh, semi-dry, and dry (three cases) can be picked, which is dominated by large peanuts, in the case of fresh and semi-dry straw. The machine will pick, raise, sieve, and select (four processes) at once, and the daily work efficiency is more than 12 times the manual. It is the development of the future of the very ideal machinery.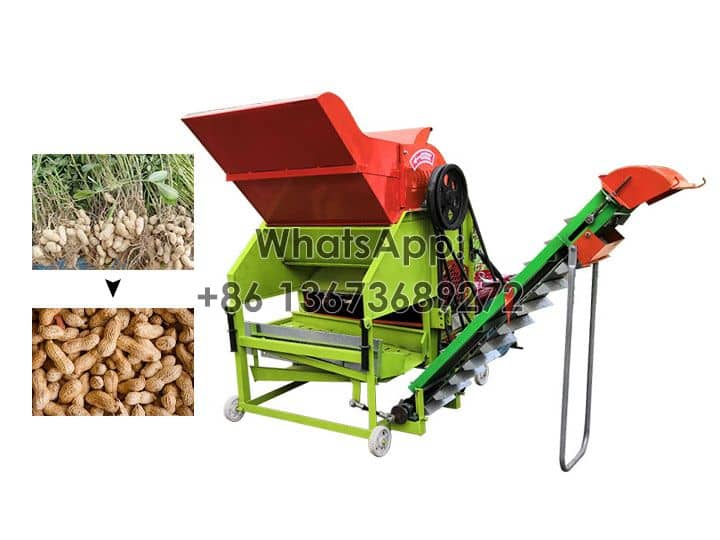 Groundnut Picker Structure
This groundnut picking equipment has a reasonable structure, easy to understand peanut picker parts. In the below picture, it's equipped with a 10HP diesel engine as the power device. Of course, there is inlet and peanut outlet. Also, this peanut picker for sale has outlets for big and light impurities. What's more, the fans form strong winds to blow impurities. If you want to learn more about the peanut picking machine, get in touch with us immediately.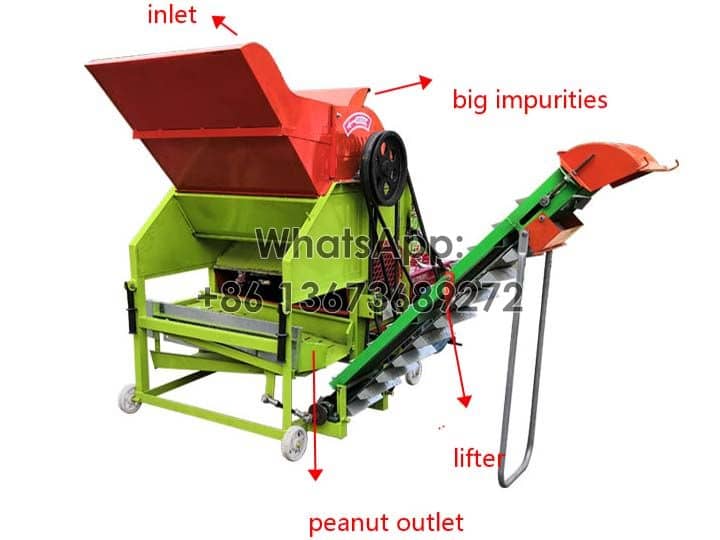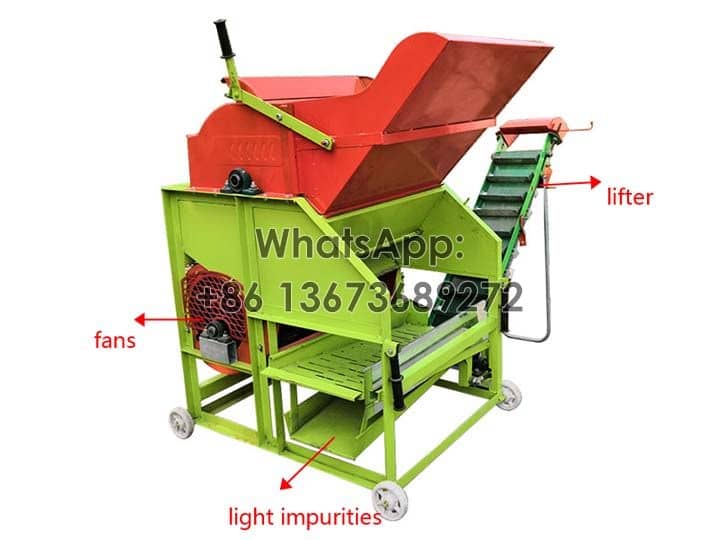 Strengths of Peanut Picker for Sale
Double vibrating screen. A layer of the earth-moving sieve is applied, in order to clean the soil at any time. It's convenient and safe.
Lifter shield. Two flat irons with the same specification support the lifter, avoiding the deviation during the operation. The protective cover can protect the peanuts from keeping them clean.
Eliminator. It's the core component of the machine. Compared to others, this groundnut picker makes peanuts much cleaner.
Six blades. These can make wind stronger, resulting in a better effect to separate peanuts and seedlings.
Steel roller. It adopts good materials and is detachable.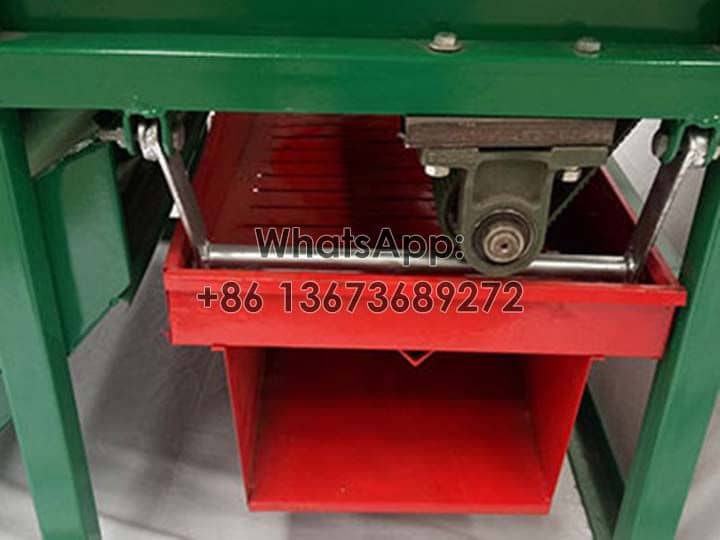 Specifications of Small Peanut Picker Machine
| | |
| --- | --- |
| Model | 5HZ- 600 |
| Size | 1960*1500*1370mm |
| Weight | 150Kg |
| Power | 7.5kw motor,10HP diesel engine |
| Capacity | 800-1000kg/h |
| Picking rate | >99% |
| Breaking rate | <1% |
| Impurity rate | <1% |
| 40HQ | 45 sets |
How does Groundnut Picker Work?
Peanut picking machine is mainly composed of an organic frame, electric motor (diesel engine), transmission part, fruit picking and detaching part, fan body selection part, and vibration mechanism.
During the operation, the electric motor or diesel engine has driven the machine running. Through the feed inlet, the peanuts come into the fruit picking system. By the rotation of the drum picking rod, the blow makes the peanut detach from the stem. Fruits and debris through the intaglio hole down to the vibrating screen, and the stalks come out from the discharge port. Scattered miscellaneous fruits on the vibrating screen reach the fan suction port (discharge debris) through the vibrating screen. The clean peanuts are selected so as to complete the whole process.
Feedback from Sri Lanka Customers about Groundnut Picker
As a professional agro machine manufacturer and supplier, we have a series of peanut machines, such as peanut sheller, peanut harvester, peanut planter, etc. And we export our machines overseas.
Recently, we exported one small groundnut picking machine to Sri Lanka. Sri Lanka customer received the machine and used the machine to pick peanuts. Apart from this, he complimented our machine and sent us a feedback video. Till now, we're still good friends to share interesting things happening in life.
Working Video of Best Price Groundnut Picker Machine from Taizy