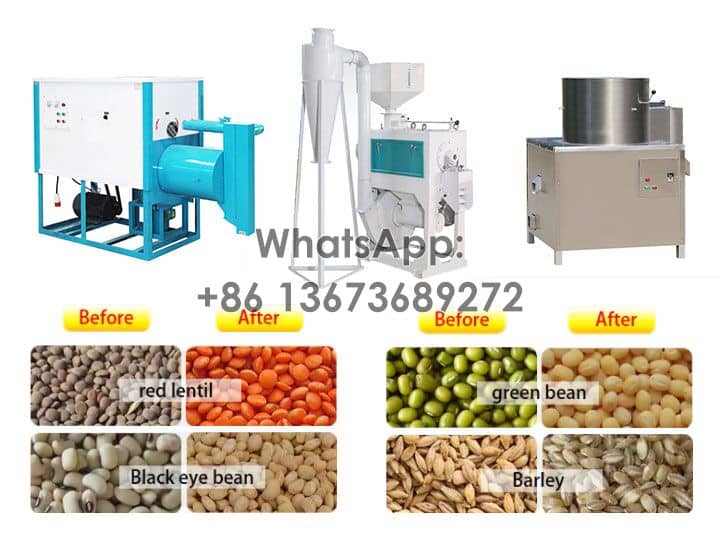 As the name implies, the bean peeling machine is a skin removing machine specializing in the development of a variety of beans, invented by our company according to the market demand. It is mainly applicable to the peeling and separation of various beans such as bean (soybean), pea, black bean, kidney bean, almond, etc. The peeling rate is above 98%. The soybean skin removing machine is suitable for food processing plants, hotels, restaurants, canteens, professional households, etc.
This equipment is a new generation of peeling machine, which has been carefully designed and optimized after extensive market survey and consultation with users, while drawing on the advantages and experiences of many kinds of bean peeling machines at home and abroad. Our machine is well designed, easy to operate and has high output. We, Taizy Machinery, have three models for you to choose from. If you have any need, you can contact us. Tell us what you need and our sales manager will provide you with the most suitable solution for your needs.
Who Uses Peeled Beans?
In fact, this bean peeling machine has a wide range of applications. Because this machine can process beans such as soybeans, black beans, peas, etc. for peeling and splitting. There are mainly the following areas of use:
Large plant, small and medium-sized workshop, retail stores, canteen supply, individuals, and food processing plants. If you have any needs, welcome to get in touch with us as soon as possible! And our professional staff will provide the most appropriate plan to facilitate your business.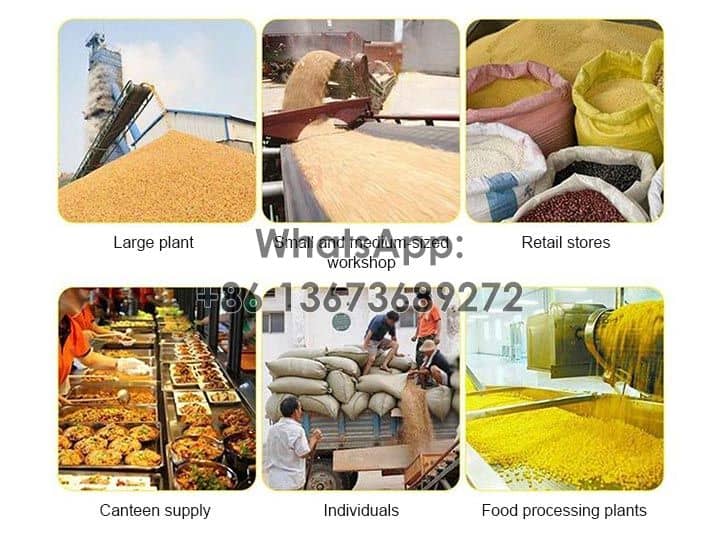 Type 1: Soybean Peeling Machine
This soy bean peeling machine is soybean splitting and kneading machine developed by the technical research and development personnel of Taizy Machinery according to the market demand. The bean skin peeling machine can peel round and regular beans, such as soybeans, black-eyed peas, peas and so on. This machine is easy to operate. Also, the skin, kernel and leaf flavonoid part is detached cleanly. It features less broken grains, good peeling effect, beautiful appearance, convenient operation, reliable performance, green environmental protection, one machine for multiple uses.
It is suitable for small bean processing plants or food factories. At the same time, you can also adjust the machine to peas, cowpeas peeling. Peeled soybeans, peas to deodorize, enhance the taste of soybean products such as tofu, bean juice, etc.
What is the Structure of Soy Bean Skin Removing Machine?
This soybean peeler has functions of peeling and separating beans. It's multifunctional and peeling and splitting. It consists of motor, fan, distribution box, feed hopper, adjustable handle, air pipeline, and outlet. If interested in the bean peeling machine, welcome to contact us at any time.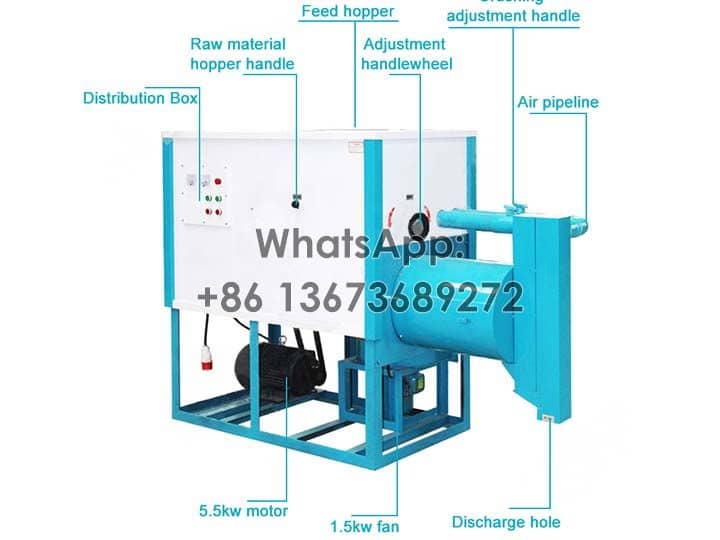 How does Bean Peeling Machine Work?
When working, the material gets into the peeling between the two grinding discs by the hopper through the winch conveying device. And the purpose of peeling or crushing is achieved by the differential rotation of the two grinding discs. After the peeling of soybeans, through the separation chamber, under the action of wind, the bean fruit part is discharged through the outlet. The skin and trace powder are discharged through the outlet with air, thus completing the peeling process.
Technical Specifications of Beans Peeler
| | |
| --- | --- |
| Model | TZ-10 |
| Weight | 200kg |
| Size | 190*140*75cm |
| Capacity | 300-400kg/h |
| Power | 5.5kW +1.5kW |
Type 2: Hot Sell Lentil Peeling Machine
The lentil peeling machine is an independent research and development of a bean peeling machine. It can peel both round with regular and flat shaped beans. With the advantages of good peeling effect, high yield rate and stable performance, it is a multi-functional peeling machine.
It is suitable for peeling various beans such as mung beans, kidney beans, lentils, cat's eye beans, cowpeas, etc. This machine has two functions, such as peeling and separating, which can effectively remove the skin and make beans deodorized. Therefore, it is the ideal equipment to elevate the grade of bean products, with high peeling rate, available quality and easy operation.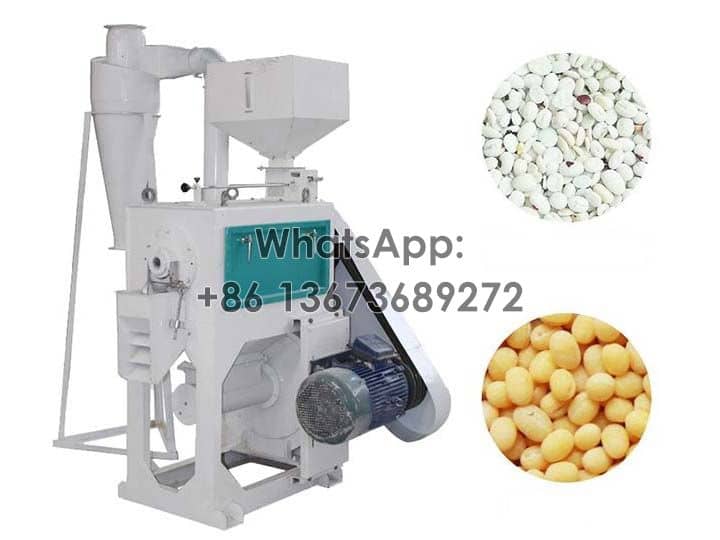 What Constructs the Lentil Skin Peeling Machine?
Generally, speaking, this machine has clear construction. It's composed of the hopper, control handbar, dust collector, peeling room, outlet.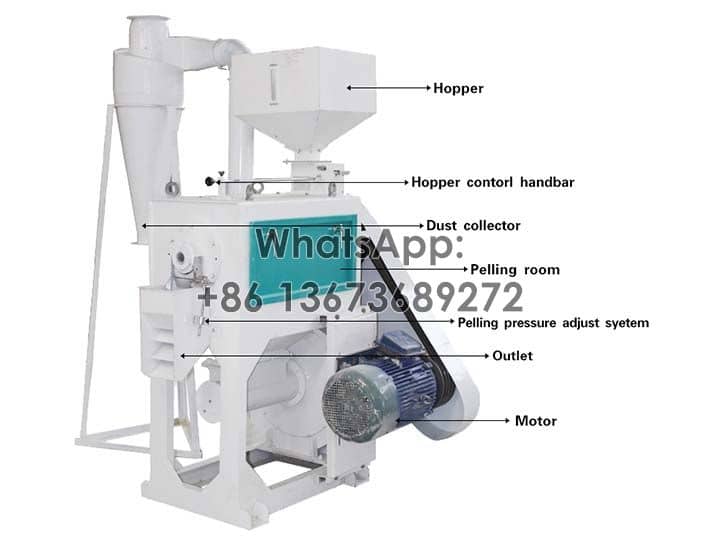 Working Principle of Industrial Beans Peeler
During the operation, the bean peeling machine uses the high-speed rotating diamond blade to continuously cut and rub the skin layer. In this way, the bonding strength between the skin and the inner layer can be destroyed, so that the skin layer can be gradually ground and rubbed away. And the skin can be removed more effectively. Through the machine's built-in suction and dust removal system, it collects the skin in the process of peeling to ensure the cleanliness and hygiene of the processing workshop.
Parameters of Lentil Peeler
| | |
| --- | --- |
| Model | S18 |
| Power | 15kW |
| Capacity | 500kg/h |
| Size | 1800*1200*2150mm |
Type 3: Broad Bean Peeling Machine
This broad bean peeler machine has the stainless steel material. Fava bean peeling machine has the characteristics of compact structure, simple operation and clean peeling. Fava beans do not need to soak, do not need to dry. Turn on the machine and then complete a one-time peeling, save time and effort, convenient, save labor and improve work efficiency.
Taizy Machinery has developed a peeling machine for the uneven shape of broad beans. This machine can be more suitable for broad beans, oilsa beans, lima beans, fire hemp seeds, peony seeds and other partial flat beans for peeling, so that the product peeling and removal rate is higher.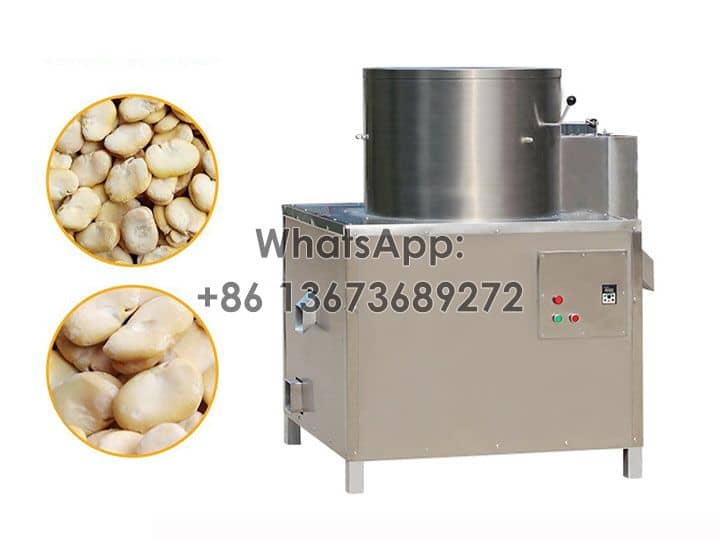 Composition of Broad Bean Skin Removing Machine
The fava bean peeling machine has hopper, peeling device, outlet, and control panel.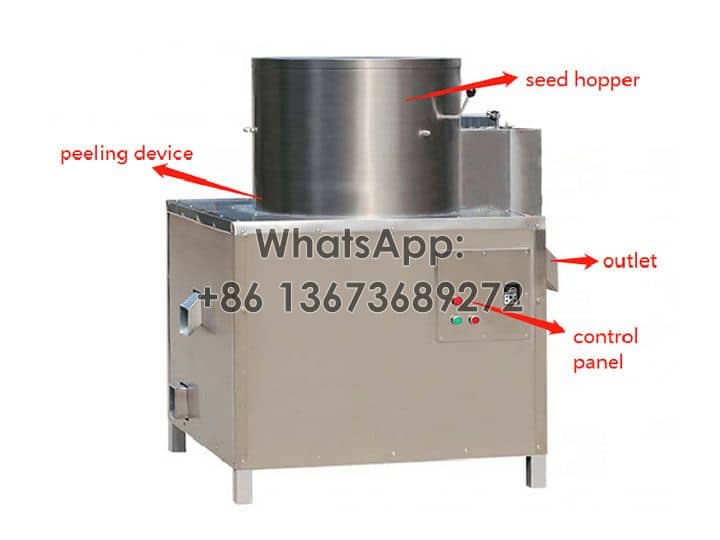 What are Parameters of Fava Beans Peeler?
| | |
| --- | --- |
| Model | ZX-CD |
| Size | 1000*1150*1400mm |
| Power | 5kW |
| Capacity | 200KG/H |
| Weight | 400 |
Hightlights of Bean Peeling Machine
With two functions of peeling and separating, high peeling rate, available quality and convenient operation.
It is a combination type peeling machine of beans with small power, small area, high automation and good quality of finished products.
Scope of application: soybean, broad bean, soldier bean, cowpea, mung bean, black bean, kidney bean and other kinds of bean processing.
Product yield: it can be regulated according to customer requirements.
Finished product index: A. Sand content: <0.02%; B. Magnetic metal content: <0.003/kg; C. Moisture: storage type <15%; D. Appearance and taste: good color, good peeling effect, bright and smooth bean kernel, very positive bean flavor.