Combined Groundnut Sheller and Cleaner for Sale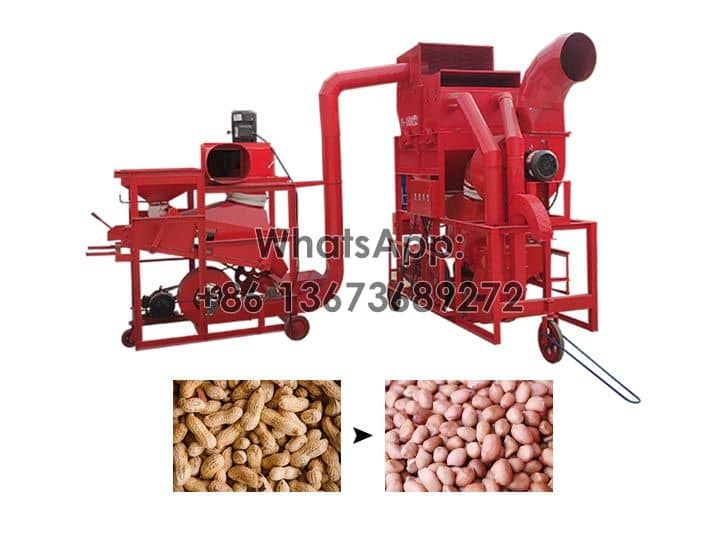 Groundnut sheller and cleaner is combined with cleaning and threshing equipment, especially for peanuts. 6BHX- 3500 is introduced today. This peanut shelling machine unit has the latest design. Besides, the combined groundnut sheller for sale has the advantages of factory direct sales, high shelling rate, and large capacity. Also, this peanut sheller machine belongs to environmentally-friendly models. In Taizy Agro Machine Company, this kind of groundnut sheller has three sieves for groundnut shelling much cleaner. Welcome to contact us for more classifications!
Why Using Combined Groundnut Shelling and Cleaning Machine?
When harvesting groundnuts, peanut fruit contains a lot of clods, stones, peanut leaves, dust, etc. If not cleaned timely, it not only causes a large number of broken peanuts but also affects the color of peanuts. When groundnut sheller and cleaner work, the machine parts will have damages to varying degrees.

Features of Groundnut Thresher with Cleaner
High shelling rate and high cleaning rate.
Simple operation and efficient output.
Large output peanut sheller, 1500-2200kg per hour.
Low breakage rate and low loss rate.
Three sieves to install, select screen size based on the peanut size.
Structure of Groundnut Sheller and Cleaner
The groundnut shelling machine design and fabrication have unique thoughts. This machine has a cleaning system and a threshing system. For the cleaning part, the cleaner functions to remove the impurities existing in the peanuts. For the threshing part, the groundnut decorticator is the core. It includes peanut inlet, peanut kernels outlet, impurities outlet. What's more, between the cleaner and the groundnut peeling machine, there is a conveying lifter.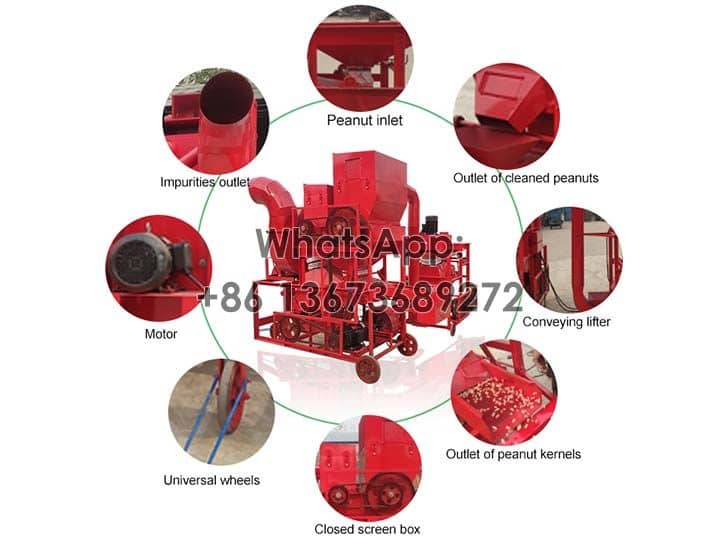 Working Principle of Groundnut Shelling Machine
The peanut shelling machine for sale works in accordance with the procedures, finally getting peanuts kernels. Below is the groundnut sheller and cleaner process:
Pour the peanut into the cleaner inlet. The cleaning machine functions to remove dirt, rocks, peanut leaves, dust, and other impurities.
Cleaned peanuts are delivered to the groundnut cracker by the elevator.
The groundnut thresher machine adopts the combination of closed screen box and special fan to realize the suspension sorting and shelling.
After carefully selecting and shelling, peanut kernels come out from the discharge hole with a sieve.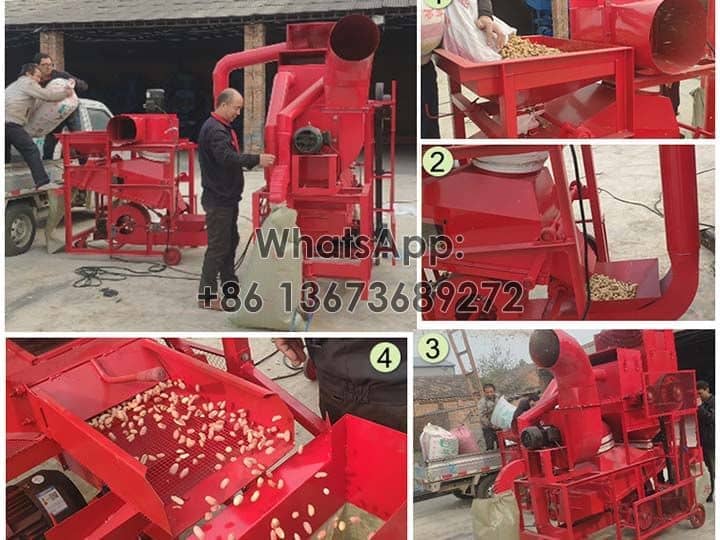 Video of Combined Groundnut Sheller and Cleaner Machine