Two Wheel Drive Walking Type tractor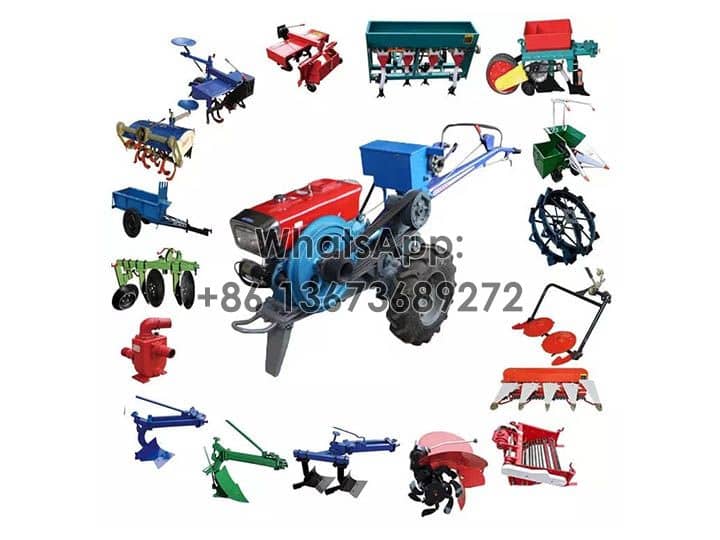 Walking type tractor is an essential 2 wheel farm walking tractor, capable of operating many different implements. Walk-behind tractor supplies the power sources, widely used worldwide. The hand tractor has advantages of multi functions, easy operation, compact structure. Besides, this walking tractor can match with the different equipment, like plough, ridger, planter, water pump, etc. The walking tractor attachments can be various. Due to its economical price, the two wheel tractor is well received among South Africa, Mauritius, America, Zimbabwe, Uganda, etc. If you have an interest, please contact us at any time.
Features of Walking Type Tractor
Simple structure, good quality, stable performance.
Competitive price in the market. The walking tractor price is affordable for people in most countries, such as Kenya.
Multiple functions. This two wheel tractor can work with the different types of machines to realize ditching, sowing, ridge, harvesting, etc.
Exported to many countries and regions. Owing to its price strength, this walking hand tractor has been frequently exported to Africa. Such as Lesotho, Ghana, South Africa, Kenya, Zimbabwe, Nigeria, Yemen, Somalia, Botswana, etc.
Strong practicability. This farm hand walking tractor creates much more convenient conditions for people who are in bad situation.
Working Video of Walking Type Tractor Implements
This small and simplicity walking tractor has many possibilities based on customers' demands. The below video sufficiently shows several possibilities and functions.
Functional Diversification of Walking Tractor
Because this two wheel tractor only provides the power source, it can collocate with many agricultural machineries to achieve different functions. For example, walking tractor with plough can till the land for the following cultivation. The hand tractor with planter, like corn planter, wheat planter can plant and fertilize at the same time. Also, the walking type tractor with a trailer can load items. Besides, it can have change ordinary wheel into paddy wheel for paddy fields. All in all, this 2 wheel drive tractor can achieve multiple functions together with the many machines. Looking forward to your inquiry!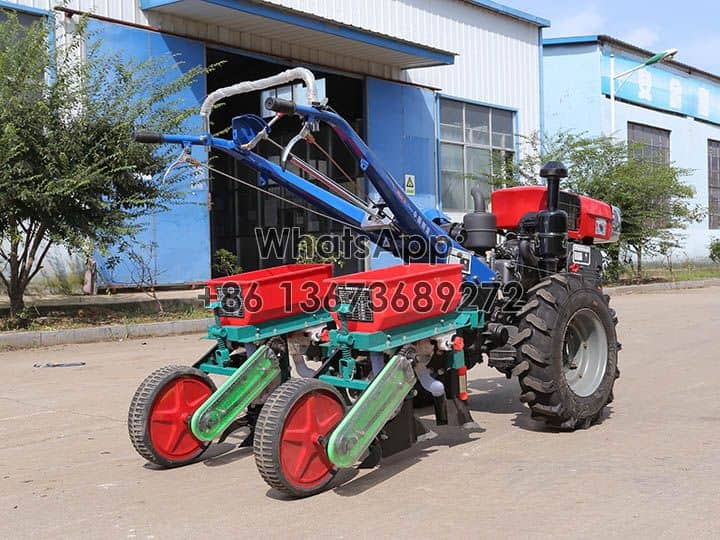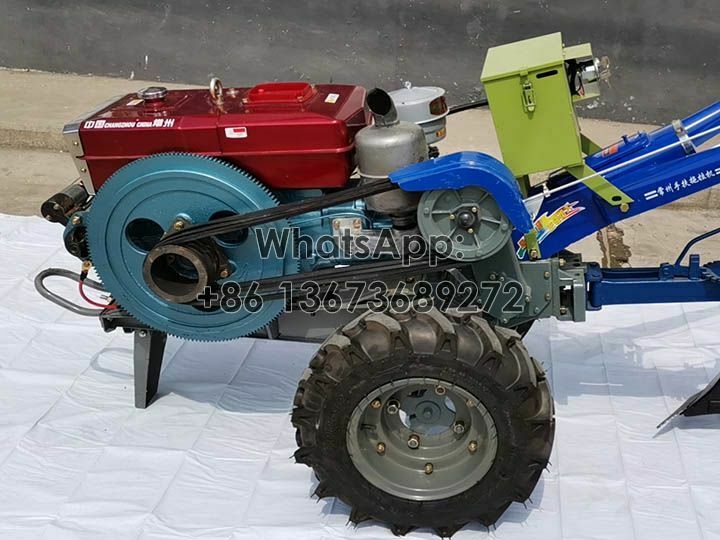 Walking Tractor Attachments
As a professional agro machine manufacturer and supplier, we have various collocations to show you.
Walking type tractor with rotovator
When these two together work, it's suitable for the watery fields, and till drylands. Also, from the picture, we can clearly see that there is a seat design to create convenient conditions for users.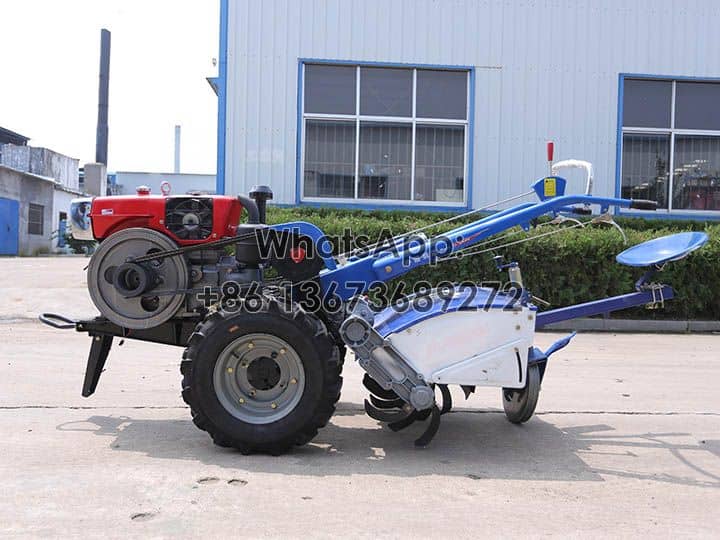 2 wheel drive tractor with double disc plough
Double disc plough is mainly to till the drylands. This combination has the advantages of easy operation, fast speed, and high efficiency.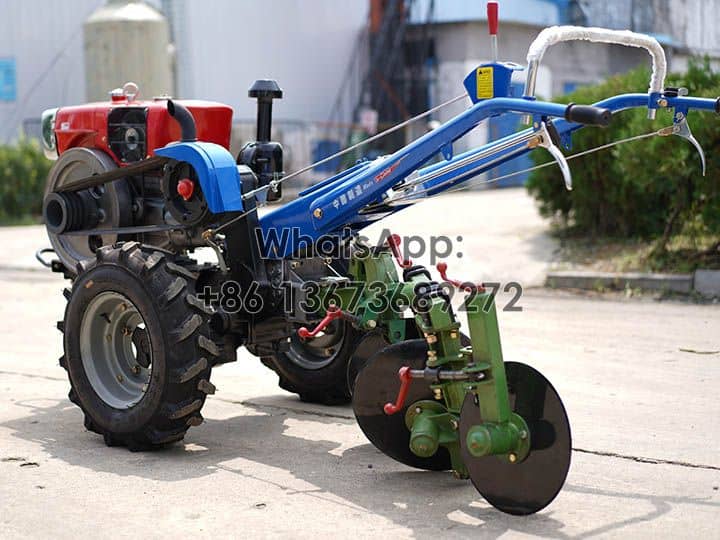 Hand tractor with double plough
The hand tractor with double plough is commonly used in the dry fields for turning the soil and loosening the soil.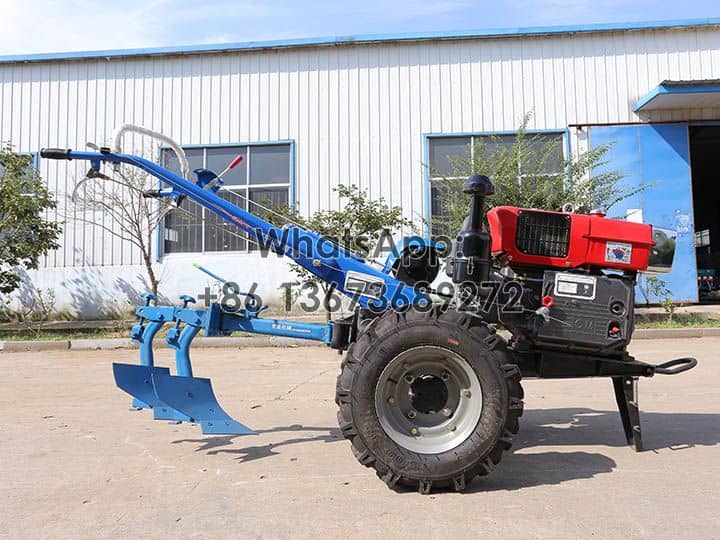 Two wheel drive tractor with paddy wheel
This type of walking tractor with the paddy wheel is mainly for the paddy watery fields. This paddy wheel is beneficial to walk in the watery fields, not stuck in the lands.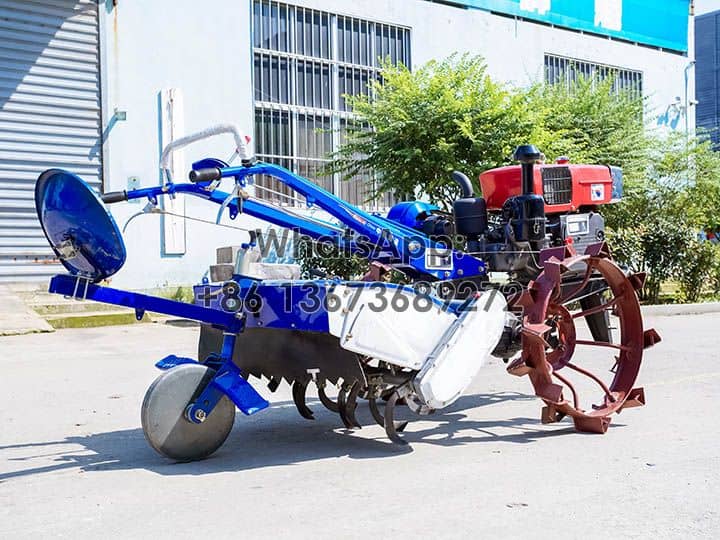 Successful Case: Hand Tractor Exported to Mauritius and South Africa
Actually, this walk-behind tractor is very popular in the world. Because of the simplicity two wheel tractor has the price strength. What's more, it has multiple functions with different machines. So, it has broad markets. Our sales manager Coco got invitations for quotations from Mauritius and South Africa respectively. Because walking type tractors can be used as a power source and work with different machines, customers in Mauritius and South Africa ordered not only hand tractors but also water pumps, plows, ridgers, paddy wheels, electric fire starters, etc. We packed machines into wooden cases, loaded them into the container, and exported them to Mauritius and South Africa by sea. Welcome to contact us for more information!