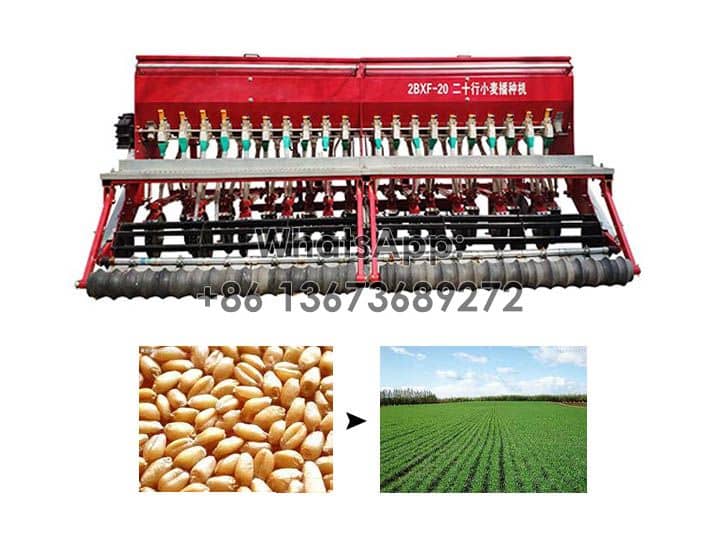 Wheat planter is a seed drill specially for wheat sowing. This wheat seed drill can simultaneously seed and fertilize. Of course, you can choose only seeding. It depends on you. Besides, it is suitable for sowing wheat, alfalfa, grain, barley, dry-rice, sesame, etc. The machine size varies along with the wheat sowing machine of different rows. It should work with the tractor to automatically complete the wheat planting work. But as is known to all, this machine is used in the prepared field. If you have doubts, please get in touch with us as soon as possible for details!
Wheat Planter for Sale
In Taizy Machine Company, we supply various types of wheat planter for sale. This 2BXF series of machines are new models, installing gearbox for adjusting the discharging quantity. The main types are described as below:
2BFX-9 (9 Row) Wheat Planter for Sale
This kind of seed drill has 9 rows for sowing wheat. It adapts the 3-pointed linkage and is matched with the small tractor. During the operation, it can level field, furrow, and cover soil, etc.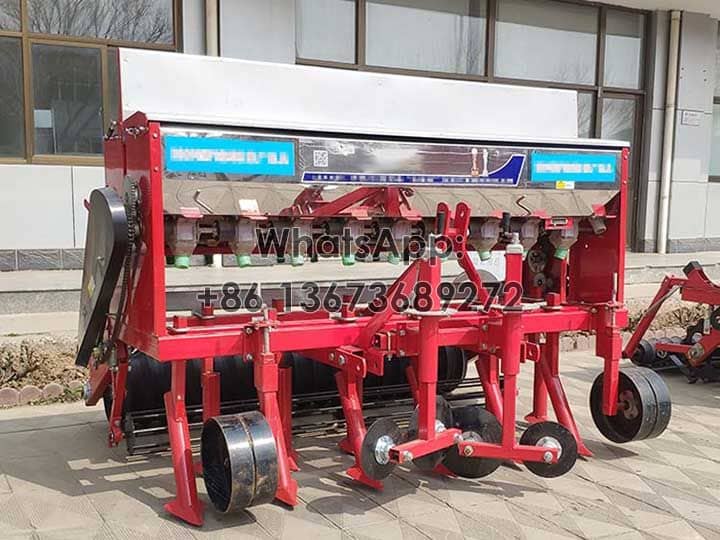 2BFX-12 (12 Row) Wheat Planter Machine for Sale
The wheat planting machine has 12 rows for working. All tasks can complete, including leveling, soil opening, fertilizing, seeding, covering, and pressing. Compared to 2BXF-9, this one has higher working efficiency.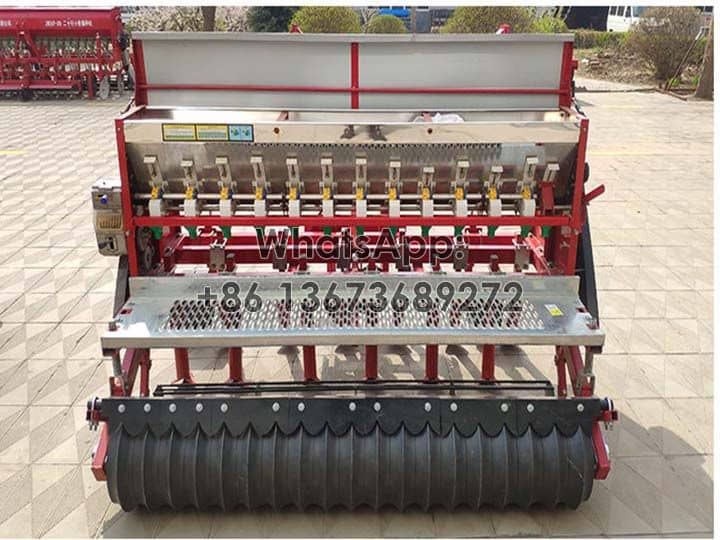 2BFX-20 (20 Row) Wheat Planter for Sale
This wheat planter has 20 rows to carry out the sowing work. It can collaborate with the matched tractor, greatly improving the cultivation efficiency.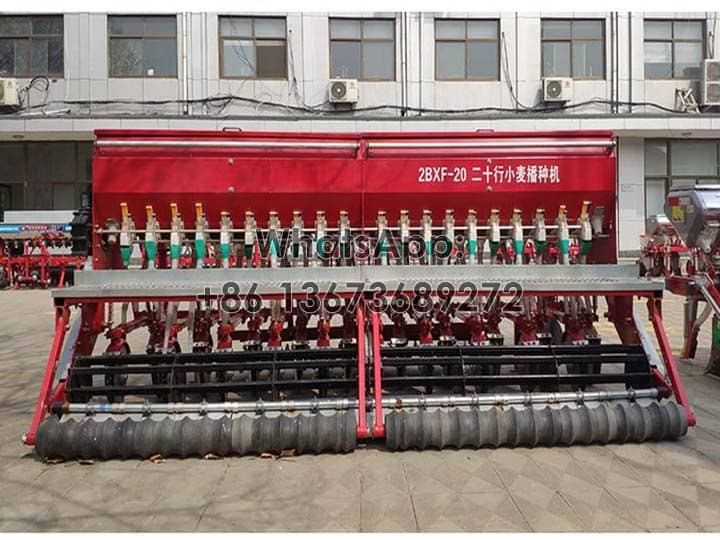 Advantages of Wheat Planter Machine
More precise in seeding rate. Because of the applied new model, the machine can sow wheat more precisely.
The new fertilizer hopper are made of stainless steel. So it's more durable and reliable in use.
The wheat planter is applied to the small granular items, such as wheat, rice, alfalfa, barley, grass, dry rice, grass, etc.
This machine can be manufactured with rows of 6, 9, 12, 14, 16, 20.
It adopts suspension connection with the tractor, 3-pointed linkage.
This machine seeds and fertilizes at the same furrow.
Machine Details of Taizy Wheat Planter Machine
As the below photo shows, the first part displays that the soil is covered after sowing. Another one shows that we can see clearly when sowing.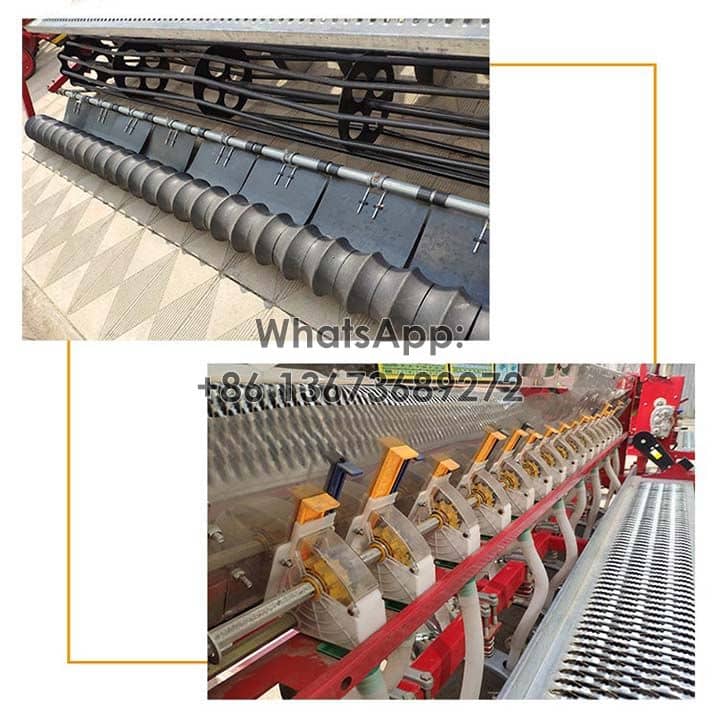 Questions You Will Ask When Choosing Wheat Planter
Tractor horsepower
Due to different wheat seed drills, it should match with the corresponding tractor. For example, 9-row wheat planter is working with the small tractor, while the 20-row one needs a more powerful tractor.
Planting rows
When you determine the planting rows, then, the types of the wheat sowing machine can be decided. Rows of 6, 9, 12, 14, 16, and 20 are available.
Fertilizing and sowing quantity
This is closely connected with the machine that has fertilizer and seedboxes. When you're using this machine, be careful that the fertilizing quantity should match the seeding quantity. They have a certain proportion. If you're confused, please contact us for support!
Maintenance of Wheat Seed Drill
When the machine is driving on the road at high speed, the tractor lifter must be locked, and it is strictly forbidden to pull the machine to drive.
Check the fasteners and connectors before planting, and tighten them in time if they are loose.
During the operation, the operator must strictly follow the safe operation rules to reduce unnecessary wear and tear on the machine tools.
After each shift, remove soil from all parts of the machine.
After quarterly use, clean and maintain in time. Clean up the fertilizer, check each part, and then add anti-corrosion oil, finally store in the warehouse.
Related Machines
As a professional agro machine company, we not only provide multiple row wheat planting machines, also supply corn planter, vegetable planter. If you have an interest, welcome to contact us at any time.