60TPD Rice Mill Processing Plant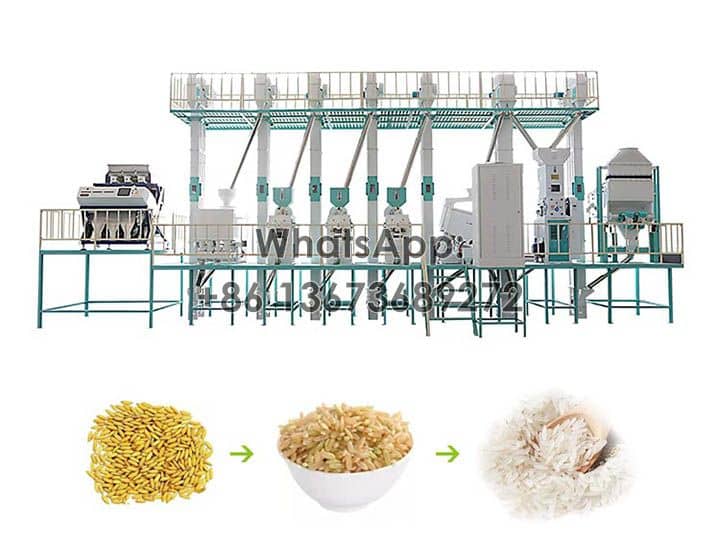 60TPD rice mill processing plant is rice processing equipment with a capacity of 60t per day. It integrates destoning, rice husking, and rice milling. This rice mill plant for sale adopts the advanced technology, thus high rate of fine rice, low broken rate. So, it's a great rice mill machine for the rice factory, and farm owners. Also, we can provide 60tpd complete rice mill plant according to your demands. Besides, this integrated rice mill plant is supplied directly by the factory, the quality can be guaranteed. Do you have an interest in rice milling equipment? Welcome to contact us for more details!
Structure of 60tdp Integrated Rice Mill Processing Plant
In Taizy Machine Company, the 60tpd rice mill plant for sale includes cleaner, destoner, rice huller, three rice mill machines, white rice grader.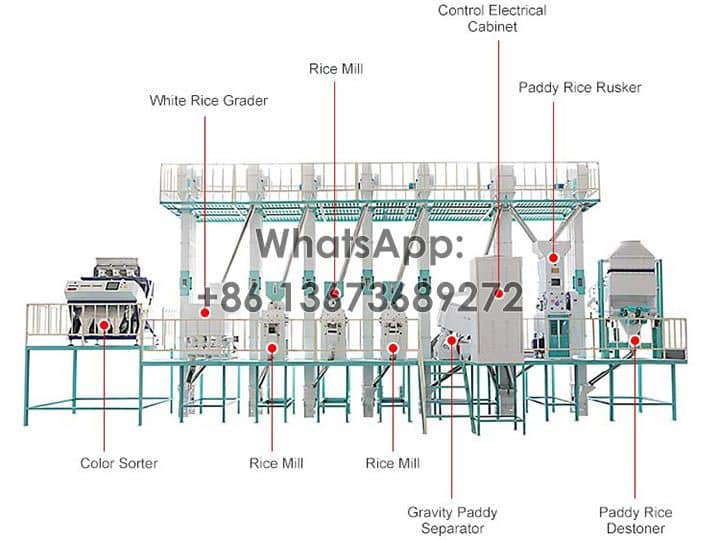 Process Flow Chart of Rice Mill Processing Plant
From this flow chart, you can clearly see how the rice milling plant works. It significantly helps you understand the working process and be familiar with the machine plant.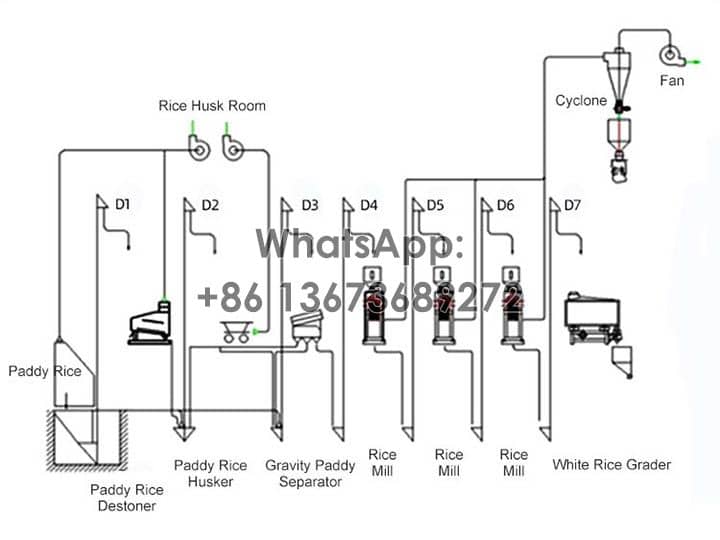 Advantages
Individual machines for the 60tdp rice mill plant are displayed in one line, neat and beautiful.
The rice milling part of the equipment adopts advanced rice milling technology, low rice temperature, little bran, and low broken rate.
The main operation is concentrated on one side, convenient to operate.
Energy saving, environmental protection, simple operation, convenient maintenance, and durability.
Large capacity, fast speed, stable performance.
Different collocation. We can recommend the proper 60tpd rice mill plant to meet your requirements.
Machines that can be Equipped
Actually, 60tpd rice mill machine has different collocations to achieve your required goal. Based on this 60tpd rice mill plant, we also have other machines to collocate.
This machine is used for the rice mill production line, functioning to make rice whiter and smoother.
The color sorter can differentiate between good white rice and mildew, black rice. For the good quality white rice, it helps a lot.
Because the final aim is the white rice for sale, the package is the necessary step. This packing machine for this rice milling plant ranges from 5kg to 50kg. Thus, it's very practical.
From the above, we can find that a complete rice mill production line for sale has a different collocation to satisfy your business requirements.