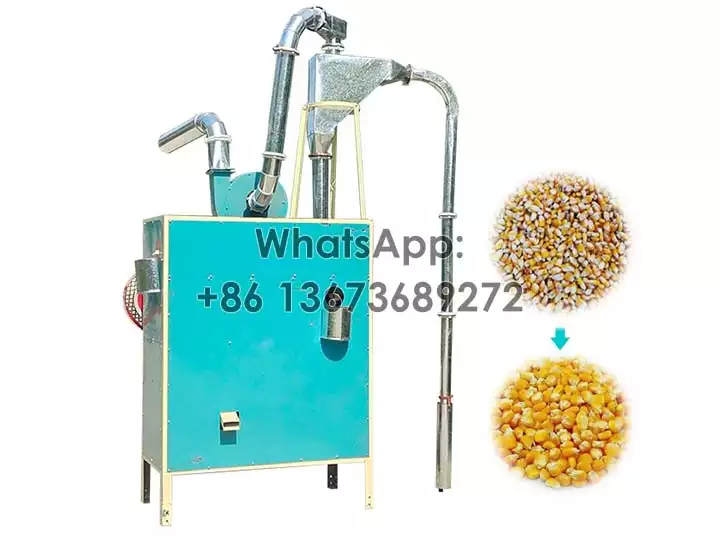 The corn cleaning machine mainly cleans the corn kernels after threshing, which can remove the impurities in the corn and get a cleaner corn seed. Taizy corn cleaner has the advantages of simple operation, easy use, and high efficiency. This maize cleaner can remove sand, small stones, corn cobs, etc. for getting clean corn seeds. Thus, you can store the maize for a longer time. So, if you're interested, get in touch with us immediately!
Structure of Corn Cleaning Equipment
Actually, this maize cleaning machine has a very simple structure. Its composition has the corn inlet, corn outlet, impurities outlet, sand outlet, stone outlet, fan, motor, and belt. From this, you can easily understand the machine and use the machine well & quickly.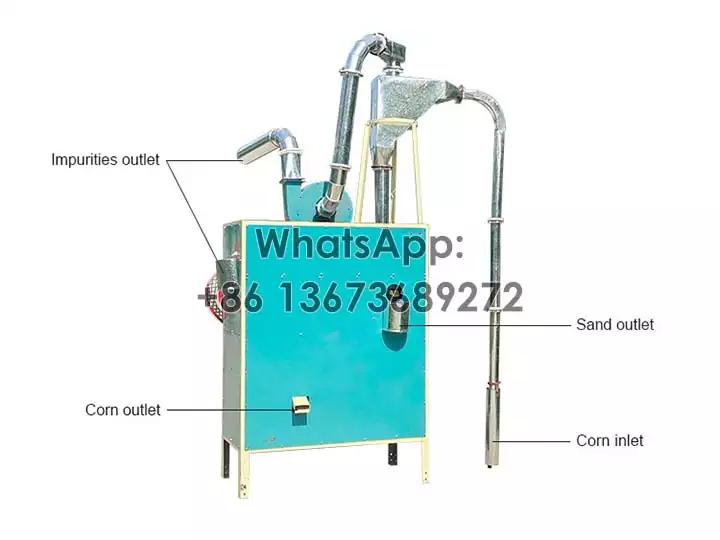 Advantages of Corn Cleaner
Simple structure, easy use, and good quality.
Stable performance, super quality, and long service life.
Lightweight, and small volume.
Low energy consumption, saving power.
Beautiful appearance, strong combination.
High automation degree.
A famous brand, the corn cleaning machine is produced by Taizy Machinery.
Successful Case: 400-600kg Maize Cleaner Exported to Angola
The customer from Angola wanted to clean the corn so that the quality of the kernels could be guaranteed, whether for sale or for storage. Therefore, when he saw that we were selling the relevant corn machines, he asked if we had such machines. We know that after the corn is threshed with the corn thresher, there are still various impurities in the corn (such as corn whiskers, corn cobs, small stones, etc.). Therefore, the corn needs to be further cleaned. Our sales manager recommended this corn cleaning machine to him, sending information about the machine (parameters, photos, working video, configuration, etc.). The Angolan customer was satisfied with the machine and placed an order right away.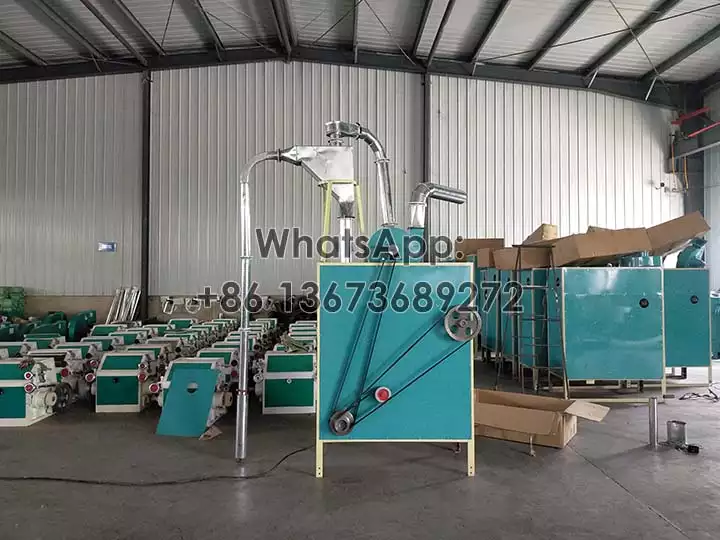 Parameters of Corn Grain Cleaner
| | | |
| --- | --- | --- |
| Model | TY-57 | TY-100 |
| Capacity | 400-600kg | 800-1200kg |
| Supporting power | 3kW | 4kW |
| Size(L*W*H) | 1.7*0.8*2.9m | 1.9*1*3m |
| Weight | 300kg | / |
FAQ of Maize Cleaner
Q1: Is this corn cleaning machine only suitable for corn?
A1: Yes, it is. This corn cleaning equipment can be only used for the corn. If you want to clean wheat, millet, etc., we can recommend a suitable cleaner to you, please contact us and tell us what you need.
Q2: What is the machine's power system?
A2: Commonly, we use the motor for the corn cleaner for sale.
Q3: How to deliver to my destination?
A3: Generally, we use the shipment. If you have other demands, just tell us. We try our best to satisfy you.
Working Video of Corn Cleaning Machine