Multi Purpose Corn Shelling Machine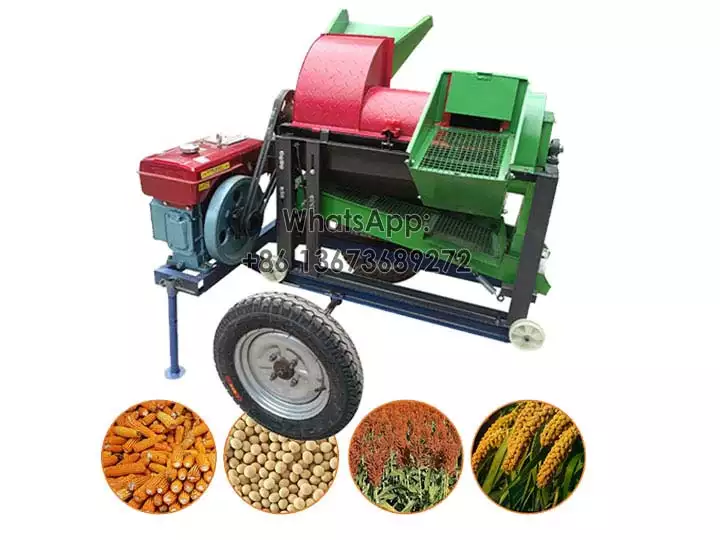 The multi purpose corn shelling machine plays an important role in the field of crop threshing as an efficient and multifunctional agricultural processing equipment. It has the advantages of high efficiency and speed, versatility, ease of operation and reliability and durability, which not only improves productivity and output, but also saves cost and human resources. The multifunctional threshing machine also provides farmers with flexibility and technical support to help them achieve greater success in agricultural production.
Introduction Video of Multifunctional Corn Shelling Machine
What's the Multi Purpose Corn Shelling Machine?
The multifunctional corn shelling machine is a mechanical device for threshing crops with multiple functions and applications. Its main function is to separate the grain from the whole grain and remove the covers and impurities to obtain a pure grain product. It is widely used for threshing corn, wheat, soybeans, millet and many other grains. The multi grain thresher can significantly improve threshing efficiency and save labor and time costs. It is a good helper to help the majority of farmers with threshing.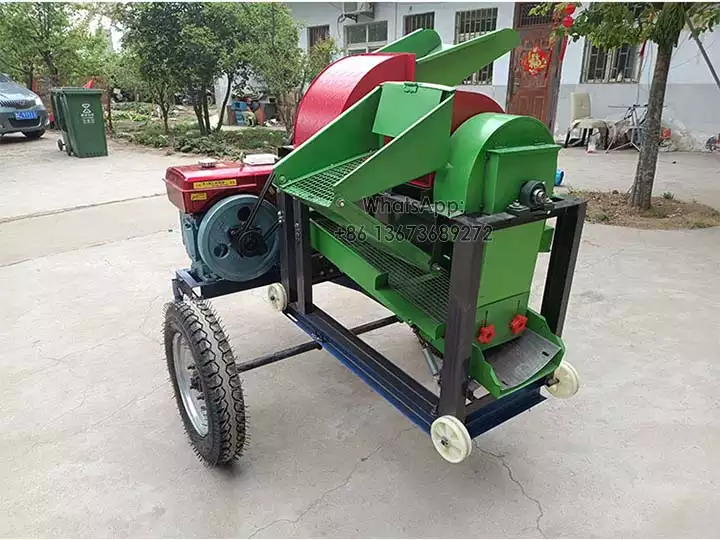 This kind of machine has MT-860 and MT-1200 available, which have the same functions and applications. But the capacity is different. Also, these two types can use the diesel engine, electric motor, and gasoline engine to drive the machine to work.
Structure of Multi Grain Thresher Machine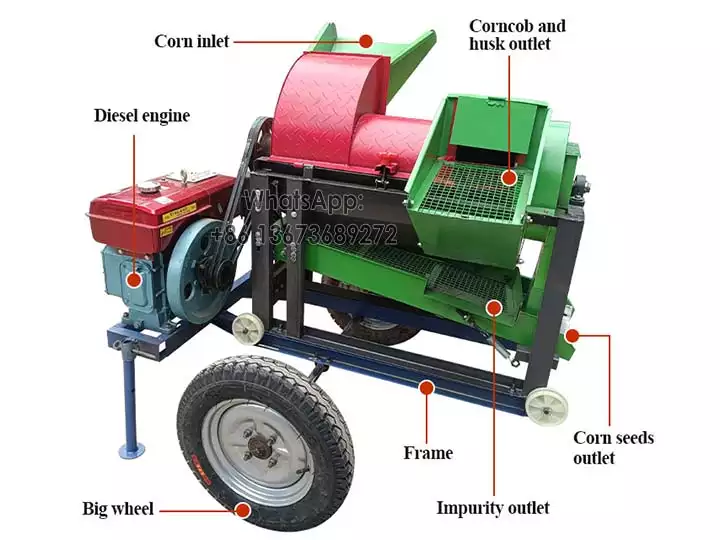 | | |
| --- | --- |
| S/N | Machine part name |
| 1 | Corn inlet |
| 2 | Corn cob and husk outlet |
| 3 | Diesel engine |
| 4 | Frame |
| 5 | Big wheels |
| 6 | Corn seeds outlet |
| 7 | Impurity outlet |
composition of the multifunctional thresher
Multifunctional Corn Sheller Machine Design
This machine is designed to meet the customer's needs, and the highlights are big wheels and a frame. The big wheel and frame design improves the stability and mobility of the multifunctional thresher machine.
The big wheels can adapt to different terrains and provide high ground clearance, which makes it easy to move the machine in uneven farmland.
The frame structure can provide stable support and balance, making the machine stronger and safer when working.
Wear Parts for Taizy Multifunctional Corn Sheller Machine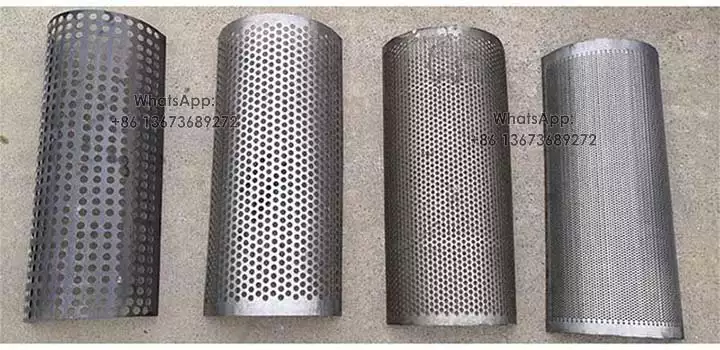 The wearing parts of multifunctional thresher mainly include screens, belts, chains and other components. With long-term use, these parts may wear out and need to be checked and replaced regularly. Reasonable maintenance and timely replacement of wearing parts can extend the service life of the multifunctional thresher and ensure its continuous and efficient work.
Advantages of Multi Purpose Corn Maize Shelling Machine
High efficiency and speed: Multifunctional thresher machine is able to thresh crops at high speed and efficiency, greatly improving productivity and output.
Versatility: In addition to the threshing function, Taizy multifunctional mazie sheller usually also has functions such as shelling and separating impurities, which can meet the processing needs of different crops.
Quality assurance: The multi grain thresher can efficiently separate hulls, impurities and grains to ensure the quality and purity of the final product.
Flexibility: Multi-functional corn shelling machine usually has three engines available, which can use matched engines to work according to the local situation.
Cost saving: The high efficiency and multi-functionality of the multifunctional threshing machine can save labor and time costs, improve production efficiency and reduce processing costs.
Reliability and durability: Taizy corn shelling machine uses high-quality materials and precision manufacturing processes, which have good durability and stability and can work stably for a long time.
What Affects the Multi Corn Shelling Machine Price?
The price of the multifunctional corn threshing machine is affected by many aspects, such as the machine model, brand, etc. The first is the model and specification of the machine, the price of a multifunctional corn shelling machine will vary from one specification to another. The second is the brand and manufacturer of the machine. Products from well-known brands and high-quality manufacturers usually have relatively higher prices.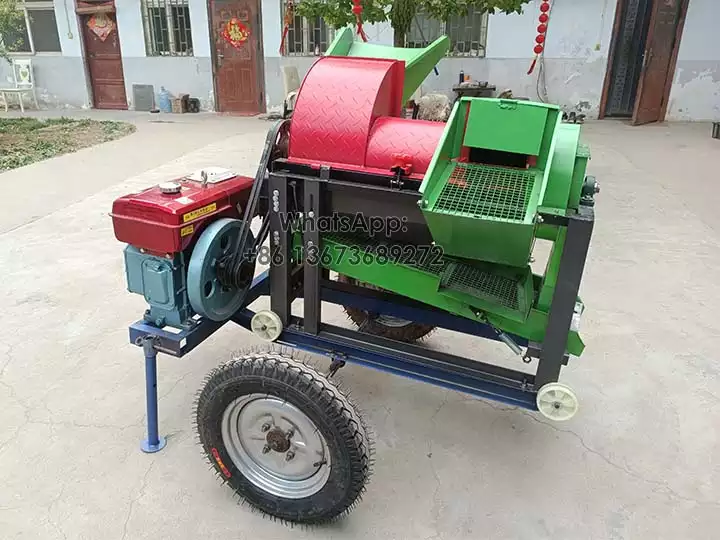 In addition, the market supply and demand, the cost of raw materials, transportation distance, etc. will also have an impact on the price. If you want to know more details, please contact us for more details!
Service about Taizy Multifunctional Threshing Machine
Taizy, as a good multi purpose corn shelling machine with well-known brands, we offer technical support and after-sales service. The comprehensive technical support and after-sales service can ensure that you get professional guidance and solutions. Also, we can provide online support, video support, manual, etc. All can help you use the corn shelling machine smoothly.
Production, Package & Delivery of Multi Purpose Corn Sheller Machine
The production process of the multifunctional threshing machine is usually carried out in a special workshop. In the workshop, workers process and assemble the components according to the production process and technical requirements to ensure that the quality and performance of the machine meet the standards.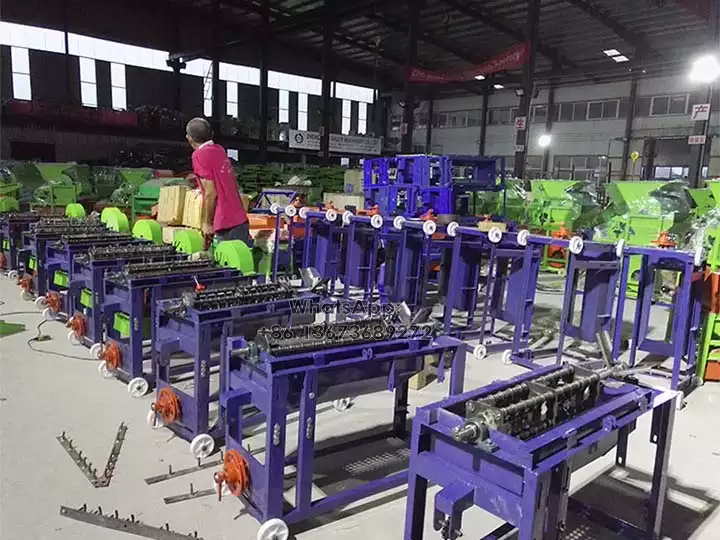 Once production is complete, the multifunctional corn shelling machine is carefully packaged. The common way of packaging is to use strong wooden boxes for packing to protect the machine from damage and vibration. During transportation, the multifunctional thresher is usually shipped in one piece in a container to ensure safe delivery to its destination. This integral shipping method reduces the risk of damage and provides easy loading and unloading operations.