Self Propelled Baler | Hay Cutter and Baler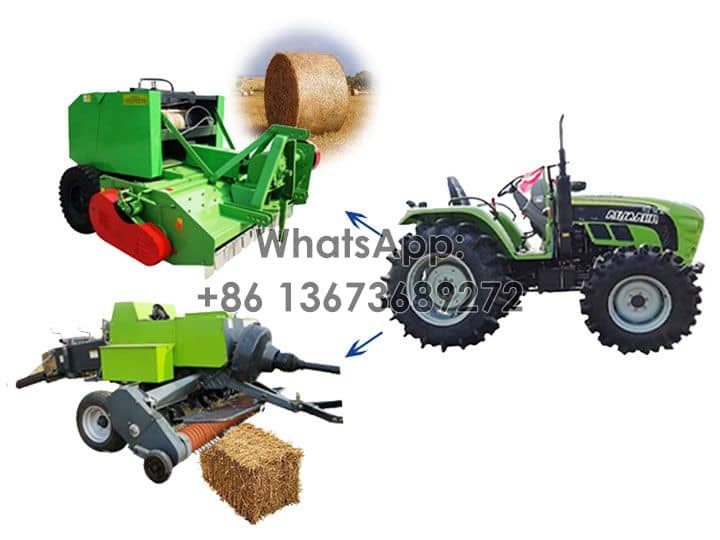 The self propelled baler is an agricultural machine that integrates "picking, cutting and baling". This hay cutter and baler machine can not only work in low-lying areas, but also feed the material more smoothly and not easily blocked. Besides, this machine has CE certificate, which is very popular in domestic and international market. The machine is matched with wheeled tractor and operated by one tractor driver, which is suitable for working in all kinds of natural pasture and planted pasture as well as farmland.
This hay baler machine combines the advantages of similar products at home and abroad, and at the same time combines the current situation of agricultural and animal husbandry production. Therefore, the self propelled baler has advanced structure, convenient operation, stable and reliable performance, low production cost and labor saving, etc. It is the most ideal product for harvesting and baling various agricultural straws and forages.
What are the Functions of the Self propelled Baler for Sale?
Specific functions are as follows:
Picking: It can collect the grass, alfalfa, rice straw and wheat straw spit out by combine harvester.
Cutting: It can harvest grass, alfalfa, corn straw as well as cut the high stubble of wheat for the second time. The stubble can be reduced to less than 10cm. The straw collected per unit area is about twice as much as that collected by the picker. It greatly improves the straw collection rate and makes it more convenient for farmers to cultivate and increase the amount of straw collected per acre.
Baling: that is, the loose straw is compacted and beaten into square or round bales (square or round bales are convenient for transportation, stacking and preservation).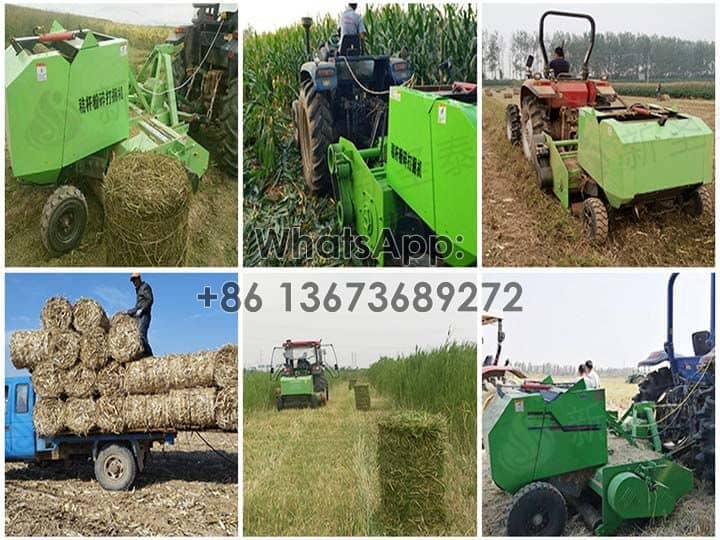 Type 1: Self Propelled Round Baler
The round crushing and picking baler is a special equipment designed and produced by our company for collecting wheat, rice, corn and other crop straws and various forages and baling them. It is a new type of high-efficiency cross-row type round baler developed independently by our company. This machine can use rope and net for baling. It can also adjust the height and bale density according to the actual situation. It should be noted that this machine is different from the silage baling and wrapping machine in that there is no film wrapping.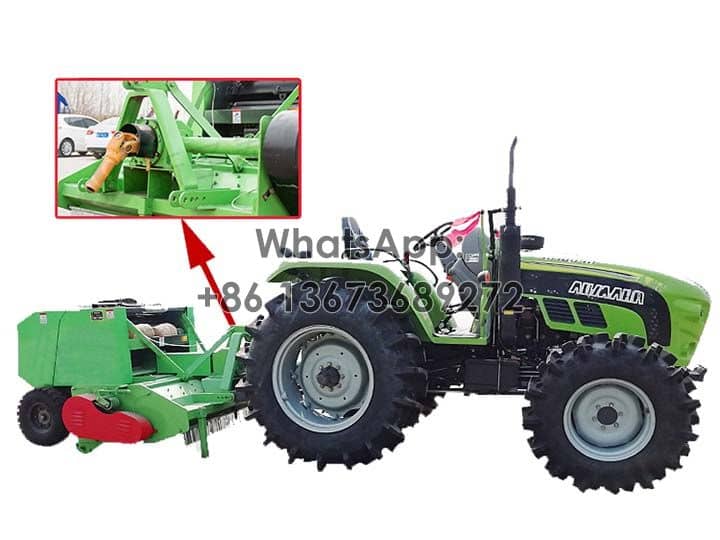 Construction of Round Hay Cutter and Baler
The round self propelled baler machine has the PTO, feeder, silo switch, and hydraulic cylinder. You should know that the yarn can be replaced by the net.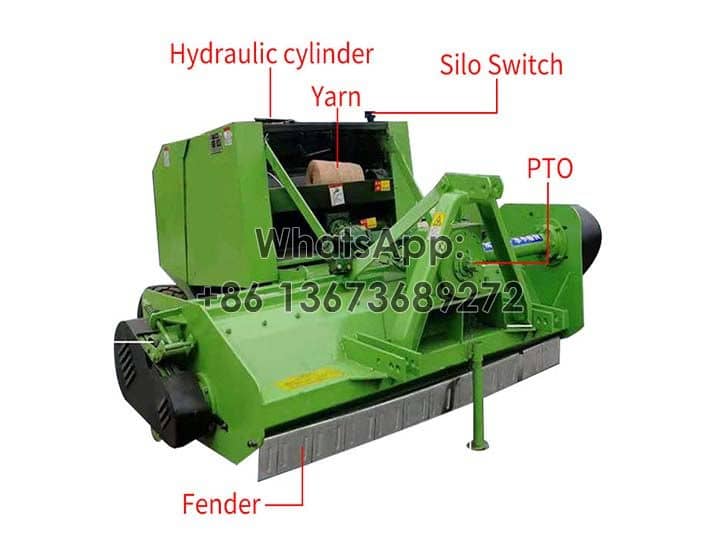 What are Parameters of Round Baling Machine?
| | | |
| --- | --- | --- |
| Model | 9YY80 | 9YY100 |
| Bundled size | 80cm*100cm | 100cm*125cm |
| Harvested width | 1.3m | 1.8m |
| Net size | 2000m*105cm | 3000m*125cm |
| Tractor equipped | More than 70hp | More than 90hp |
Type 2: Self Propelled Square Baler
Square cutting, picking and baling machine is a forage crushing and picking up into bales harvesting machine. It is mainly used for harvesting and baling various kinds of forage, rice, wheat and corn stalks and other crop stalks in the field. The self propelled hay baler can automatically crush and pick up the grass strips laid in the field, and bind the loose forage into rectangular bales with neat and regular appearance through the operation processes of feeding, compressing and forming, knotting and tying. It is important to note that only rope can be used for baling. Welcome to contact us for more details!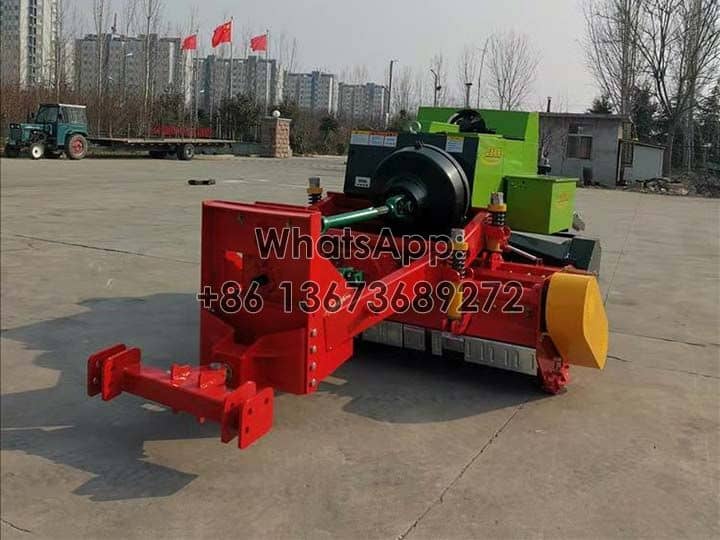 Structure of Square Baling Equipment
The self propelled baler consists of the transmission system, traction beam, picker, baling chamber, and outlet. It's a very simple construction.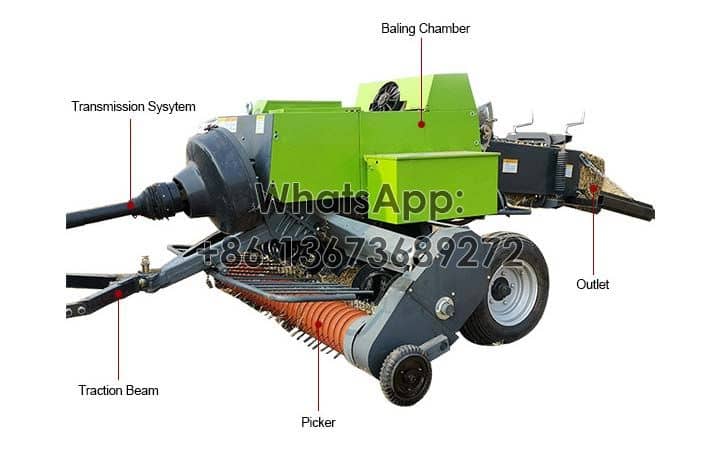 Technical Parameters of Square Baler Machine
| | |
| --- | --- |
| Model | 9YFQ-2.0 |
| Harvested width | 2.0m |
| Tractor equipped | More than 75hp |
| Production efficiency | 3t/h |
| Overall size | 4150*2850*1800mm |
Applications of Self Propelled Hay Baler
Because this kind of hay cutter and baler is suitable for the field work, it has a variety of applications. Such as corn stalks, sugarcane leaves, wheat straws, rice straws, peanut seedlings, sweet potato seedlings, green grass, hay, etc.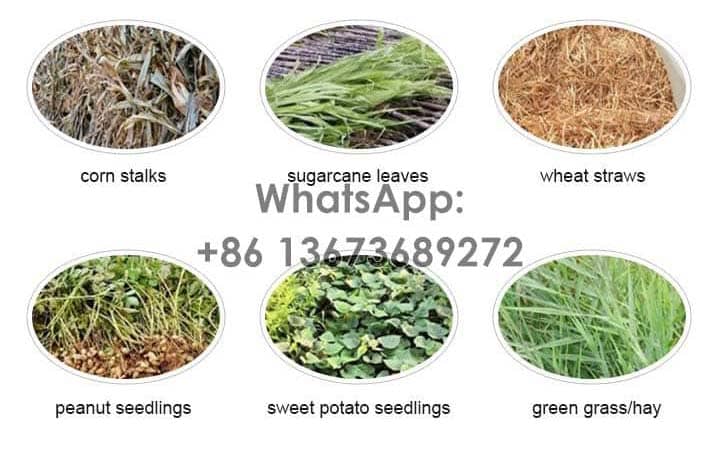 What are the Characteristics of Hay Cutter and Baler?
Imported German knotter and main transmission system, the whole self propelled baler has stable performance and high bale formation rate.
The self-propelled baler machine has a symmetrical longitudinal axis, good driving stability, is easy to traction, and can adapt to work on small and irregular pieces of land.
The grass strips are always moving in a straight line from picking to forming bales on the ground, and the grass strip conveying and baling process is reasonable, which helps to improve the reciprocating frequency of the piston and increase the production capacity.
The baling chamber and the threading needle have high enough clearance from the ground to operate in low-bed lots without the threading needle touching the ground, thus eliminating the traditional threading needle protection frame. The picker is equipped with a profiling wheel, allowing operation in low-lying lots.
Crushing and picking, 3-linkage suspension with the tractor.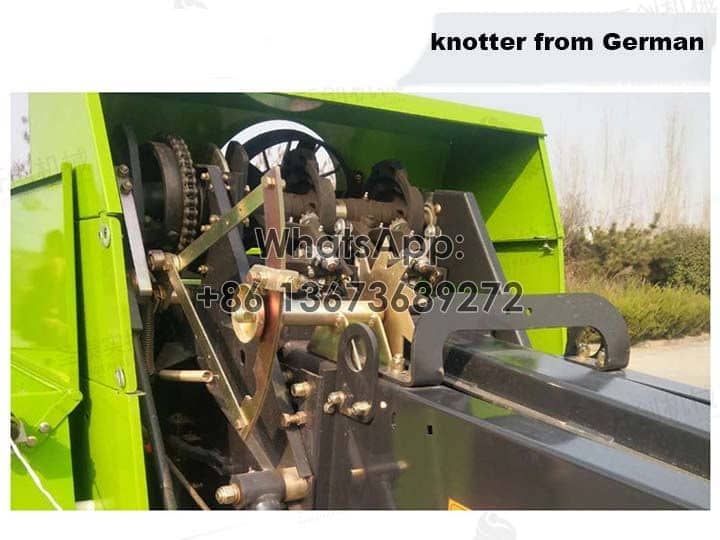 Why Choose Taizy Company as Top Choice?
We, Taizy Agro Machinery, are deeply in the agro industry for more than 10 years. Every time we become the first choice because we have our own unique advantages.
Excellent quality. Our self propelled baler has the strict production rules, also the straw baler, silage harvester and recylcing machine, etc. Also, our agro machines have CE certificate, well-received among the foregin countries and regions.
Advanced technology. The baling machine adopts the advanced tech and combines the market demands, designing a new-type forage baling machine. It's popular in the market.
Perfect service. After selling, we also provide a comfortable after-sale service to solve customers' all kinds of problems that may appear in the near future.
Successful Case: Self Propelled Small Square Baler Sold to Iran
Our sales manager Winnie received an inquiry from a customer in Iran. He wants to harvest forage and has his own tractor. Since Iran is located in the Middle East and prefers square bales, Winnie sent the relevant information about the square baler, including parameters, configuration, photos, videos, etc. The Iranian customer liked it very much after confirmation. So the contract was signed. We shipped to his destination. After receiving the machine, the Iranian customer said the self propelled baler works very well and we will have the opportunity to work together again.
FAQ
Q: What is the picking width of the self propelled baler?
Q: What kind of equipment do you mainly produce?
A: We mainly produce agricultural machinery and farming machinery.
Q: Where is the shipping place?
A: Located in the central plain of China, Henan, so we have developed transportation and fast delivery.
Working Video of the Hay Cutter and Baler